Clashes continued for a third day in a Palestinian camp in Lebanon on Monday between members of Palestinian President Mahmoud Abbas' Fatah group and Islamist factions.
A Lebanese army spokesperson said the death toll from the fighting in Ein el-Hilweh camp had reached nine, although some reports have given higher figures.
Two soldiers stationed outside the camp were lightly wounded, Colonel Fadi Abou Eid said.
Despite attempts by Lebanese parties and some of the Palestinian factions to broker a ceasefire, "the shooting and shelling have not stopped in the camp until this moment," said Adnan Rifai, a member of the committee that serves as a governing body in the camp.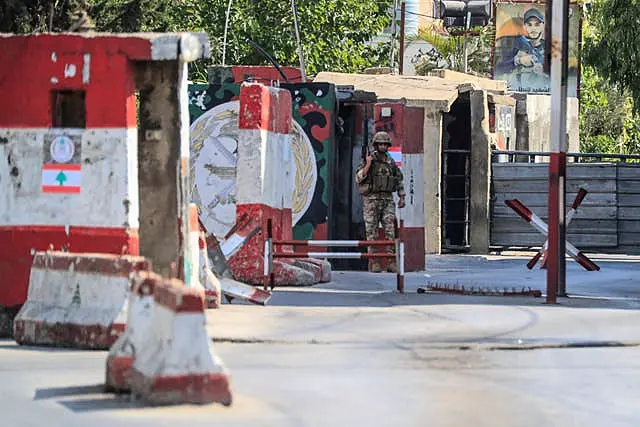 The Lebanese army mans a checkpoint outside and typically does not enter the camp, which is under the control of the Palestinian factions.
The clashes erupted on Sunday after Islamic militants shot and killed a Palestinian military general from the Fatah group, Abu Ashraf al Armoushi, and three escorts as they were walking through a carpark, according to another Palestinian.
On Saturday an unknown gunman had tried to kill militant Mahmoud Khalil but instead fatally shot his companion.
Later on Sunday, Palestinian factions said in a joint statement that they had agreed to a ceasefire during a mediation meeting hosted by the Lebanese Shiite Amal movement and militant Hezbollah group in the city Sidon. But the ceasefire did not hold.
Some residents in Sidon neighbourhoods near the camp fled their homes as stray bullets hit buildings and shattered windows and storefronts.
The public Sidon General Hospital evacuated its staff and patients.
A Fatah statement condemned the killing of its security official, saying the attack was part of a "bloody scheme that targets the security and stability of our camps." It vowed to hold the "perpetrators accountable".
Lebanese caretaker Prime Minister Najib Mikati and Mr Abbas both issued statements on Sunday decrying the violence.
Lebanese politician Osama Saad, who represents the Sidon area where the camp is located, told The Associated Press that officials are "making extraordinary efforts to find serious, effective, lasting and stable solutions to the situation inside the camp."
Mr Saad said he and other Lebanese officials and security forces would meet the Palestinian factions on Monday to push for a ceasefire.