Mococco extended their dream run at the World Cup on Saturday as they out-thought and out-fought Portugal in a 1-0 win.
They are the first ever African country to reach the semi-finals thanks to a towering headed goal from Youssef En-Nesyri.
In the 42nd minute En-Nesyri leapt above the Portugal defenders to meet a Yahya Attiat-Allah cross, getting just enough of his head to the ball to tip it past goalkeeper Diogo Costa, who misread its flight and crashed into his own defender.
Portugal meanwhile struggled to break through the Moroccan defence, Bruno Fernandes coming closest with a shot off the bar shortly after Morocco's goal.
Cristiano Ronaldo came off the bench six minutes after the break but was unable to help his team avoid defeat, with Morocco coming out as the winner to seal a semi-final showdown with either England or France, who play later on Saturday.
Morocco's Walid Cheddira was sent off after receiving two yellow cards in quick succession in extra time, meaning he will miss the semi-final.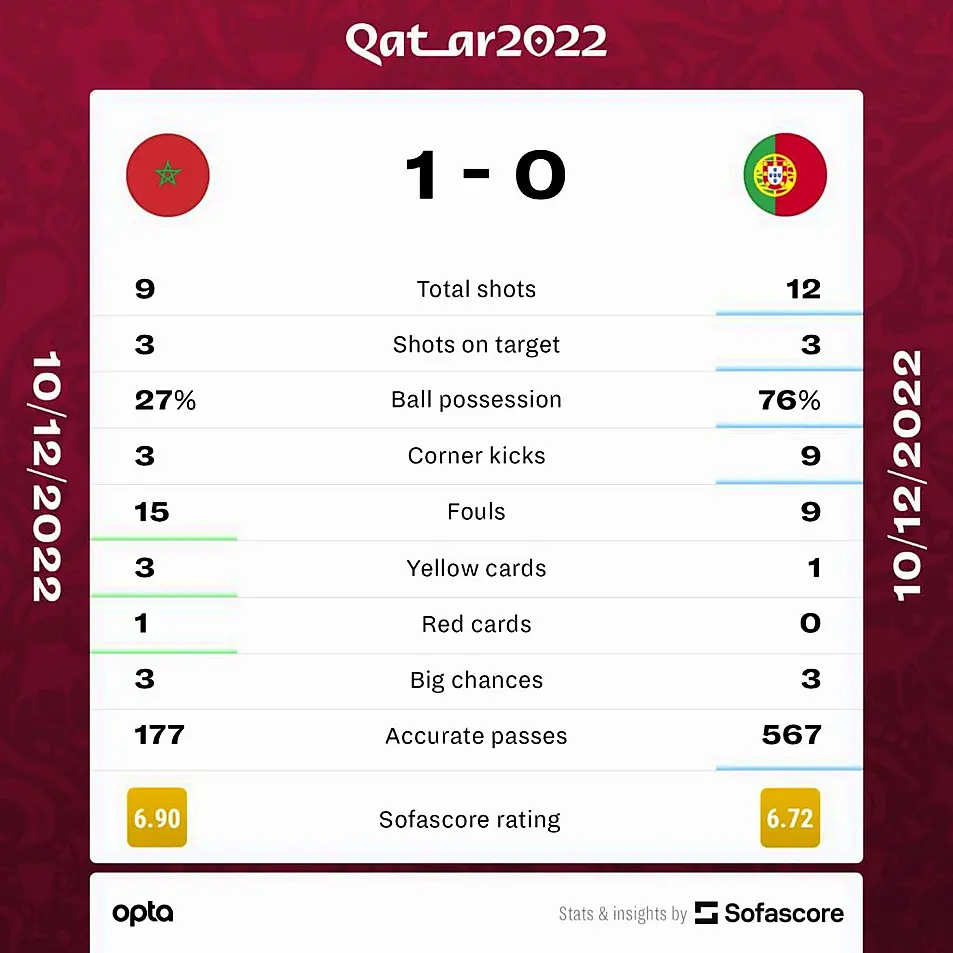 The match also will be remembered as perhaps the end of Cristiano Ronaldo's World Cup journey, who was removed from Portugal's starting lineup at the start of the round of 16. He was a second-half sub in the 51st minute, but, like his teammates, was stifled by the Moroccan defense.
Morocco played more than half of the eight minutes of stoppage time with 10 players because Walid Cheddira was disqualified with two yellow cards.
Morocco will play the winner of Saturday's later match between England and France in the semifinals on Wednesday.
"They made us happy and proud and they proved that they can make it to the final. Why not? We are so proud of this team that is supported by Africa and Arabs" said Siham Motahir, a young woman in Rabat where cafes had filled with fans to watch the game.
The 1-0 win over Cristiano Ronaldo's Portugal is Morocco's third over a highly ranked European team in the tournament, a run that had brought delight across the country and widespread support across the African continent and Arab world.
African Union President Macky Sall wrote on Twitter, using capital letters to emphasise his excitement: "HISTORIC! AND FANTASTIC! THE ATLAS LIONS ARE QUALIFIED FOR THE SEMI-FINALS OF THE WORLD CUP! BRAVO MOROCCO."
In an Abidjan cafe where people were watching the game and drinking beer to celebrate the win, customer Jules Goule said Ivorians were proud of Morocco's win. "Through Morocco Africa has just shown that it can compete with other continents in football," he said.
"Waoh, waoh... Morocco! It's with great joy! Africa is shining! Go Africa!" shouted Agwe Jefferson, 28, a driver in Cameroon's capital Yaounde.
As the game wound on, Morocco fans screamed "Ole, ole, ole!" in unison, drowning out the handful of Portuguese fans and whistling whenever Portugal took possession of the ball.
Behind the two goals, banks of Moroccan supporters stood for the whole match with drummers and fan leaders coordinating the chants.