Traffic disruption in Dublin as truckers protest
Motorists faced significant delays this morning as the Irish Truckers and Haulage Association Against Fuel Prices protest over rising petrol costs.
Motorists experienced disruption on all major motorways out of Dublin as protesters made their way to the city centre to gather outside Leinster House.
Gardaí also reported significant delays on the M50 motorway.
As road closures are currently in place on Kildare Street, the protest organisers encouraged drivers to park as close to Leinster House as possible and convene on foot outside the Dáil.
Healthcare under 'very serious pressure'
The Irish health system remains under "very serious pressure", the head of the HSE has warned an Oireachtas committee.
Paul Reid appeared before the Joint Committee on Health today to discuss the plans to support the health service through the winter.
"We are now firmly in the midst of a fourth surge in Covid-19 infections. The entire health system, both acute hospitals and community, are now under very serious pressure," he said.
Earlier, Mr Reid tweeted that 5,800 staff are out due to a Covid-related absence.
Winter weather
Snow is likely to fall across northern areas of Ireland this week with temperatures set to drop overnight.
Met Éireann said strong winds and "cool polar air" will sink down over the island, with the strongest winds especially affecting areas in the far north.
The mercury could dip as low as freezing in most areas of the country overnight on Friday, while remaining around 6 degrees Celsius during the day on Saturday.
Restaurant bookings
Restaurant bookings are now surpassing pre-pandemic levels despite the recent surge in Covid cases, according to new data.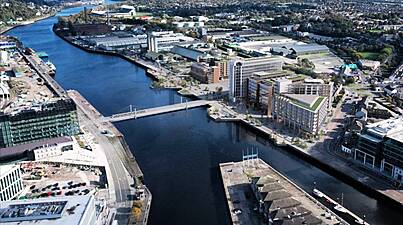 Ireland
Plans for €350m redevelopment of Cork docklands an...
The number of seated diners in restaurants in Ireland this month averaged at 85 per cent above the same time in 2019, according to figures from the booking website OpenTable.
Since the hospitality sector reopened in June, restaurant diner numbers have remained well above 2019 levels.
Cork docklands revamp
The revitalisation of the Cork's South Docks has received a major boost with confirmation that a developer will apply for planning permission for a €350 million project incorporating a hospital, office blocks and residential units.
Private developers O'Callaghan Properties have applied for planning permission this week for the first stage of their proposal for the sprawling 31-acre docklands campus.