International travel returns
Thousands of holidaymakers passed through Irish airports on Monday as travel restrictions in and out of the country were lifted.
The State has implemented the EU Covid Certificate, allowing people who are fully vaccinated to travel freely.
More than 1.1 million Covid certificates have been emailed to people in Ireland and in excess of 600,000 have been posted.
The Government has advised people who are not vaccinated to still avoid high-risk activities, including international travel.
Indoor dining
Minister for Higher Education Simon Harris has said that plans to reopen indoor dining are being carried out in a "very prudent and very cautious" way, as cases of Covid-19 begin to surge.
A decision on when indoor pubs and restaurants can reopen to the public is expected to be made at Cabinet on Wednesday.
Last week, the Dáil and Seanad passed the Government's legislation which paves the way to the resumption of indoor dining.
President Michael D Higgins will then sign the legislation into law.
Regency Hotel murder
Regency Hotel murder accused Jonathan Dowdall has launched a High Court challenge against the jurisdiction of the non-jury Special Criminal Court to hear his trial.
The former Sinn Féin councillor is charged with the murder of David Byrne at the Regency Hotel, in Whitehall, Dublin 9 on February 5th, 2016.
Last April the DPP certified that under the 1939 Offences Against the State Act the accused's trial should not proceed before an ordinary court, and that Mr Dowdall should be tried before the non-jury Special Criminal Court (SCC).
Mr Dowdall of Navan Road, Cabra, Dublin, who had been an elected member of Dublin City Council, claims that he should not be tried for the offence before the SCC.
Heatwave continues
The heatwave which brought high temperatures in recent days is set to continue for the rest of the week and may see the mercury soar above 30 degrees, according to Met Éireann.
The sunshine brought bumper-to-bumper traffic to many beaches and beauty spots over the weekend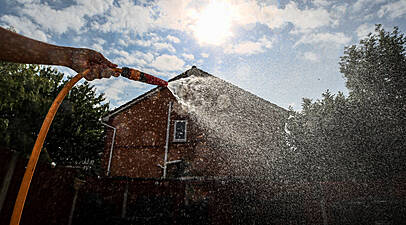 Ireland
Water restrictions and outages as warm weather lea...
While Met Éireann's high temperature advisory is in place until Friday, this may be upgraded to a temperature warning later this week if the heat continues to rise.
Water supply
Homes and businesses in Drogheda, Co Louth, and some surrounding areas are without water due to what Irish Water says is "a major burst in a water main".
In a statement on Monday morning, Irish Water said it had "identified a major burst in a water main in Drogheda and is working with Louth County Council to restore water as quickly as possible to impacted customers."
The disruption comes amid wider supply issues in the network, with homeowners across the State urged to conserve water amid a surge in demand due to warm weather.