A grainy black-and-white gunsight video Russia released this week to bolster a claim its military blew up some of Ukraine's most fearsome tanks actually showed the destruction of a tractor, according to analysis by the Associated Press.
The Russian Embassy in Washington announced on Monday that its forces had "annihilated" eight German-made Leopard tanks, among the most advanced and powerful weapons Nato countries have provided to Ukraine.
The Russian Ministry of Defence then posted a video on Tuesday saying it showed "footage of the destruction of foreign armoured vehicles, including Leopard tanks".
The video was shown extensively by Russian state-controlled broadcasters and news sites, which said it was recorded from the thermal imaging system of a KA-52 Alligator attack helicopter.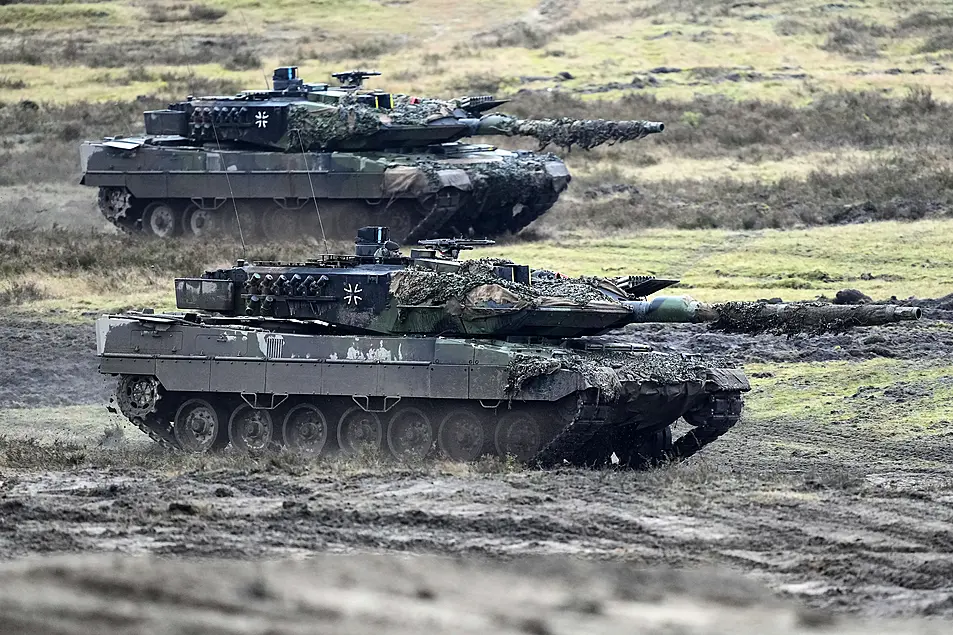 Several black silhouettes of vehicles can be seen, before the helicopter launches a guided missile that strikes one, causing it to explode. "Direct hit!" says a voice on the recording, speaking in Russian.
Germany announced earlier this year that it would provide 18 Leopard 2 main battle tanks to Ukraine, which hopes to receive around 100 donated by various Nato countries over next year.
The Leopard 2 is one of the most manoeuvrable and heavily armoured battle tanks in the world, with a 120mm gun capable of slicing through Russia's Soviet-era tanks from more than 2.5 miles away, according to its manufacturer, Krauss-Maffei Wegmann.
Ukrainian officials declined to comment this week on whether any of their Leopard tanks had been used in battle.
Almost immediately after the Russian video spread online, multiple weapons experts and military bloggers began casting doubt that the helicopter's missile struck a tank, much less a Leopard.
Visual analysis by the AP shows that the vehicles seen in the video, which was recorded at night, appear to be large pieces of stationary farm machinery parked in a field, specifically a self-propelled sprayer and two combine harvesters.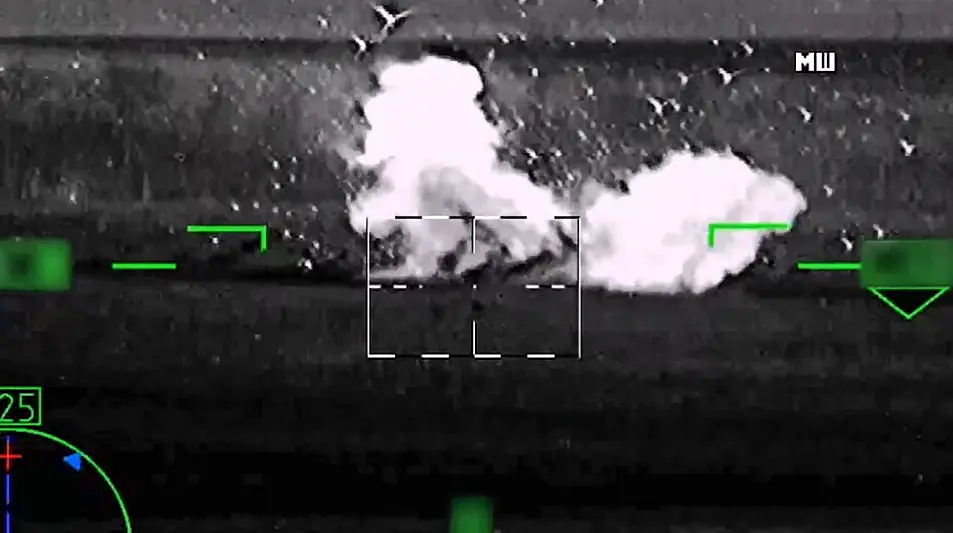 The vehicle struck by the Russian missile has four large wheels and sits high off the ground. Leopard 2 tanks are low slung and have treads like a bulldozer.
The Russian Embassy also claimed this week that its forces had destroyed three French-made AMX-10 light tanks, which do have wheels, but the AMX-10 has six wheels, not four.
The silhouette of the vehicle destroyed in the video appears to more closely match a self-propelled sprayer, a type of specialised tractor common on modern farms.
Thermal imaging systems like that on the Russian helicopter detect sources of heat to target enemy tanks and trucks in smoky or low light conditions. The stationary vehicles in the video appear black, meaning their engines were cold.
Tank crews operating at the front lines typically conceal themselves in vegetation or behind buildings, emerging only to move and shoot, two experts in military vehicles told the AP. It would be highly unusual for tanks to be parked in the open, where they make easy targets for enemy gunners, they said.
The two experts, who watched the Russian video, said the vehicle struck by the helicopter's missile was not a Leopard tank nor any other type of armoured vehicle.
"The silhouette of that particular vehicle or object did not look commensurate with what I'd be expecting for a Leopard tank," said George Barros, who leads the Geospatial Intelligence Team for Russia and Ukraine at the Institute for the Study of War.
"I agree… that it was probably a piece of heavy farm equipment."