Liverpool manager Jurgen Klopp accepts this is the week to give their season the push it needs to propel them towards the top four.
Three clean sheets and seven points from nine represents an upturn in form after four Premier League matches without a win from the turn of the year.
However, the quality of performance in Saturday's goalless draw at Crystal Palace felt like a regression but the midweek visit of Wolves – one of Liverpool's matches in hand on most of their rivals – looks like being an unlikely pivotal game.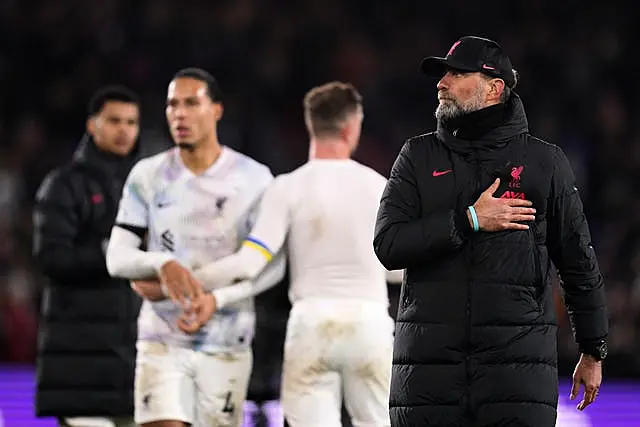 Having lost 3-0 at Molineux earlier this month in what was considered a new low point in an inconsistent season, this is a chance to ensure the momentum continues ahead of the visit of in-form arch-rivals Manchester United at the weekend.
And Klopp is looking to maximise the return from their last 15 league matches.
"It's 45 points. It would be a really good moment (to go on a run). Yes, you can imagine, that's exactly what we want to do," he said.
"We have got seven points from these three games. The last one we drew and I know I said it's the same game like we played before but without scoring and people said 'But it's the most important stuff'. I know. You cannot change the other facts as well.
"We have to force it as well but we have to play, enjoy what we are doing – that's really important.
As things stand... pic.twitter.com/d6YNXvKVIO

— Premier League (@premierleague) February 26, 2023
"It's a super important week. We cannot ignore that. We have two home games. I would love to give the season a little push in this week."
Although this season has been a roller coaster, the chance to extend their unbeaten league run to four matches for the first time since December appears one Liverpool cannot afford to miss.
There are similarities with the 2020-21 season when they won eight and drew two of their final 10 games to secure Champions League football, from what appeared a doomed position in mid-March.
"It helps because it was us. We don't have to tell them a story of another club or team," added Klopp.
"We have a lot of stories to tell where it went well in the last few years, with long winning streaks and going unbeaten at home and so on.
"History is not allowed to hinder you but you can't constantly rely on the fact we did it before so we can do it again. We have to make sure.
"I really think we are ready. If there is a club that can do it, I really think it is us. Honestly.
"Because all the things we achieved these last years, we achieved together, neither without the team nor without the crowd. Nothing.
"We have a future together: the immediate future from tomorrow on but there is a bigger picture as well. We will strike back in general but now we have to make sure that we really squeeze everything out of this season that we can get.
Jürgen Klopp expects Ibrahima Konate to be available for our @PremierLeague meeting with Wolves 👇

— Liverpool FC (@LFC) February 28, 2023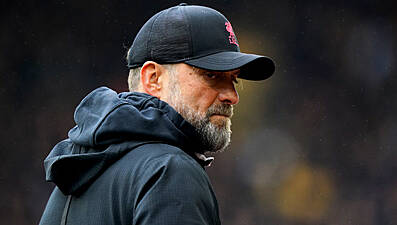 Sport
Jurgen Klopp signed new contract so he could overs...
"I don't know in this moment what it will be but the obvious spots are not too far away from us and we will see which one we will pick up.
"But there is no alternative to results. So we need results and for results we need performances and performances we prepare for on the training pitch, in the meeting room and then we go."
Striker Darwin Nunez, who missed the Palace draw with a shoulder injury, trained on Monday and is set to return, while centre-back Ibrahima Konate – out for a month with a hamstring problem – is also back in the squad.