Four people have been arrested in Spain under suspicion of hanging an effigy of Real Madrid forward Vinicius Junior off a bridge in January.
An inflatable doll dressed in a Vinicius shirt was hung from the railings with a banner that read "Madrid hates Real Madrid" ahead of Real's Copa Del Rey game with city rivals Atletico at the start of the year.
And Spanish police confirmed on Tuesday that four suspects had been apprehended.
⚠ÚLTIMA HORA⚠

🚩Detenidas en #Madrid 4 personas que presuntamente colgaron un maniquí con la camiseta de #Vinicius en un puente cercano a la Ciudad Deportiva del @realmadrid

STOP #delitosdeodio pic.twitter.com/OonIns1jXe

— Policía Nacional (@policia) May 23, 2023
They tweeted: "Arrested in #Madrid 4 people who allegedly hung a mannequin with the #Vinicius shirt on a bridge near the Ciudad Deportiva del @realmadrid."
The arrests follow the latest racism scandal that has engulfed Spanish football, with Vinicius targeted by racist chants during Sunday's LaLiga game with Valencia.
The Brazil international threatened to leave the pitch in the second half after being subjected to alleged monkey chants at the Mestalla.
His club Real Madrid said the abuse constitutes a "hate crime" and filed a complaint with the Spanish State Attorney General's Office and Vinicius himself has highlighted what he describes as "continuous episodes spread across several cities in Spain".
A cada rodada fora de casa uma surpresa desagradável. E foram muitas nessa temporada. Desejos de morte, boneco enforcado, muitos gritos criminosos... Tudo registrado.

Mas o discurso sempre cai em "casos isolados", "um torcedor". Não, não são casos isolados. São episódios… pic.twitter.com/aSCMrt0CR8

— Vini Jr. (@vinijr) May 22, 2023
Valencia confirmed police had identified a fan who made racist gestures at Vinicius and that individual faces a lifetime stadium ban from the Mestalla.
Vinicius tweeted on Monday night: "Every round away from home is an unpleasant surprise. And there were many this season. Death wishes, hanged doll, many criminal screams… All registered.
"But the speech always falls on 'isolated cases', 'a fan'. No, these are not isolated cases. They are continuous episodes spread across several cities in Spain (and even in a television programme).
"The evidence is there in the video. Now I ask: how many of these racists had names and photos exposed on websites? I answer to make it easier: zero. None to tell a sad story or make those fake public apologies.
"What is missing to criminalise these people? And punish clubs sportingly? Why don't sponsors charge La Liga? Don't televisions bother to broadcast this barbarity every weekend?
OFFICIAL STATEMENT | Valencia CF will ban for life the fans who racially abused Vinícius Jr.

The Club strongly condemn this behaviour, which has no place in football and does not correspond to the values of Valencia CF and our fanbase.

— Valencia CF (@valenciacf_en) May 22, 2023
"The problem is very serious and communications no longer work. Not blaming me to justify criminal acts either. You are not football, you are inhuman."
LaLiga president Javier Tebas responded to an earlier Vinicius post, in which the Brazil international said racism was "normal", by accusing the forward of "criticising and insulting" the league.
In another tweet on Monday, Tebas said: "Neither Spain nor @LaLiga are racist. It is very unfair to say this.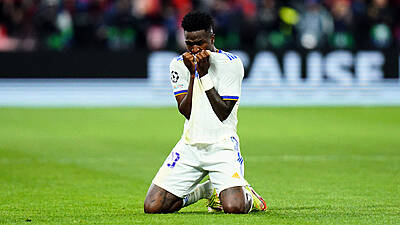 Sport
Racism is 'normal' in LaLiga claims Real Madrid's...
"How @LaLiga we denounce and fight racism with all rigidity within our competences. This season there were 9 cases of racist insults (8 of them for insults against @vinijr)
"We always identify the violators and take the complaint to the legislating bodies. It doesn't matter that they are few, they are relentless.
"We cannot allow the image of a competition that is about the symbol of peoples union to be tarnished, where more than 200 players are of black origin in 42 clubs that receive in each round the respect and affection of the fans, being the racism an extremely specific case (9 complaints) that we are going to eliminate."