Marco Silva insisted Fulham have "really high" ambitions for the FA Cup this season after reaching the quarter-finals for the first time since 2009-10 with a 2-0 win over Leeds on Tuesday.
The game was decided by two moments of individual brilliance, from Fulham's Joao Palhinha and Manor Solomon, who both scored stunning goals from outside the area.
Silva made seven changes to the team which had started against Wolves in the Premier League on Friday night and outlined how determined his team are to perform.
"Firstly, it was our aim (to go through) and I said, and I keep saying from the first day of this competition, that we have high demands and our ambition is really high in this competition," the Fulham manager said.
"We are humble enough to understand that we are not favourites at all – the favourites are different teams than us but we want to chase the competition and challenge all the opposition sides.
"Any time that you want to play in this competition is always to try and go through and play with full ambition.
"But the way you approach it doesn't change. We made seven changes from one game to the other and of course it's important for some players to play and get 90 minutes.
"We are going to need them. All these things are really important when you play these competitions. But at the same time we are really serious in the way that we approach the players. They have been really serious as well and I am really pleased for them because they deserve it."
Leeds manager Javi Gracia insisted his side will continue to work to execute his plans, after he took charge of only his second match.
Gracia's first game at the helm was a crucial 1-0 win over Southampton that lifted the club out of the Premier League relegation zone and ended a 10-game winless run.
But he stressed they will be working constantly to find a more clinical edge, after a number of chances were squandered against Fulham.
"Firstly, try to work on it in every training session, try to analyse why today we didn't finish well; the confidence I think is important," Gracia said.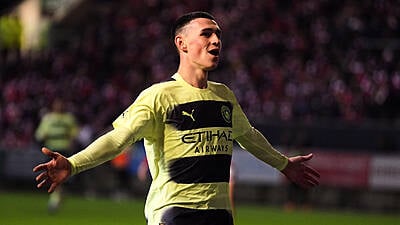 Sport
Phil Foden 'back to normal' following cup double a...
"Work on it, I think, is the only thing we can do and try to do it better next time.
"I think we had a good balance, they didn't create many chances. They scored two great goals but we were close in all the game to scoring one goal and changing the dynamic of the game.
"It's why I'm a little bit disappointed."