Kick It Out says the Football Association being able to charge clubs over 'Chelsea rent boy' chants is a "necessary measure" and looks forward to the governing body applying the rules "appropriately and consistently" to future cases.
The FA announced on Thursday it had written to clubs to say it could now take formal disciplinary action against them where their fans used that term.
The Crown Prosecution Service defined the term as a hate crime last year, but the FA had felt unable to charge a club without being certain that someone had been convicted for using it.
Statement on discriminatory chanting in football: https://t.co/D8vzhXef6c pic.twitter.com/YOho6Fqr9Q

— FA Spokesperson (@FAspokesperson) January 11, 2023
That changed on Wednesday after the FA learned of the conviction of Liverpool fan Paul Boardman last month. He had admitted using the term as he approached Wembley for the FA Cup final against Chelsea last May.
Anti-discrimination charity Kick It Out welcomed the move and added in a statement: "This is another important step following the decision by the CPS last year to define the term as a hate crime and a necessary measure for communicating that this derogatory term has no place in the game.
"It's vital that this announcement is now followed by decisive action by both clubs and football's governing bodies, and we expect to see any future incident dealt with in an appropriate and consistent manner."
The FA was understood prior to Wednesday's announcement to be investigating instances of 'rent boy' chants being sung at two Chelsea away matches – against Nottingham Forest and Manchester City – and at Manchester United's FA Cup tie against Everton, where it was aimed at Toffees boss and former Chelsea player and manager Frank Lampard.
We have been receiving a large amount of media / journalist requests with regards homophobic chants & the FA statement released yesterday regarding actions to be taken under FA rules.

Although welcomed we do not have the time to speak to you all.

Please read ⬇️ #NoToHate pic.twitter.com/PEaEf9zK7t

— Chelsea Pride ⭐️⭐️🏆 (@ChelseaPride_) January 12, 2023
LGBTQ+ supporters' group Chelsea Pride had been quick to highlight the chanting at Forest, and issued its own statement on Thursday which read: "This is the next chapter in fighting discrimination within football. We will need to see what action the FA will take with regards to the ruling change that happened yesterday. Time will tell."
Reported incidents of hate crime where sexual orientation was the characteristic attacked were up by 186 per cent last season compared to 2018-19, the last campaign before it to be unaffected by the Covid-19 pandemic.
There was some cause for encouragement on Thursday when mid-season data from the UK Football Policing Unit found reported incidents of all types of hate crime at matches were down by 24 per cent compared to the same period last season.
Chief Constable Mark Roberts of Cheshire Police, the National Police Chiefs' Council football policing lead, also welcomed the FA announcement and added: "The wider range of measures we have that we can apply flexibly depending on the circumstances, that's more power to our collective arm to try and tackle the problem on a number of levels."
Meanwhile, Leeds head coach Jesse Marsch has urged the club's fans to modify the words to their chant about teenage forward Willy Gnonto.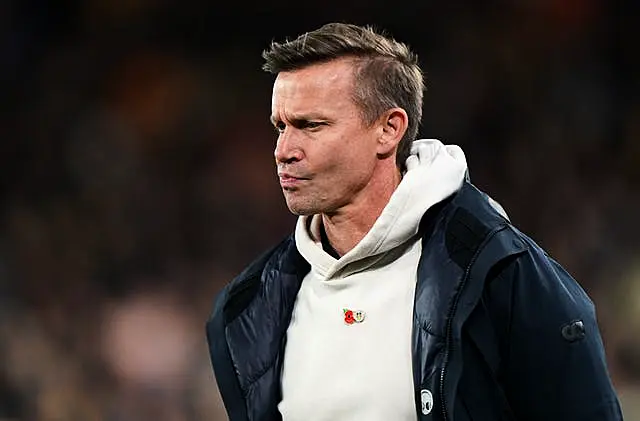 Sung to the tune of 'La Bamba', the chant makes reference to the size of Gnonto's genitals and Kick It Out said last week that they would be "working closely with Leeds to ensure action is taken".
Marsch said: "I think the point would be that we always want to be respectful.
"I think our fans are great, you know, they show passion. They want the team to be successful.
"They can be hard on the team sometimes and hard on me about what we're doing and we understand that and I love how much they love Willy.
"I will be walking around my house chanting or like whistling the tune in my head sometimes, but is there a way to modify it to be as passionate, but be more respectful? That's what I would say."