Roma boss Jose Mourinho said he was proud of his players despite defeat on penalties to Sevilla in the Europa League final.
Mourinho was set to become the most decorated European manager in history with six major trophies and after a Paulo Dybala goal put them in front in Budapest it was looking likely.
However, the Italian team went on to concede an own goal and lost 4-1 on penalties as Roger Ibanez and Gianluca Mancini missed from the spot.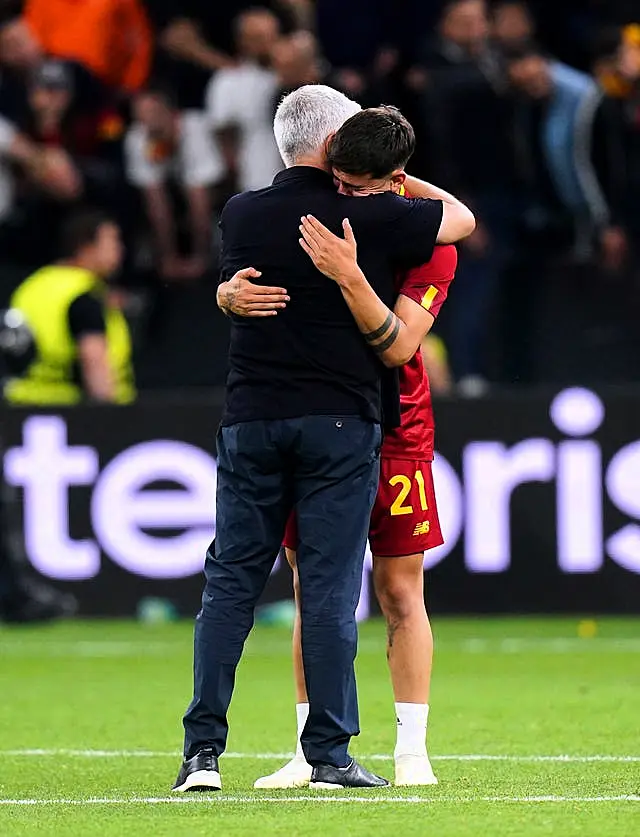 Mourinho, who appeared to give his medal to a child in the stands after the game, told UEFA.com: "I've won five European finals over the years and on this occasion I'm no less proud than the five times I won.
"I am proud of the players. I told them before that we would either be leaving with the cup or we'd be dead on our feet.
"We're leaving dead on our feet. The players are totally exhausted and so am I, both physically and psychologically."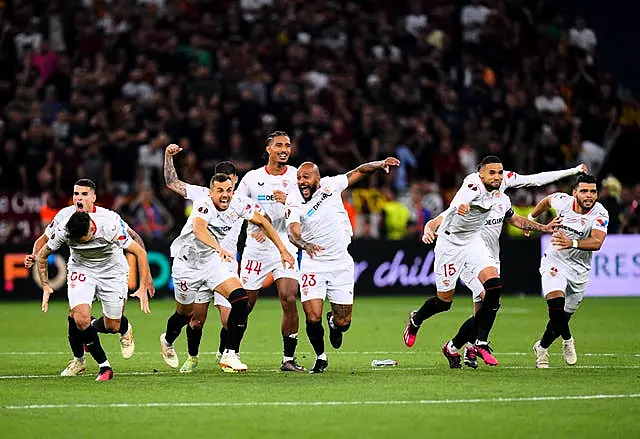 Sevilla players celebrate after winning the penalty shoot-out (Adam Davy/ PA)We felt pressure against a team that has more talent than us. We lost a game but not dignity. I've never gone home prouder than today, even when I won.
"We had also worked hard on penalties but we missed two – but all together, not only the penalty takers.
"The boys must go home peacefully, with pride for having done what they have done. These are my boys from Budapest."
Roma's former Manchester United defender Chris Smalling added: "It's a big disappointment. When it comes to penalties it's hard to lose.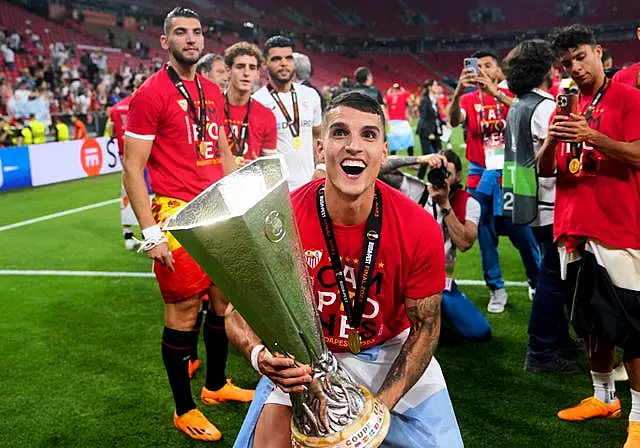 "We were determined to win and we left everything on the pitch. Seeing others celebrate will stay with us for a long time. We have to try to have another chance next season."
Meanwhile, Sevilla forward Erik Lamela told BT Sport it was a really tough game as Sevilla won their seventh Europa League title.
"This is amazing, I can't ask for more, this feeling is unbelievable," the former Tottenham player said.
"(It was a) really tough game, not an easy game to play, we were not feeling in our best way because they defended well and it was difficult to find the spaces and create situations.
"But this team fought it out and tonight we're going to enjoy it."