Ben Davies is ready to embrace the "fun" of being a wing-back if required to play there again for Tottenham during a busy period.
Davies has largely been used as the left-sided defender of a back three since Antonio Conte's arrival 18 months ago but starred out-of-position in Sunday's 2-0 win over West Ham and set up Emerson Royal's opener.
A hamstring injury to Ryan Sessegnon means Ivan Perisic is Spurs' only left wing-back option and Davies, originally a full-back when signed in 2014, was used there impressively in a vital victory that moved them back up to fourth.
Slotted. pic.twitter.com/kFt6GO0IX5

— Tottenham Hotspur (@SpursOfficial) February 19, 2023
Tottenham host Chelsea on Sunday in the first of five matches in three competitions across a two-week period and their Wales international could continue in the role.
"I've played there a few times at the end of games under Conte, but I've not started there under him," Davies said.
"But it's something that I've picked up the details (for) in training that we've done with Conte regularly, so it's not something that I'm worried about doing. It was enjoyable.
"When you're in that position, you've got to be defensively-minded but also you've got to try to join in the attacks. It's something I'm happy to do for the team, it was fun."
Spurs' inconsistent form this season was best highlighted over the past fortnight when they downed champions Manchester City only to suffer a chastening 4-1 defeat at Leicester before AC Milan claimed the upper hand in their Champions League last-16 tie with a 1-0 win from Tuesday's first leg.
Conte has faced criticism for being too wedded to his 3-4-3 formation but the perfect response was when his two wing-backs combined against West Ham.
Davies admitted some home truths were aired following the back-to-back losses, adding: "I think we've definitely had to be (more honest), especially after last weekend.
"When you have a result like we did against Leicester, it's tough to come back from and the best thing to do is to get it all out in the open and put it to bed.
"That's what we did a couple of days after the game and I think (against West Ham) you saw a team that was united, everybody was on the same page, everybody was working hard and trying to pick up three points."
Spurs claimed victory without Conte, who was ordered to rest by doctors on Wednesday after he rushed his recovery from gallbladder surgery on February 1st.
He was still in regular contact with assistant Cristian Stellini and first-team coach Ryan Mason during the game and spoke with his players on Saturday night but the "leaders" of the squad have been asked to step up.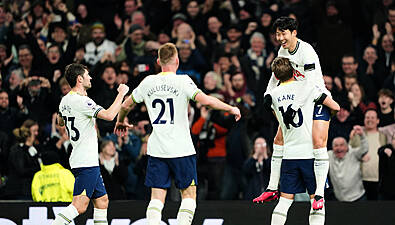 Sport
Son Heung-min responds to sub role with goal as Sp...
"That's what Cristian has really asked of us, that the boys with the experience have to do their bit," Davies said.
"It's not easy when you don't have your manager here, but Cristian and the manager have really drilled into us that if Cristian speaks, that's the manager's voice as well.
"So we've been working hard, we've given it our all and we're very happy with the result for both of them."