Ireland's Under-20s withstood a late comeback from 14-man England in Cork to secure a second Six Nations Grand Slam in a row and make it a St Patrick's weekend to remember for Irish Rugby, following on from the men's senior clean sweep claimed the night before.
As reported by the Irish Examiner, Richie Murphy's side had looked on course for a sweeping victory as two tries apiece wing Hugh Gavin and man of the match Brian Gleeson, the No.8 and another from prop George Hadden opened up a 31-10 lead with three conversions from Sam Prendergast.
England's discipline had imploded under the pressure early in the second half with wing Tobias Elliott yellow-carded and fly-half Monty Bradbury sent off but to their credit the visitor's rallied with two tries in the final 10 minutes to provide an anxious endgame for the home side. The nerves quickly dissipated, however when scrum-half Fintan Gunne added Ireland's sixth try two minutes from time to secure back-to-back titles and add another Grand Slam to the one achieved 24 hours earlier by Johnny Sexton's team.
Ireland got off to a dream start, their intensity evident from Sam Prendergast's kick-off, a strong chase exerting immediate pressure in the English backfield and ekeing an attacking lineout on the opposition 22 from a poor clearance.
The resulting set play saw Ireland work the English defence hard through multiple phases and with a penalty advantage earned they sucked more defenders towards the posts before half-backs Fintan Gunne and Prendergast pulled the trigger, moving the ball wide to the left wing where Hugh Gavin was unmarked to score the opening try after three minutes.
Prendergast missed the touchline conversion but Ireland threatened to quickly add another score minutes later at captain Gus McCarthy charged down the left wing to sow more doubt within the visitors' defence only for a Joseph Woodward tackle five metres out to avert the second try.
Having weathered the early onslaught, England warmed to their task and took the lead on 15 minutes when full-back Sam Harris converted a slick try under the posts for wing Tobias Elliott to finish a move sparked from a strong driving maul.
Harris missed a chance to extend England's lead with a 23rd-minute penalty and Ireland took advantage of another missed opportunity for the away team when they pounced on loose ball inside their own half and countered through full-back Henry McErlean, whose kick into the opposition 22 was converted into a ruck penalty.
Ireland went to the corner and their driving lineout maul proved too strong as No.8 Brian Gleeson touched down to put his side back in front on 27 minutes, Prendergast' second attempt from the close to the left touchline finding its target to give the home side a 12-7 lead they took into the half-time break.
It was England who started the second period on a mission, however, captain Lewis Chessum charging down Gunne's box kick as Ireland attempted to clear the restart. Chessum looked to have won the foot race with Prendergast to touch down and referee Adrian Jacobs awarded a try, only for a TMO check to reveal the English lock had failed to exert downward pressure, the score remaining at 12-7 to Ireland.
It was a lucky escape for Murphy's team and one the Englishmen would rue for matters quickly ran away from them, initially when try-scorer Elliott was yellow-carded for a deliberate knock-on on 49 minutes. The resulting lineout from the penalty was stolen by Chessum but Ireland quickly regrouped and laid siege to the tryline, loosehead prop George Hadden ploughing over for the first try of the half to open a 17-7 lead.
It got worse for England when fly-half Monty Bradbury received a red card two minutes later having sent McErlean skywards as he made a no-arms tackle on the full-back, who landed nastily high on his back, forcing him off for a Head Injury Assessment.
Ireland struck for their fourth try from the resulting penalty and lineout, No.8 Gleeson claiming his second try and the bonus point with Prendergast slotting the conversion to open a 24-7 lead.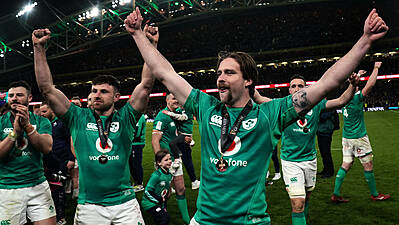 Sport
Mack Hansen hails Andy Farrell's motivational skil...
Harris landed a penalty for England on 57 minutes before Gavin grabbed his second try of the game, again converted from the fringes by Prendergast as Ireland moved into a 31-10 lead.
It was a cushion that proved far from impregnable though as short-handed England staged a comeback, tries from replacement Joe Jenkins and Elliott within five minutes of each other, both converted by replacement Sam Worsley bringing the visitors to within seven points with four minutes remaining.
If there was anxiety in the Irish camp it was quickly alleviated when Gunne claimed his side's sixth try of the night two minutes from time, much to the relief of the sell-out crowd.
That the conversion sailed wide made no difference. Ireland were Under-20 champions and Irish rugby had another Grand Slam to celebrate.