Lewis Hamilton said Red Bull have built the fastest Formula One car he has ever seen after Sergio Perez saw off Max Verstappen to win the Saudi Arabian Grand Prix.
Perez cantered to victory from pole position at the circuit on the Jeddah Corniche as Verstappen blasted his way from 15th to second following a mechanical failure in qualifying.
George Russell took third place after Aston Martin's Fernando Alonso was demoted a position following a controversial post-race 10-second penalty. Hamilton finished fifth.
Red Bull have moved to another stratosphere this year, and their crushing one-two finish – a fortnight after they ruled the season-opener in Bahrain – will be a cause of major concern for Formula One bosses ahead of a record 23-round campaign. Red Bull have now won 12 of the last 13 races staged.
Russell said at the season-opening race that he expects the team from Milton Keynes to win every round this season, and their rapid form on the Red Sea has done little to dispel the British driver's chilling prediction.
Perez and Verstappen were both more than a second-a-lap quicker than their rivals. Alonso finished 20.7 seconds behind Perez, who eased off in the closing stages. Hamilton, who saw Verstappen breeze past him after only a dozen laps, was half a minute down the road.
"I have definitely never seen a car so fast," said Hamilton. "When we were fast, we were not that fast. It is the fastest car I have seen, especially compared to the rest.
"I don't know how, but he [Verstappen] came past me with some serious speed and I didn't even bother to block him because there was a massive speed difference.
"Everyone wants to see a close battle, but it is the way it is. It is not my problem, it is not my fault."
Alonso, the 41-year-old Spaniard who is enjoying a remarkable resurgence with Aston Martin, provided some excitement in the opening moments when he dived underneath Perez on the run down to the opening bend.
But Alonso's slim chances of taking his first victory in a decade were dealt a fatal blow when he was handed a five-second penalty for starting out of position. When he came round to serving his punishment as he changed tyres, Perez had already assumed the lead.
His Aston Martin mechanics then touched his car as he served his penalty resulting in a second sanction, denying the Spaniard a 100th career podium.
Hamilton started seventh and was the only one of the main players to begin the race on the hard tyres – the slower but more durable compound – and the British driver struggled for speed.
He dropped to eighth on lap eight when Charles Leclerc cantered by, and then fell behind Verstappen to leave him in ninth. He was also shown a black and white flag by the stewards for weaving on the straight as he earlier attempted to keep Leclerc back.
But his night suddenly changed for the better when Lance Stroll broke down in his Aston Martin on lap 18. Out came the safety car and Hamilton was effectively handed a free pit stop, moving him ahead of both Leclerc and Carlos Sainz.
By then, Verstappen was already fourth. The race restarted on lap 21 and the Dutchman made light work of Russell and then Alonso to take second place.
Such is the speed of the Red Bull that Alonso did not even put up a fight in keeping Verstappen behind and risk losing time to Russell and Hamilton in the fight for the final podium spot.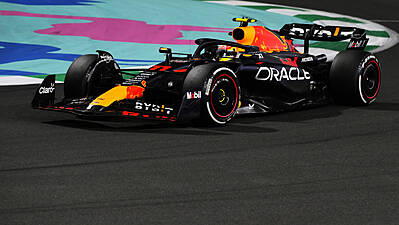 Sport
Sergio Perez holds off Red Bull team-mate Max Vers...
Hamilton looked primed to launch an assault on Russell but his challenge never materialised. He took the chequered flag 5.1 seconds behind his team-mate.
"I still don't have the confidence with the car, but I am doing the best I can with it," he concluded.
"I struggled in qualifying so I am pleased to turn it into a positive and George got a great result and some good points for the team."