Fred believes Erik ten Hag and Manchester United's South American summer signings have helped transform the group's mentality.
After limping from game to game towards the end of a wretched 2021-22 season, the Red Devils have looked rejuvenated since the summer appointment of the meticulous Dutchman.
Ten Hag has overseen a sea change in quality and culture at United, who picked up their first trophy in six years after beating Newcastle in Sunday's Carabao Cup final.
View this post on Instagram
The trip to Wembley was sandwiched between two other key cup games in which the Old Trafford giants' psychological strength came to the fore.
Having bounced back to beat Barcelona 2-1 in last week's Europa League play-off clash, Wednesday saw United secure another comeback win as they overcame West Ham 3-1 in the FA Cup fifth round.
"We have a good season, a good season for myself," said Fred, who scored in the wins against Barca and David Moyes' Hammers.
"It's important to score and to help my team-mates. Erik has brought energy to our dressing room, so it's a good season and we need to keep it going.
"It's difficult to say (what is different to before). Erik ten Hag bring a lot of things with him.
"He brings energy into the dressing room, now we keep playing in our home, we have a place to play. I don't know what's different, it's the same players, but a different mentality."
Chipping in from midfield 🍟⚽️

🔥 @Fred08Oficial is having some season in front of goal! #MUFC || #FACup

— Manchester United (@ManUtd) March 2, 2023
Asked it was down to being a more confident side than before, Fred said: "Everything. Like today, we were 1-0 down, every moment we believe, we believe in the game.
"We have the mentality, it's important to keep this to win the trophies."
United will need that psychological strength at Anfield on Sunday when they take on Liverpool – a team Jurgen Klopp has repeatedly called his "mentality monsters" down the years.
The Red Devils have not won at their rivals since January 2016 but they head to Merseyside in confident mood and bolstered by their South American contingent's drive.
Serial winner Casemiro has helped changed the mindset of the team since joining in the summer, as has fellow Brazil international Antony and Argentinian World Cup winner Lisandro Martinez.
"We bring in players with good mentality," Fred said as he did an external interview in English for the first time.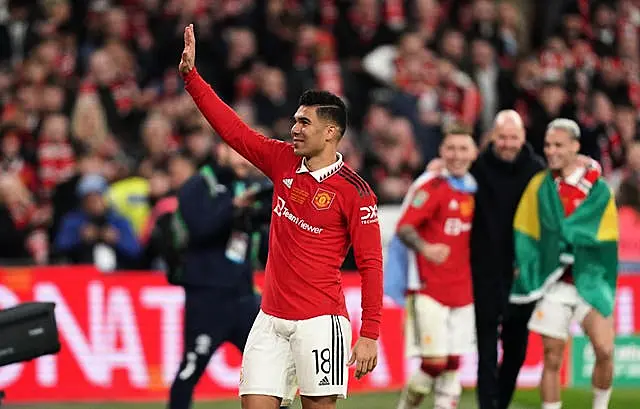 "Now the players that were here before change mentality as well. Everyone is important, now we have one way to go."
The arrival of Casemiro has felt particularly important for United given the former Real Madrid star's mindset and quality.
"I love to play with Casemiro," Fred said. "We have a good squad, in midfield and everywhere. It's important to have a good squad, we have a lot of games.
"He's a big leader, he talks a lot with us, with every player, every day. He tries to work on his English as well.
"He is a good guy, everyone knows this, he has a good way in the dressing room."
Asked if Casemiro has helped with United's mentality change, Fred added: "Of course, Casemiro, he won a lot of trophies in Real Madrid.
📢 The boss has shared his reaction to drawing Fulham in the next round...#MUFC || #FACup

— Manchester United (@ManUtd) March 2, 2023
"He has a good mentality in the national team as well, he's important to be a part of our squad."
While United can look forward to an FA Cup quarter-final clash with Fulham, West Ham full-back Ben Johnson was left ruing what could have been.
"We thought we had a great chance in the FA Cup," he said. "We've obviously seen the results of the teams who have been knocked out and it's a missed opportunity.
"When we come here it seems like we never get the rewards we deserve in the results. We've come here a few times and been so close, only to lose goals in the last minute through no fault of anyone.
"We defended so well and played some great stuff – what we're doing is coming together but it's unfortunate that we didn't get the result today and didn't go through."