The #MeToo movement was a huge inspiration for Katie Bishop's debut novel, The Girls Of Summer.
It takes place between two timelines: one which sees 17-year-old Rachel forming a relationship with a much older man on a remote Greek island; and the present day, when she looks back at her experiences and finally sees the darkness that was lurking underneath.
"When I started writing, it had been about three years since the #MeToo movement really took a hold in a big way," Bishop remembers. "I spent so much of that time talking to other women, talking to friends and reflecting on my own experiences – particularly those early romantic and sexual experiences.
A sun-soaked island. An all-consuming romance. The best summer of your life... but what if everything you remember was a lie?#TheGirlsOfSummer is out now: https://t.co/nbsuwrDQ7t pic.twitter.com/xIjRCp9MnU

— Penguin Books UK (@PenguinUKBooks) May 26, 2023
"There's this huge collective horror and this collective reckoning when so many women were looking back on these early experiences through this sharp lens of the #MeToo movement, and realising things they thought were normal at the time – things we've maybe even talked and joked about – we're all looking back on these experiences and thinking, wow – that really wasn't what I thought it was at the time.
"When the naivety of youth and gloss and excitement at the time is stripped away, you're actually looking at something a whole lot darker."
Birmingham-based Bishop, 31, says she felt like "so many women were going through this", making The Girls Of Summer a particularly timely tale.
There's been a wave of books touching upon themes raised by the #MeToo movement – consent, sexual assault, abuse of power and more – and Bishop understands why.
She calls it a "collective processing", saying: "Reading these stories is such a great way for people to process all the different things that happened to them."
The remote setting of the book – a fictional island you can only reach by boat – adds to the feeling of claustrophobia.
"I wanted to capture that sense of the possibility of youth, and that feeling you have when you're 17, 18, and it's maybe your first time away from home and you feel like anything could happen – the whole world is open to you. But at the same time, it's so easy for people to take advantage of that and trap you in that situation – so setting it on that small, isolated island was a way of representing that."
Despite its dark themes, The Girls Of Summer is set to be a big beach read this year – and Bishop likes her holiday books to have an edge.
"There's a place for staying light and fluffy on the beach – sometimes you want to completely switch off on holiday," she says. "But sometimes on holiday it's the only time you can really get stuck into something and be completely absorbed in a story. So I like a book that is a little bit darker, a little more all-consuming."
Bishop is now working on her second book, which she says has "similar elements to The Girls Of Summer".
"It's going to have a strong feminist angle, it's going to be set in another beautiful but claustrophobic, escapist location, and it's going to play with a lot of psychological themes again."
Other summer reads to put on your list…
The Guest by Emma Cline (Chatto & Windus, £18.99)
Bishop says: "It's summer, it's really hot, it's got such a sense of claustrophobia to it – and you can really imagine yourself being there. It's set in the Hamptons during a very claustrophobic summer for the main character. I read that recently in a couple of days – stormed through it, and I thought it was absolutely perfect."
Happy publication day to The Guest by Emma Cline!

The compulsive new novel from the bestselling author of The Girls is out today 🎉💙https://t.co/D2SdRUNjln pic.twitter.com/5CthN98kh6

— Vintage Books (@vintagebooks) May 18, 2023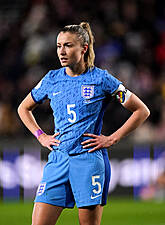 Entertainment
Leah Williamson's first fiction book inspired by w...
Heatstroke by Hazel Barkworth (Headline Review, £16.99)
"It's got quite similar themes to The Girls Of Summer – it's about a young woman who has a relationship with her teacher, and she goes missing during the summer. It's written from the perspective of her best friend's mum as they're trying to find this girl.
"It's set in the UK, but it's during this week where there's this insane heatwave. I really felt the heat and the claustrophobia and the pressure. Something like that, for me, is the perfect beach read."
The Girls Of Summer by Katie Bishop is published by Bantam, priced £14.99. Available now.