Being a mother makes Binky Felstead very happy. In fact, it's been the making of her.
The Made in Chelsea star has gone from being a "frivolous and fancy-free" girl about town to a mother of two young children who's expecting her third baby next month – and she couldn't be happier about her change in circumstances.
"I feel like I have a purpose now, and I'm the happiest I've ever felt," she declares.
"For as long as I can remember, I've always been very maternal – I feel like I've always wanted to have a family, and recreate what I had growing up. It's hard at times, but it's the most fulfilling job I've ever had.
"I know myself now more than ever – I feel like it's what I was put on this earth to do."
Felstead, 32, whose real name is Alexandra, had her first child, India, with her MIC co-star Josh Patterson in 2017.
They split the following year, and she went on to meet Max Darnton, who she married in 2021, soon after the birth of their son Wolfie, now aged 21 months.
Felstead is expecting a second son at the end of April.
Her mummy life is worlds apart from her previous glamorous showbiz life – but she wouldn't change it for the world.
"Being on Made in Chelsea from my early twenties, frivolous and fancy-free, not really knowing what I was doing, and just having fun, obviously I've grown up in the public eye. From that to being a mother of nearly three, a wife and a businesswoman!".
"I was doing a photoshoot last week having my make-up and hair done, wearing gorgeous clothes and feeling glamorous, and then the next minute I had stuff in my hair, clearing up poo, looking revolting, and it's a weird balance. It takes some getting used to, but I've got used to it now!"
She's so used to it, in fact, that she's a bit of an expert on this motherhood thing now, and co-founded the Bloss parenting app in 2021 to help other parents get expert advice that she couldn't find herself during her first pregnancy.
"When I first had a baby at 26, there was no-one I could turn to apart from the advice from Mummy Felstead," she recalls.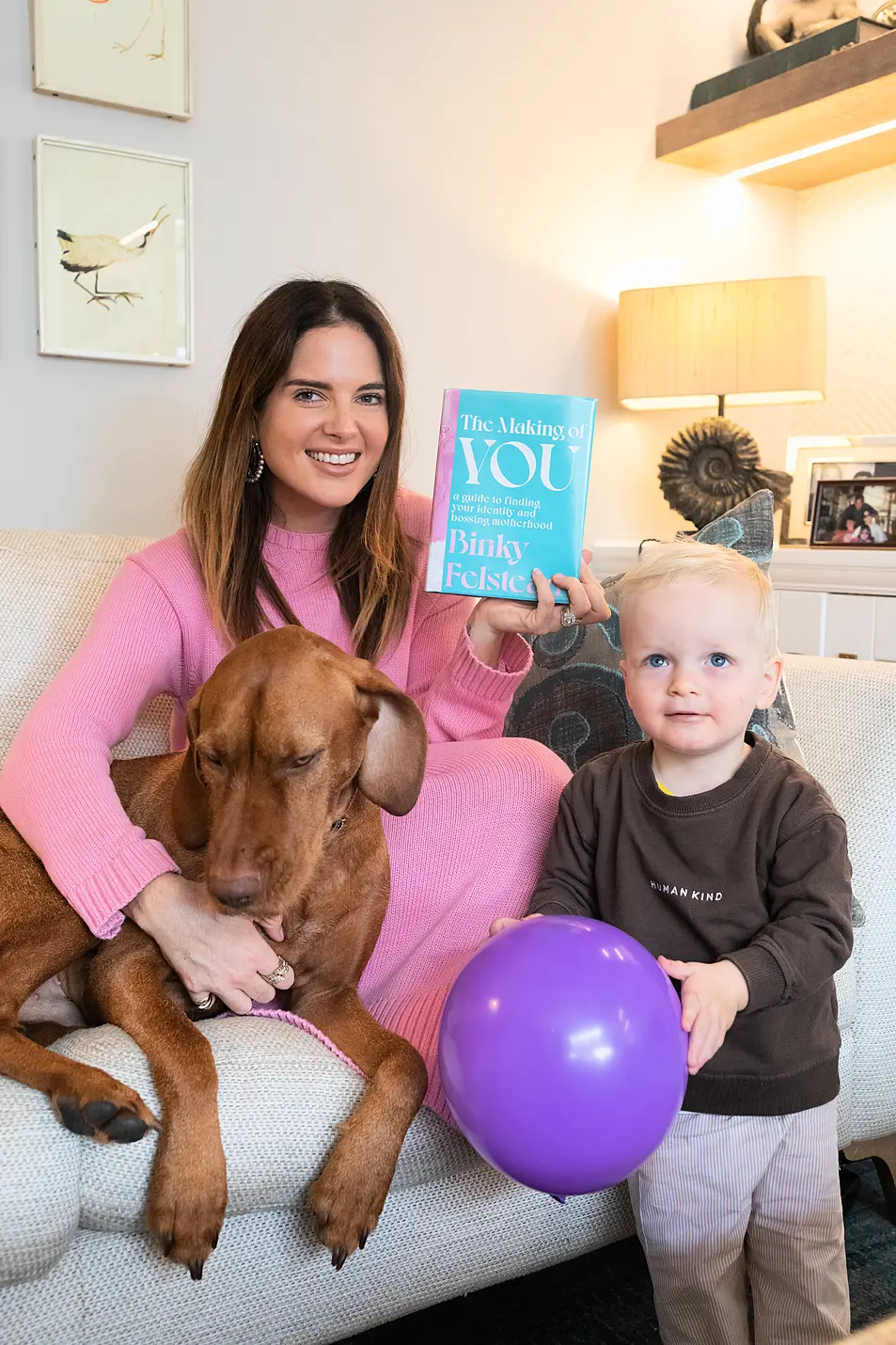 "I've had a lot of people asking me a lot of questions over the years about anything and everything to do with my life, pregnancy and children, I've met a huge amount of experts. Being able to help mummies or parents-to-be has been a real passion of mine, and being able to share all my contacts and give back to everyone has been really lovely."
She's also written a book, The Making of You, which is described as a guide to 'bossing motherhood', and she says: "It's about how motherhood was the making of me, and hopefully it will help a lot of other parents and parents-to-be as well.
"I think it's just about using your initiative – don't overthink too much. A lot of people are listening to too many different people's opinions, a lot of it unsolicited, and I guess it's just quite overwhelming. You don't really need to do that – just stick to the people you really trust."
She says her current pregnancy is going fine, although she's recently discovered she has gestational diabetes, writing on Instagram: "So it's been confirmed I am officially a 'GD Mum."
She says she's feeling a bit like a beached whale in the later stages of her pregnancy, but adds: "I'm needing the loo a lot, annoyingly, but apart from that I'm pretty sore, heavy and tired. Especially with having Wolfie and India, it's a lot more tiring this time."
India and Wolfie's births were both induced, and she plans to do the same with baby number three, explaining: "I like to be as organised as possible. When it comes to giving birth you can't plan too much, obviously, but I knew when to go in, when to pack my bags. I absolutely loved the way I did it with India and Wolfie, and I'll be doing the same with this baby.
"It worked perfectly for me with my two previous pregnancies, so why not?".
She's not planning to do anything particularly different with the new baby than she did with India and Wolfie, and says: "India wanted a little sister, but we got over that quite quickly.
"She's very excited, she keeps asking me when it's coming. She's very maternal – but God knows what's going to happen when we've got two boys running around stealing her toys! She's looking forward to having two little brothers though."
Loving motherhood so much, will she have any more babies after this one?
"I don't know – three's quite a lot, we're outnumbered now, so we'll see," she replies. "Max would love another one, and I've always had three or four in my mind if we're lucky enough to have another one. I think we're going to be pretty busy, and we probably won't be invited to people's houses with four, I think it scares a lot of people – there's a lot more to think about with four."
She admits that parenting is definitely a very hard job, no matter how many kids you have, and stresses: "I'll ask for help if need be. We all know how stressful it is, and some people are too scared or ashamed to admit they need help sometimes when it comes to parenting.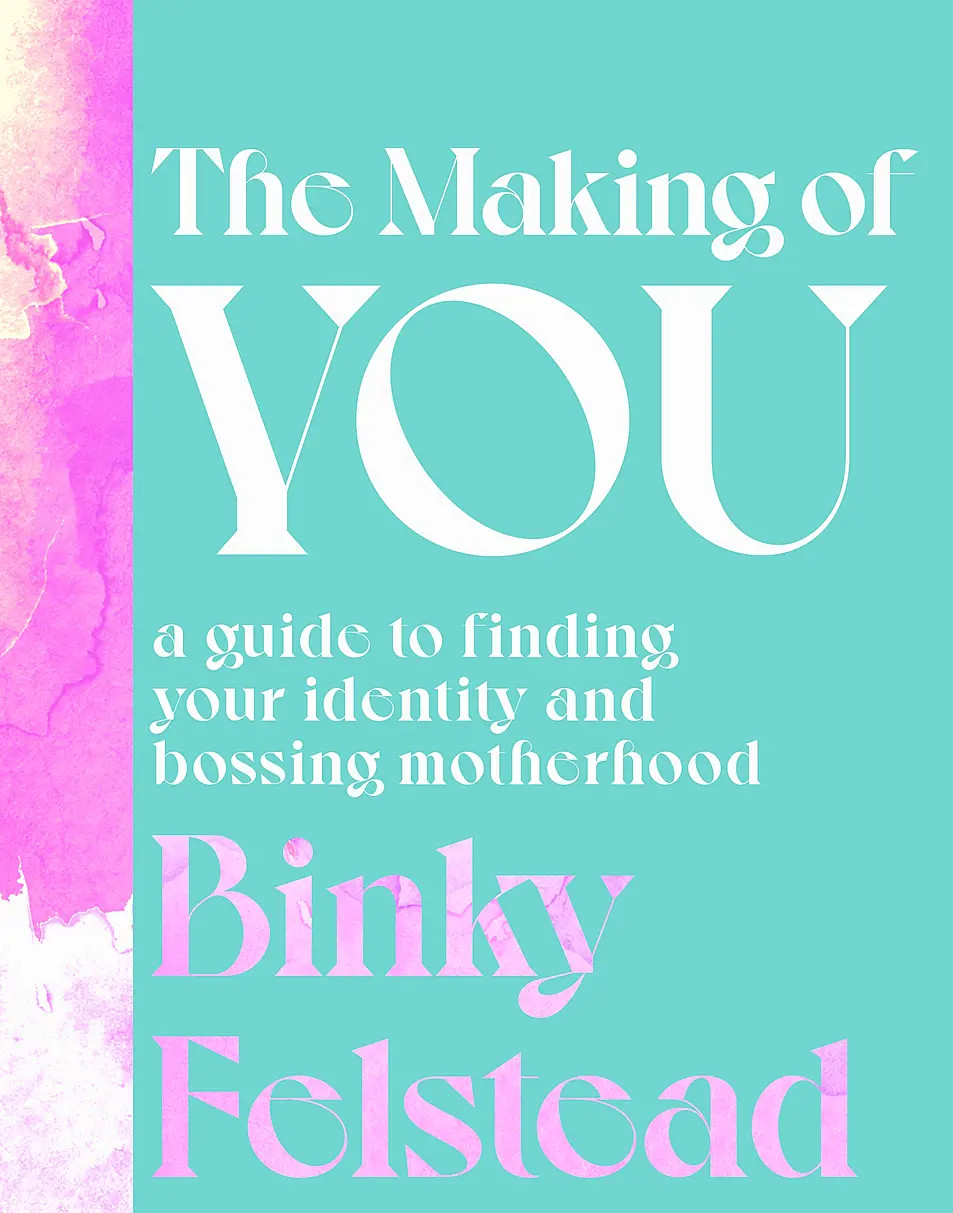 "As we all know, being a mother you might have one that doesn't like one thing, another is throwing their food on the floor, or they don't want to get changed into a certain outfit. It's the hardest job in the world, as I keep trying to tell Max.
"Parenting can be very lonely, but make sure you've got people there to ask for advice and help, because you can't do it all on your own. It's daunting, but it's definitely the most fulfilling job I've ever had. It's terrifying, but so exciting."
And she adds: "There's no perfect parent handbook, we all know that, and we all have our moments when we're going to tear our hair out, but we're doing the best we can, and that's all you can do."
The Making of You by Binky Felstead is published by Piatkus. Available now.