Israel has recalled its ambassador to South Africa, Eliav Belotserkovsky, to Jerusalem "for consultations" ahead of a parliamentary vote in the African nation on the fate of the Israeli embassy in Pretoria.
The two countries' diplomatic relations have witnessed a rise in tensions over the Israeli war with Hamas in Gaza.
South African President Cyril Ramaphosa previously said his country believes Israel is committing war crimes and genocide in Gaza, where thousands of Palestinians have been killed.
"Following the latest South African statements, the Ambassador of Israel to Pretoria has been recalled to Jerusalem for consultations," Israel's ministry of foreign affairs posted on X, formerly known as Twitter.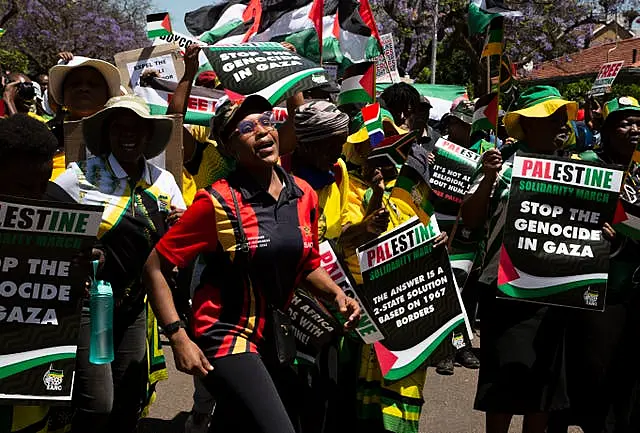 This came ahead of a vote in South Africa's parliament on a motion to shut down the Israeli embassy and cut all ties with Israel until a ceasefire is implemented in Gaza.
The motion tabled by the leftist opposition party Economic Freedom Fighters has the backing of the ruling African National Congress and other smaller parties.
South Africa announced last week that it had referred what it called Israel's "genocide" in Gaza to the International Criminal Court for an investigation, with its cabinet calling on the ICC on Monday to issue an arrest warrant against Israeli Prime Minister Benjamin Netanyahu.
"Given that much of the global community is witnessing the commission of these crimes in real time, including statements of genocidal intent by many Israeli leaders, we expect that warrants of arrest for these leaders, including Prime Minister Benjamin Netanyahu, should be issued shortly," South African minister in the presidency, Khumbudzo Ntshavheni, told reporters on Monday.
Earlier this month, South Africa recalled its ambassador to Israel and withdrew all its diplomatic staff from the country.
The conflict will also be the subject of a virtual meeting of so-called Brics countries on Tuesday, which will be attended by leaders of the bloc, including Mr Ramaphosa, Russian President Vladimir Putin and Chinese President Xi Jinping.
The economic bloc was formed by Brazil, Russia, India and China in 2009 and added South Africa in 2010. Iran, Saudi Arabia and the United Arab Emirates, Argentina, Egypt and Ethiopia are also set to enter Brics.
The Israel-Hamas war erupted after the Palestinian militant group's surprise attacks on Israel on October 7 killed about 1,200 people. Israel's retaliatory strikes on Gaza have killed more than 12,700 people, according to Palestinian health authorities.