A woman who broke her leg when she claimed she tripped on a lip at a door in a pet shop has denied in the High Court that she tripped over her own dog which she had brought to have its nails clipped.
Carole Vickery (61), of Adare Drive, Coolock, Dublin, is suing Petzone Ltd and its owner Kieran Stenson over the incident at Petzone in Coolock Village, on August 9th, 2014.
The defendants deny negligence and say she fell while trying to avoid her dog which ran in front of her legs.
She claims she fractured her femur in the fall when her foot got caught in a runner for a sliding security door at the entrance to the premises and "fell forward and landed all the way out in the middle of the yard".
A pharmacist working in the premises directly opposite the pet store told the court she saw Mrs Vickery stumble after she tried to avoid stepping on her own small Glen of Imaal terrier, which had run in front of her.
Jennifer Rigney, who worked in the Village Pharmacy, Coolock, said she was looking out the window when she saw a woman come out of the pet store and "almost before she fell, I could see it happening". She said the dog ran across Mrs Vickery, and she tumbled and fell over.
Asked by the defendants' counsel, Miriam Reilly SC, why she could have anticipated something was going to happen, Ms Rigney said: "Whatever way her foot went to come out onto the pavement and rather than stand on the little dog she tumbled."
Ms Rigney wrote a note about what she saw at the request of Mr Stenson the day after the incident. She also said she was very glad she wrote the note because she would not have remembered now what had happened so many years ago.
The court heard that Mr Stenson, who held the door open for Mrs Rigney as she exited, will also give evidence that the dog ran between her legs and that he heard someone say "the dog is a **** nuisance" after the incident.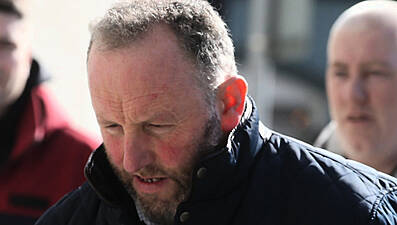 Ireland
Michael Scott trial: Jury can return majority verd...
Mrs Vickery disagreed that she told her doctors she had a previous fall over her dog in 2012 or that she had three falls in total in 2014. She agreed she had one other fall in 2014 when she missed a step in a garage.
She also acknowledged she suffered from blurred vision in one eye.
Mrs Vickery claims the pet store fall seriously affected her life, including acting as a carer and walking to the shops, and added she could no longer do mountain walking in Co Mayo as she had done before the incident.
Her son, Adam, who accompanied her to the store, said he was "100 per cent sure" she did not trip over the dog, adding that he had the dog on a lead and had just been taken off a table in the groomers when he saw his mother fall.