The arrest of a senior Kinahan cartel member in Spain leads many of the Irish front pages on Tuesday.
The Irish Times, Irish Daily Mirror and Irish Daily Star cover the arrest of Liam Byrne, the leader of the Dublin-based drugs gang that ran the Kinahan cartel's operations in Ireland. The 42-year-old is wanted by Britain's National Crime Agency after being connected to alleged gun running.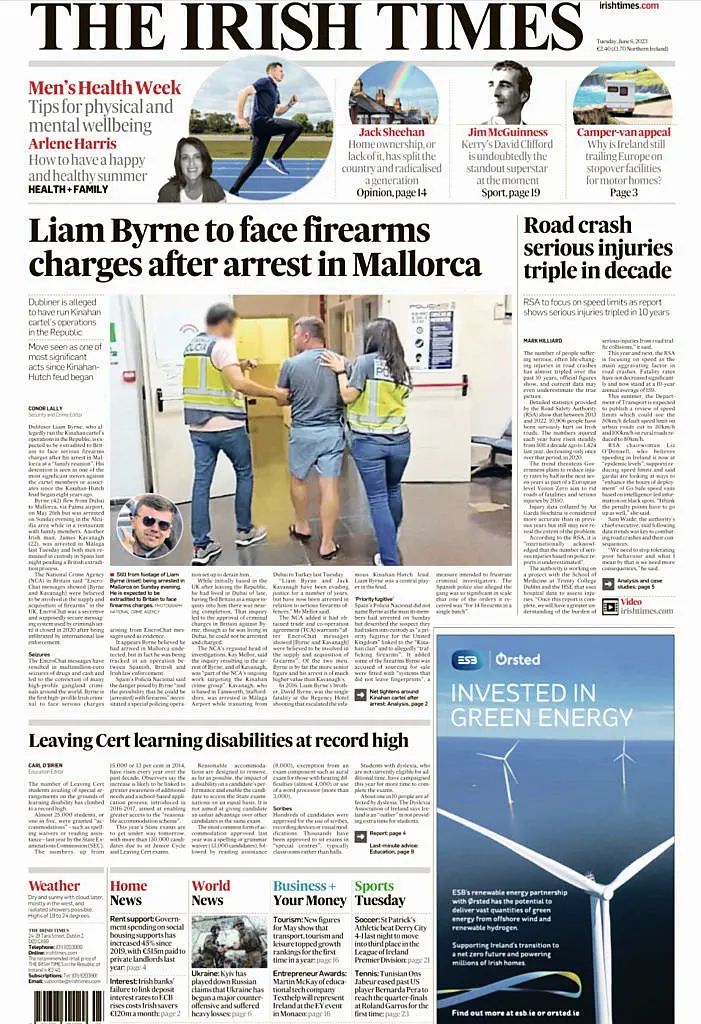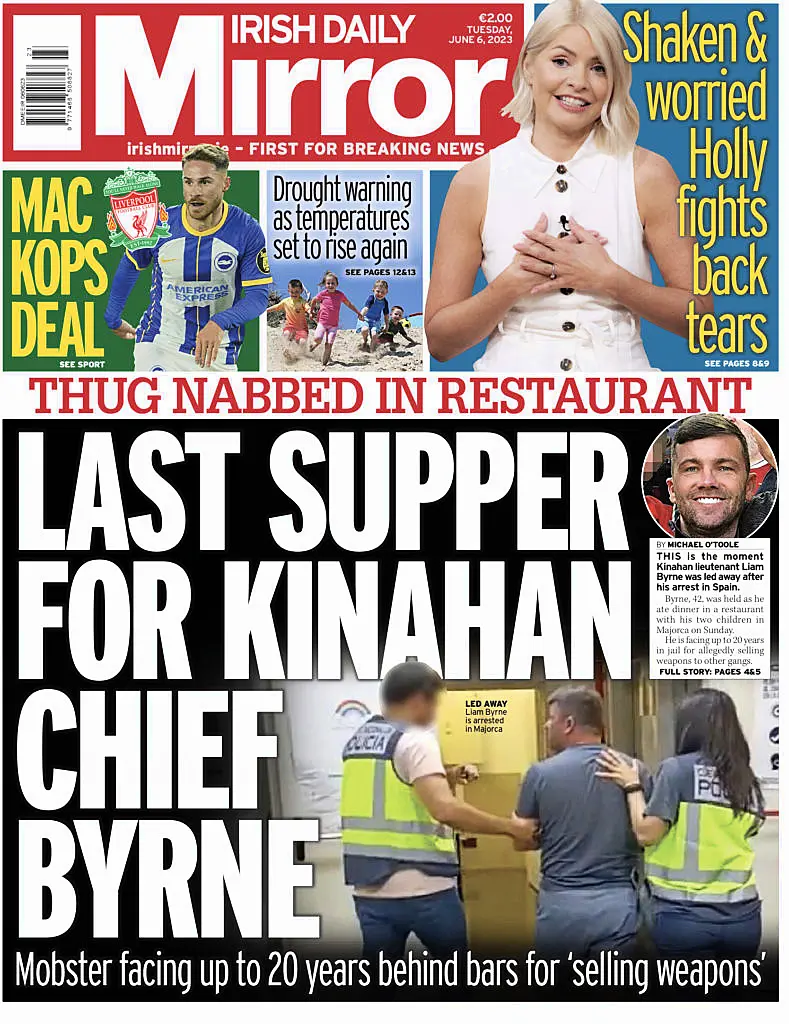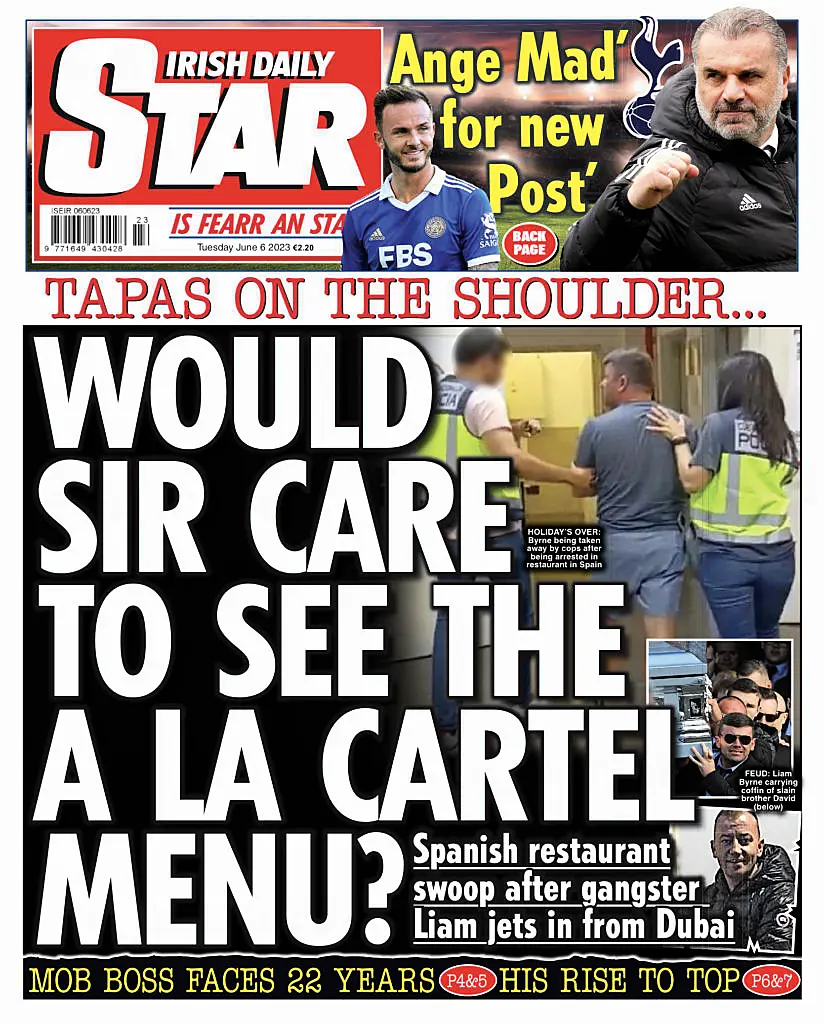 The Irish Examiner has an exclusive interview with Minister for Enterprise Simon Coveney. The Fine Gael TD for Cork South Central said he is "loyal" to his constituents and will stand in the next election.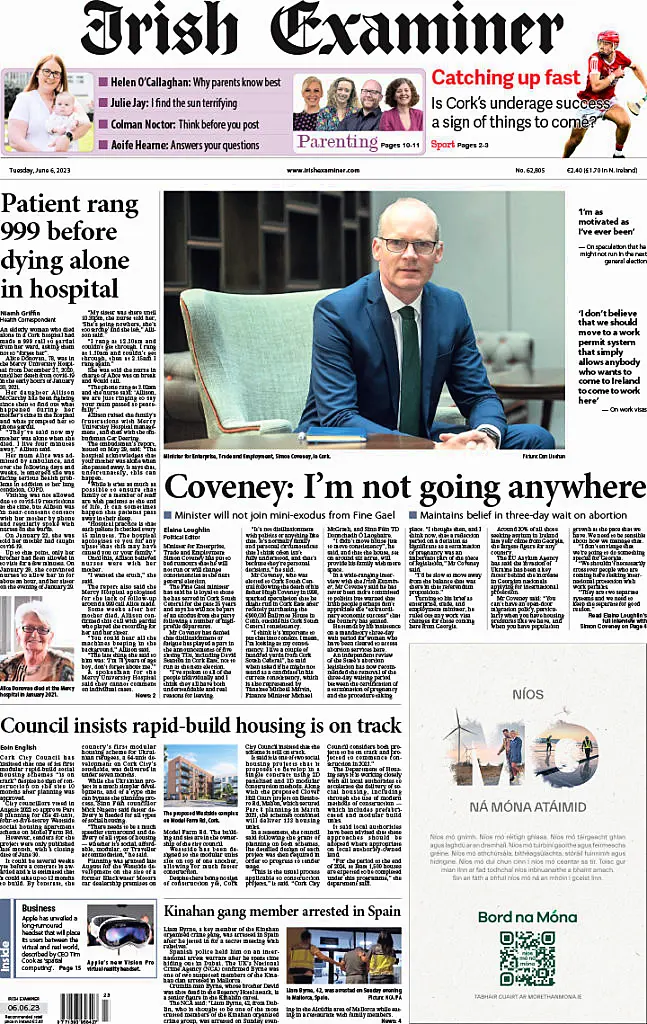 Cities outside of Dublin have recorded the highest spike in crime rates compared to pre-pandemic levels, the Irish Independent reports.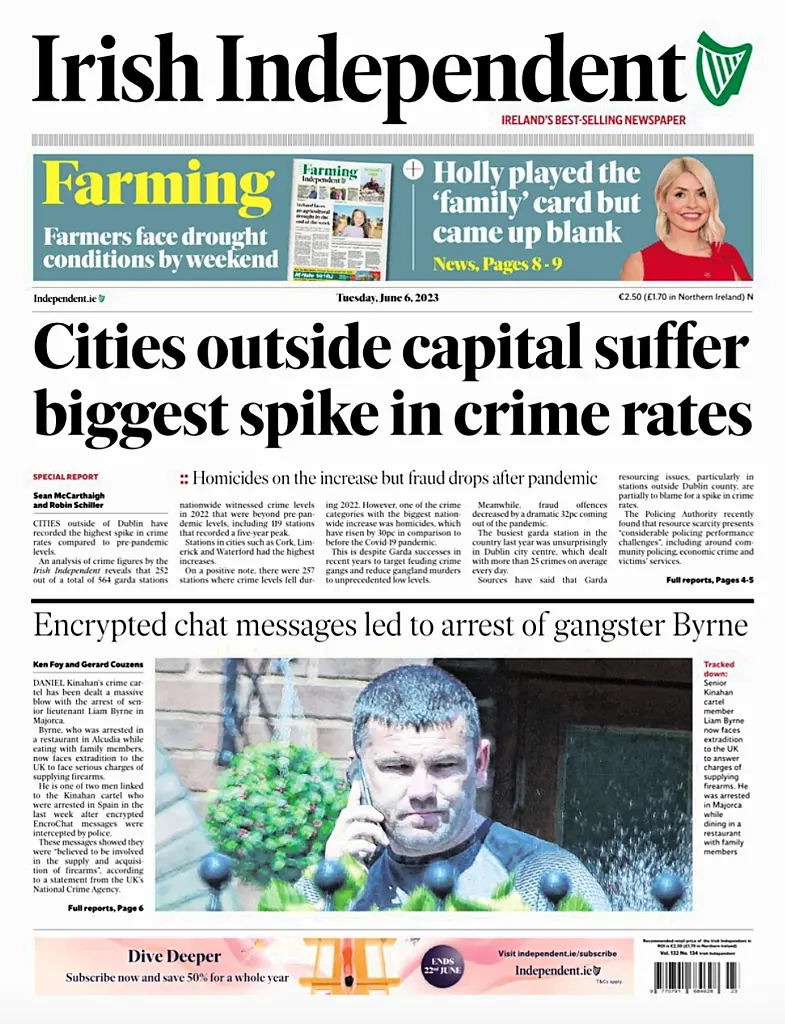 The Irish Daily Mail says the company running the National Car Test (NCT) system is to be fined millions over delays in the service.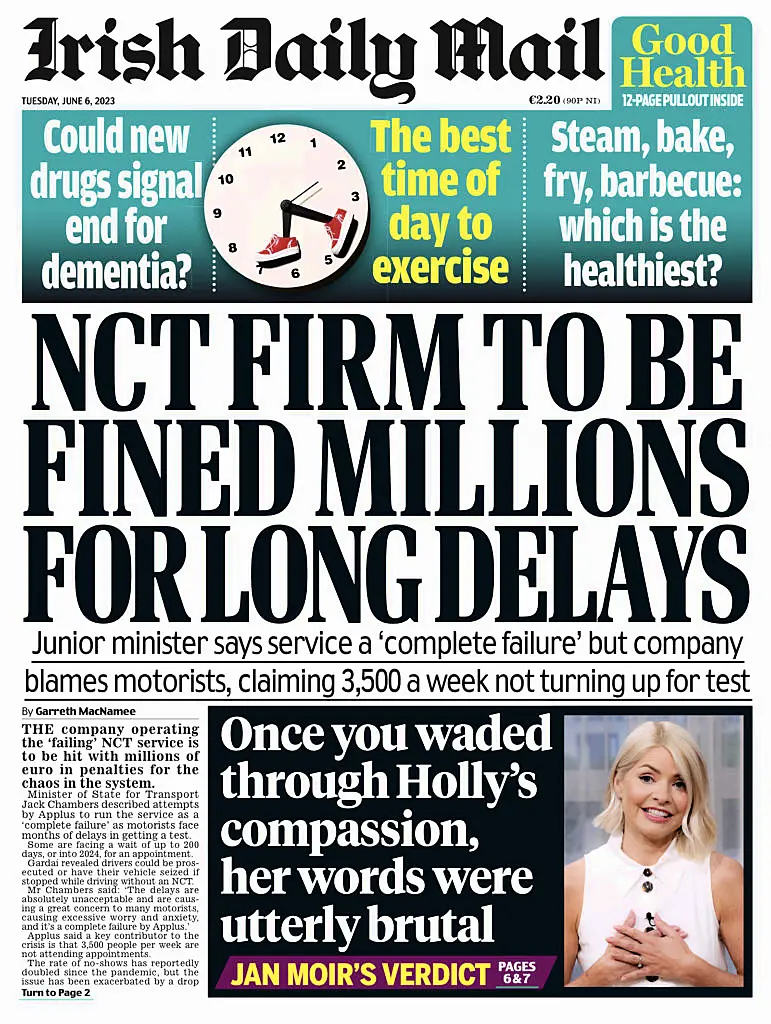 A man who streamed a video of an offensive song about murdered Co Tyrone woman Michaela McAreavey has lost his case at an employment tribunal that he had been unfairly dismissed from his job, the Belfast Telegraph reports.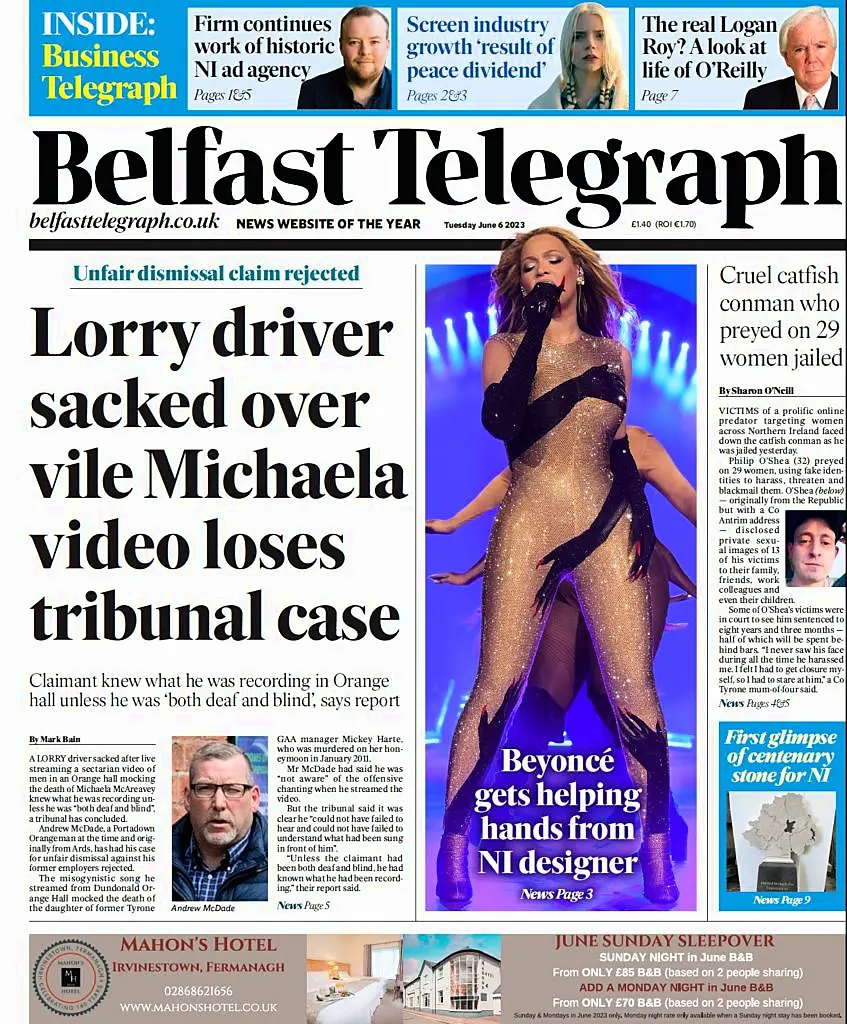 Prince Harry's no-show in court and delays to the UK Covid-19 Inquiry lead the British newspapers.
The Daily Express and The Daily Telegraph carry the latest on the small boats saga with the latter reporting that British prime minister Rishi Sunak has indicated he is willing to defy the House of Lords and force his proposed law through parliament.
Front page - PM: More barges will help deter migrant crossings #tomorrowspapertoday https://t.co/mekPAvzgKr pic.twitter.com/1LqUWiDmrt

— Daily Express (@Daily_Express) June 5, 2023
The front page of tomorrow's Daily Telegraph:

PM set to overrule Lords on boats Bill#TomorrowsPapersToday

Sign up for the Front Page newsletterhttps://t.co/x8AV4OoUh6 pic.twitter.com/Y0NQfHlhFy

— The Telegraph (@Telegraph) June 5, 2023
Labour's green energy plans will drive up mortgage rates, Tory ministers have said, according to the Daily Mail.
Daily Mail: Once you waded through Holly's compassion, her words were utterly brutal #TomorrowsPapersToday #TomorrowsPapersToday pic.twitter.com/UeECAuWIKh

— George Mann 🫧⚒️🫧 (@sgfmann) June 5, 2023
The Daily Mirror reports that a mother whose 10-year-old son was killed by a dog will make a "heartfelt plea to MPs today to introduce the Jack Lis Law so no other mother endures the heartbreak and trauma of losing a child to a dog attack".
Tuesday's front page: Danger dogs plea #TomorrowsPapersToday https://t.co/OxShmNVUNB pic.twitter.com/6nJ9qdn5BU

— The Mirror (@DailyMirror) June 5, 2023
The i says the bereaved families of those who died from Covid have hit out at the official inquiry for investigation delays.
Tuesday's front page: Covid families' fury as inquiry into NHS failures delayed until after election#TomorrowsPapersToday pic.twitter.com/7alNVGyg7o

— i newspaper (@theipaper) June 5, 2023
Prince Harry has annoyed the judge in his legal battle with the Mirror Group because he was unavailable to appear in court as he was celebrating his daughter's birthday, Metro reports.
Tomorrow's Paper Today 📰

JUDGE RAPS ABSENT HARRY

🔴 No-show prince 'unavailable' for court as he was celebrating his daughter's birthday pic.twitter.com/K9V2rNoy3w

— Metro (@MetroUK) June 5, 2023
The Financial Times carries the hacking of tens of thousands of British employees by a cyber gang.
Just published: front page of the Financial Times, UK edition, Tuesday 6 June https://t.co/Kzvb7fudaB pic.twitter.com/PHbaYkBhT6

— Financial Times (@FinancialTimes) June 5, 2023
Mr Sunak has been accused of being "afraid of trains" after taking another chopper to deliver a migrant speech an hour away in Dover, the Daily Star says.
Tomorrow's front page - 'Fishy Rishi gets his chooper out again'https://t.co/0em0w017VS pic.twitter.com/OaIFflzoJQ

— Daily Star (@dailystar) June 5, 2023
And The Sun says Taylor Swift has broken up with Matty Healy.
On tomorrow's front page: Taylor Swift 'splits' from rocker boyfriend Matty Healy after one monthhttps://t.co/iTBnyUZXm1 pic.twitter.com/oh0TXXkWfz

— The Sun (@TheSun) June 5, 2023