Proposed tax cuts, whispers of an early election, and a Late Late Show farewell are some of the stories covered across this Saturday's national papers.
The Irish Times reports Taoiseach Leo Varadkar is supportive of proposals to cut taxes for middle-income earners in the next budget.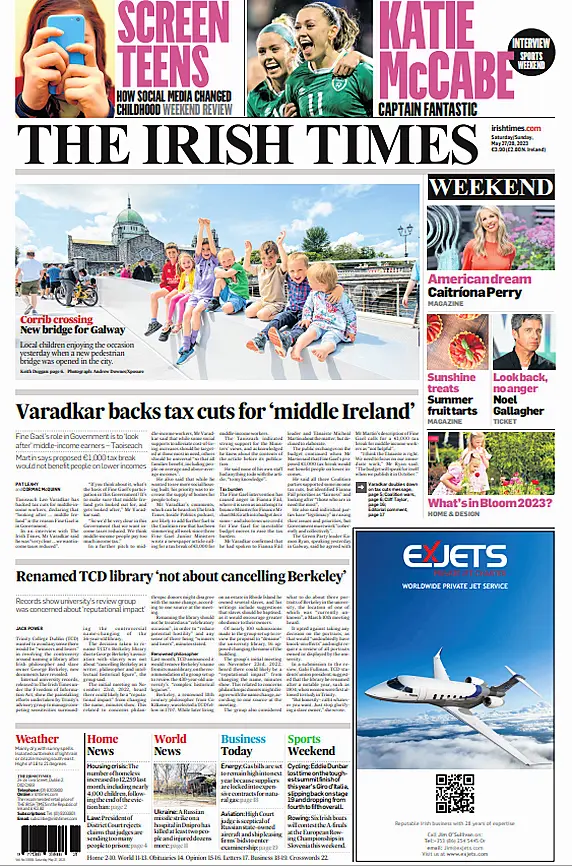 Meanwhile, the Irish Examiner lead story reads: 'Homeless numbers "to keep rising"', alongside a report that Minister for Health Stephen Donnelly has backed an audit concerning the HSE's spending on consultancy firms.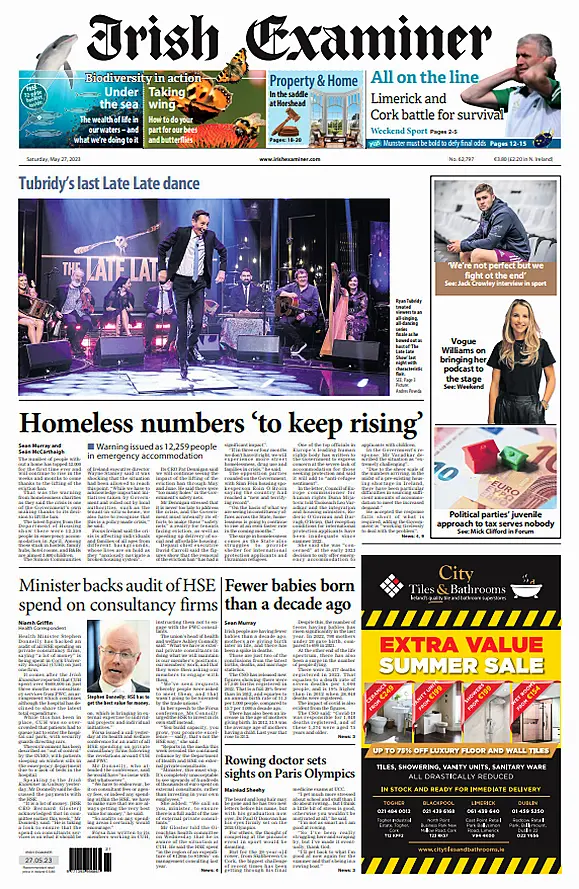 The Echo marks the return of action at the barque in Cork this weekend, while the Irish Independent reports 'hundreds of motorists flee from gardaí every month'.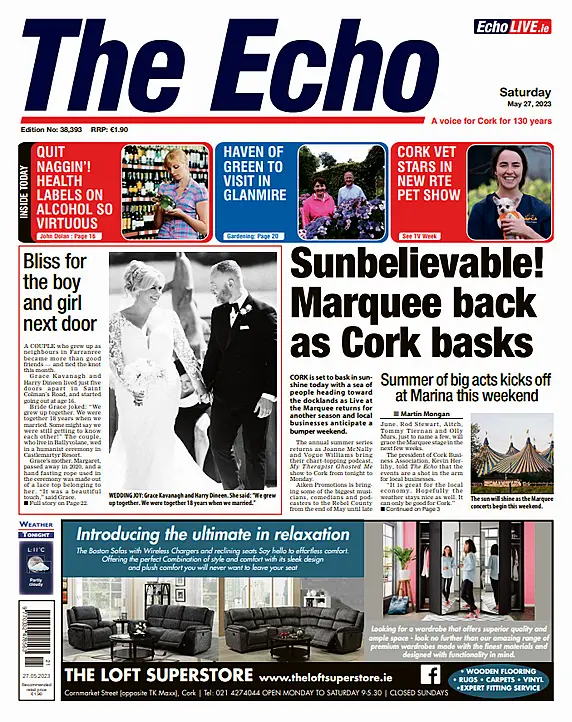 Here is the front page of today's Irish Independent. pic.twitter.com/ShGcbrgQwt

— Independent.ie (@Independent_ie) May 27, 2023
The Irish Daily Mail reports Minister for Enterprise Simon Coveney told a group of business leaders the next general election will be held in November 2024.
Reports of Phillip Schofield's revelations that he had an affair with a 'much younger man' are also covered by the paper.
For all the big news and sport, pick up a copy of Saturday's Irish Daily Mail, or click on https://t.co/wKUyK4AHpD pic.twitter.com/jx2JWCxV5p

— The Irish Daily Mail (@irishdailymail) May 26, 2023
Finally, both the Irish Daily Mirror and Irish Daily Mail join many of the national papers in marking Ryan Tubridy's final appearance as host of the Late Late Show on their front pages.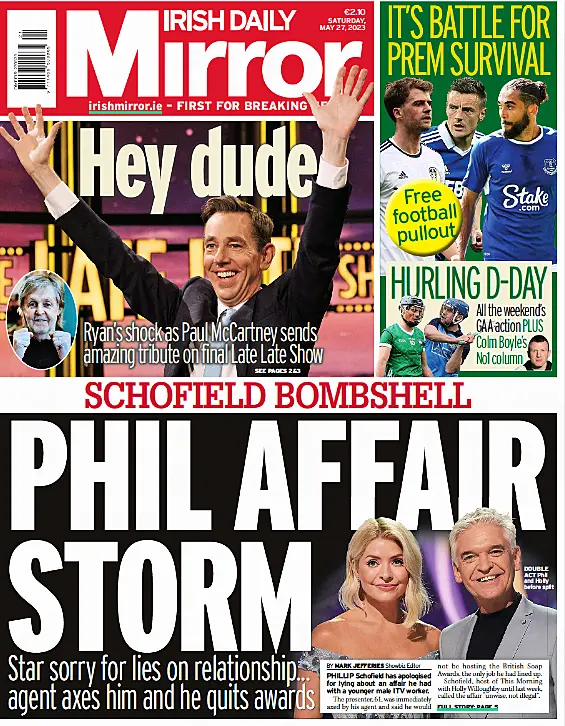 Our weekend big read includes two great sports pullouts and @starchicmag pic.twitter.com/NlEw6Up7H3

— Irish Daily Star (@isfearranstar) May 27, 2023
In Britain, many of Saturday's front pages also focus on Phillip Schofield resigning from ITV after admitting to an "unwise, but not illegal" affair with a young male colleague on This Morning.
The Daily Mirror, The Sun and the Daily Star have the TV personality admitting he lied about the affair.
MIRROR: Phil Affair Storm #TomorrowsPapersToday pic.twitter.com/GeFoVTMsqv

— Neil Henderson (@hendopolis) May 26, 2023
MIRROR: Phil Affair Storm #TomorrowsPapersToday pic.twitter.com/GeFoVTMsqv

— Neil Henderson (@hendopolis) May 26, 2023
He hid the relationship from family, friends and colleagues 👀#TomorrowsPapersTodayhttps://t.co/tgbzGOc2Zq pic.twitter.com/MV2nRVDOTX

— Daily Star (@dailystar) May 26, 2023
Foreign teachers are being offered £10,000 extra to work in the UK, The Times says.
TIMES: Extra 10k to woo more teachers from abroad #TomorrowsPapersToday pic.twitter.com/TlTSpG1yoR

— Neil Henderson (@hendopolis) May 26, 2023
Chaos caused by British Airways' system failures leads the Daily Express.
EXPRESS: Not again, BA! Travel chaos ruins holidays #TomorrowsPapersToday pic.twitter.com/tYVeVDI9QL

— Neil Henderson (@hendopolis) May 26, 2023
The Telegraph reports that the outgoing RAF head has said Russia will remain a threat to the UK if they lose the war in Ukraine.
🗞 The front page of tomorrow's Daily Telegraph:

'Defeated Russia still a threat to Britain'#TomorrowsPapersToday

Sign up for the Front Page newsletter:https://t.co/x8AV4Oomry pic.twitter.com/s4aDtSRFKI

— The Telegraph (@Telegraph) May 26, 2023
The Daily Mail says an investigation into the equalities watchdog was suspended over fears of a witch hunt.
Saturday's @DailyMailUK #MailFrontPages pic.twitter.com/nUR9hz8ref

— Daily Mail U.K. (@DailyMailUK) May 26, 2023
FT Weekend reports British chancellor Jeremy Hunt is backing more interest rate rises.
Just published: front page of FT Weekend, UK edition, Saturday 27 May https://t.co/NB43dLH3yQ pic.twitter.com/qzJCjNXRMV

— Financial Times (@FinancialTimes) May 26, 2023
The UK is set for a recession before the next election, according to The Guardian.
Guardian front page, Saturday 27 May 2023: UK set for recession before next election pic.twitter.com/uSYzkf69bH

— The Guardian (@guardian) May 26, 2023
And the former British chancellor George Osborne has been summoned to the Covid inquiry over NHS cuts, i Weekend reports.
Saturday's front page: Austerity on trial: Osborne summoned to Covid inquiry over NHS cuts

From @paulwaugh: https://t.co/y1bB7yHMCY#TomorrowsPapersToday pic.twitter.com/tE2FrDjpFC

— i newspaper (@theipaper) May 26, 2023