Minister for Transport Eamon Ryan has defended the US president's huge motorcade after greeting Joe Biden as he arrived in the west of Ireland.
Mr Biden's trip to Co Mayo, where his ancestors emigrated from, marks the final day of his four-day trip of Ireland.
He landed at Ireland West Airport Knock on Friday afternoon, in a smaller aircraft than the one he arrived inside in Dublin, and left in a motorcade to visit the Knock shrine, a hospice and a local heritage centre.
Speaking to reporters after meeting Mr Biden as he ascended from Air Force One, the Green Party leader defended the president's use of a motorcade of two dozen vehicles during his visit.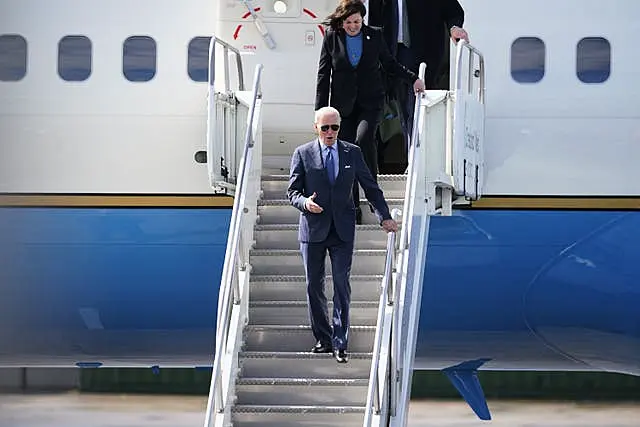 "He has to get around and have all the team with him," Mr Ryan said.
"In my view, that will all change. This is all going to go towards clean energy systems, everything – including motorcades and including the aviation sector.
"I had a great opportunity to talk to the management team here in Knock Airport about their real success at the moment. But it, too, is going to change towards a sustainable future.
"That's what he was saying yesterday, he said the world is changing, and if you're not with that, if you're not ahead of it, then you'll fall behind."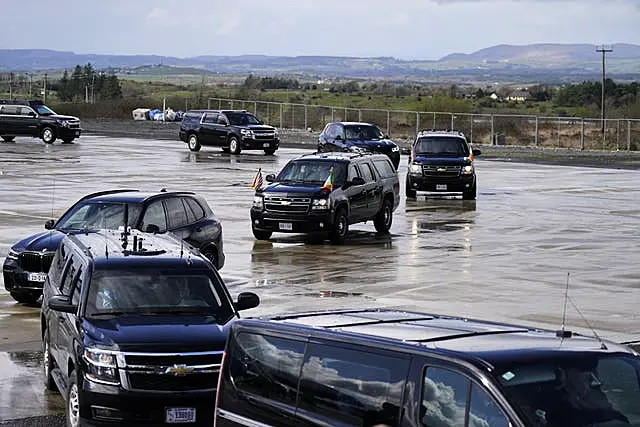 When asked by the PA news agency whether the US presidential car, nicknamed The Beast, would be going electric as part of that change, he said it would.
"Everything is going to change and the key political part of this is that every place matters, every person matters, and it won't work if it's divisive politics," he said.
"I was speaking to some of the Congressman last night at the dinner, my namesake Pat Ryan from New York, and we were agreeing that the politics of climate change can't be that divisive politics.
"It can't be pointing the finger. 'Oh, you're the problem.' It has to be a politics of opportunity, of possibility."
Mr Ryan said that he spoke to "one of his heroes", Senator Ed Markey at the banquet held in Dublin Castle on Thursday night and will speak with him again on Friday afternoon.
"If you look at who's made an influence on climate policy over the years, Ed Markey has stood out," he said.
He said that achieving climate change policies was not about creating a fight between Europe, America and China, but was about finding co-operation between nations.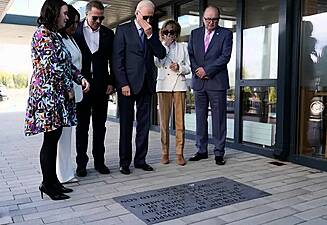 Ireland
Biden looks at plaque in memory of late son and me...
Mr Ryan said that Mr Biden told him at the end of their engagement: "He said, 'listen to this guy, what he's saying is true' and he gave me that thump on the chest, which is what he does, it seems".
He added: "But I do think he gets it, I think his administration gets it, I think there's a race on, it's between Europe, China and America, who's going to be quickest at best in the clean energy revolution."
In March, Mr Ryan was elected as co-chair of the International Energy Agency (IEA) for 2024, which aims to provide recommendations and analysis on the energy sector to 31 countries.