Tánaiste Micheál Martin has expressed dissatisfaction that significant GAA matches were being aired on GAAGO instead of on RTÉ, but said a reduction in the TV licence fee is "not on the cards".
It follows a backlash to matches being shown exclusively on the pay-per-view GAAGO, including the recent Munster Senior Hurling Championship clashes between Limerick and Clare, and Cork and Tipperary.
GAAGO is a joint venture between the GAA and RTÉ.
Fine Gael TD and former Mayo footballer Alan Dillon said he has asked Government ministers to reduce the television licence fee by €50 until the matter is resolved.
A season pass for 38 games airing exclusively on GAAGO costs €79, while individual games are available for €12. A TV licence costs €160 per year.
Mr Martin said it was fair to question the broadcasting decisions of the GAA and RTÉ, but said he was a "consistent believer" in the principle of public service broadcasting, "particularly in a world where democracy is under increasing threat".
"There's been much debate over the last number of years around the adequacy of the licence rather than a reduction of the licence, so I don't believe that a reduction is on the cards at all," he said.
Mr Martin said there was a need to ensure adequacy of financing of broadcasting and print journalism to "strengthen democracy", adding: "So I think to reduce the licence by €50 means, in essence, an ending of public service broadcasting."
However, he said there was a wider issue of a citizen's access to sport and that it was a "very real political issue" because the Government financially assists sporting organisations and supports RTÉ.
He said there was a legitimate public interest issue in "how often we go to the well" of citizens paying for things.
He said it was his opinion that access to championship hurling and football needs to be reviewed.
Mr Martin said the GAAGO app is not as accessible to the "same wider audience" of the television audience.
He accepted there were many more games than years before, but he said the games not shown were classics.
Mr Martin acknowledged there were pressures on the GAA and RTÉ and added they had the authority to make their own decisions. However, he called for a "balanced approach".
He said: "I'm not comfortable with what has transpired and I think for a game like hurling for, example, I think a huge audience got denied access to very significant games over the last two weekends, and the same would apply to Gaelic football in the coming weekends, some pretty significant games will not be available for a general audience unless they go through the app.
"Not all will be in a position to do that, particularly children and senior citizens."
He added it was fair to have a public debate on the matter as it had an impact on "every parish" in the country.
Given that some significant sporting events are mandated to be free-to-air, Mr Martin was asked whether this should be extended to the entire GAA inter-county championships.
"We already have a list decided by Government as to what's covered, in other words, games that cannot be screened behind a paywall," he said.
"That principle is already there and enshrined, the issue is do you extend that list and that's an issue under consideration by Government at any time."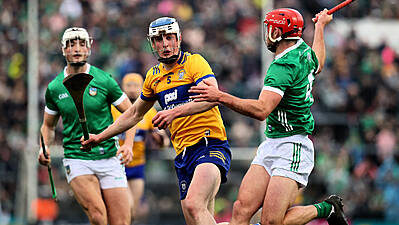 Explained
Explained: The controversy surrounding GAAGO
He said it was not a populist position and added it was a "view I hold very dear".
"I'm concerned about the growing, creeping paywalling of all sorts of access to sports because that's where we're heading," he said.
"I don't see how we're going to encourage sport and encourage games, particularly among younger people and people in more difficult circumstances than others, if we're going to create obstacles or barriers to accessing great moments of sport and putting those moments behind a paywall."