There was a "substantial and fundamental failure of process" in the case of a man who spent 11 months in jail before being cleared of violent disorder after another man came forward, his lawyers have told the Court of Appeal.
Declan Tynan (33), of Vincent Street Flats, Dublin 8, had always maintained his innocence in relation to alleged violent disorder at Ladbrokes bookmakers in Killinarden, Tallaght, on December 13th, 2012, and is now seeking compensation for a miscarriage of justice.
The prosecution's case was that Mr Tynan was one of three men who burst into the bookmakers on the day in question and set upon two customers standing in the middle of the shop in the context of a feud.
Two of the attackers had pleaded guilty by the time Mr Tynan, who pleaded not guilty, faced trial at Dublin Circuit Criminal Court.
A jury found Mr Tynan guilty, and he was sentenced to four years' imprisonment with the final year suspended in January 2017.
Mr Tynan then sought to appeal his conviction focusing on the "perils of visual identification". However, the Court of Appeal dismissed this and affirmed his conviction.
Appeal
After the appeal was rejected, Mr Tynan's senior counsel, Michael O'Higgins, said someone else had "come forward" in relation to the attack.
This person had provided a statement claiming he was the third person involved in the attack, Mr O'Higgins said.
In April 2018 Mr Tynan's conviction was quashed.
When investigating the attack, a Garda bulletin containing CCTV was circulated to no avail, but later an email was sent by Detective Sergeant Ciaran Loughrey to Garda Patrick McAvinue, with the wording that a pair of brothers were suspects along with their known associates.
Mr O'Higgins said gardaí believed Mr Tynan to be an associate of the two brothers.
Mr O'Higgins said that "potential suspects" had now been nominated in the case when this email, which was not disclosed to Mr Tynan's defence team, was sent. Mr O'Higgins said Gda McAvinue replied, identifying a male who was not Mr Tynan.
Mr O'Higgins said that upon receipt of the email from Gda McAvinue, Det Sgt Loughrey met him with CCTV footage and stills to make formal identification.
At that meeting Gda McAvinue then identified Mr Tynan and another man.
The fact that Gda McAvinue did not first identify Mr Tynan in the Garda bulletin circulated on the matter was of "huge significance", non-disclosure of which "enormously skewed the case", Mr O'Higgins said.
In his closing submissions on Friday, Mr O'Higgins said there had been a "substantial and fundamental failure of process".
Counsel said there is "an onus on the system when it recognises an error of that magnitude to acknowledge it".
Miscarriage of justice
"The prosecution accepts the material ought to have been disclosed - it's not an issue. The battleground is what is the significance of what was not disclosed and what effect did that have on the trial.
"This case must be very firmly rooted in the trial that actually occurred which fell so below minimum acceptable standards that this court should have no difficulty in concluding it was a miscarriage of justice," said Mr O'Higgins.
Counsel said the trial barrister conducted the case "based on what he knew, but he was blindfolded and had his hands tied behind his back".
"It's a recognition case and he [Gda McAvinue] didn't recognise my client. He was someone who was known to him and not recognised. There's no confusion. We say it should have been disclosed. The point is that what was not disclosed ought to have been disclosed," said counsel.
Michael Delaney SC, for the State, said the onus was on the applicant to prove that a "fundamental wrong" had been brought about by agents of the State.
"The court still has the identification evidence of Gda McAvinue. He remains firm that Declan Tynan is the offender, and he was not challenged on that in cross-examination.
"It has not been established that gardaí concealed evidence here, which is what is being alleged. On the date in question, Det Sgt Loughrey received information and searched Pulse under their names.
He was alerted that Gda McAvinue could assist. Gda Loughrey emailed Gda McAvinue and received a reply and an ID was made later that day," said Mr Delaney.
Mr Delaney said that if a specific request from the defence had included access to the emails passing between the two gardaí they would have been furnished even though emails were "not routinely disclosed". "The failing here is that notes were not kept," he said.
Mr Delaney said the appellant's case "doesn't come close to a grave error in the administration of justice nor does it fundamentally undermine the fairness of the trial or the trial process".
Gda McAvinue told Mr O'Higgins that he identified Mr Tynan when the appellant turned towards the CCTV camera in the footage he reviewed.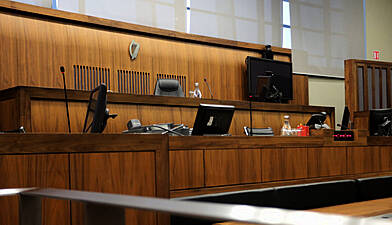 Ireland
Teenager gets one-year detention for defilement of...
Gda McAvinue said he made an "unbiased identification" by using a combination of the CCTV stills and footage that Det Sgt Loughrey delivered to him, adding that he had "nothing to hide".
Gda McAvinue repeated to Mr O'Higgins that he had not been mistaken in identifying Mr Tynan and that he immediately recognised him in the footage. Gda McAvinue said he was not aware of specific suspects at the time he made the identification but had a "broad awareness" of the incident in Tallaght.
The witness said that he had forgotten the email exchange by the time the case went to trial three years later.
Mr Justice George Birmingham said the court would reserve judgment in the matter and allow for a seven-day window to accommodate queries into whether the man who came forward is to give evidence.