A rucksack and an iPad were found near a church in Sligo the day after an alleged attack on security men at a repossessed farm in Co Roscommon, a trial has heard.
The jury at Dublin Circuit Criminal Court was told that at around 5am on December 16th, 2018, a group of approximately 30 armed men, some wearing balaclavas, arrived at a repossessed rural property at Falsk, just outside Strokestown, Co Roscommon and attacked four of the security guards present.
Patrick Sweeney (44), of High Cairn, Ramelton, Co Donegal; Martin O'Toole (58), of Stripe, Irishtown, Claremorris, Co Mayo; Paul Beirne (56), of Croghan, Boyle, Co Roscommon; and David Lawlor (43), of Bailis Downs, Navan, have pleaded not guilty to 17 charges each at Dublin Circuit Criminal Court.
Each man is separately charged with false imprisonment of and assault causing harm to four security personnel at Falsk on December 16th, 2018. Each defendant is also charged with aggravated burglary, as well as four charges of arson concerning a car and three vans allegedly set alight.
The four men are also each charged with criminal damage to a door of the house, violent disorder, robbery of a wristwatch from security guard John Graham and, finally, causing unnecessary suffering to an animal by causing or permitting an animal to be struck on the head.
At Dublin Circuit Criminal Court on Wednesday, Noel Fairbanks gave evidence that he found items including books, loose papers and a bag in a drain at Aughanagh Church, Co Sligo at around 2pm on December 17th, 2018. He said the church is around "50 yards" off the N4/Dublin to Sligo road.
Mr Fairbanks told Anne Rowland SC, prosecuting, that he does not recall seeing a plastic box at the scene, but that he "didn't look too closely". He said he called gardaí and waited with the items until officers arrived. A black rucksack was shown to Mr Fairbanks and he agreed it was the same bag.
Gda Patrick Ruddy confirmed that he went to Aughanagh Church, met Mr Fairbanks and was shown a black rucksack with a plastic box beside it. The garda said there was black iPad and cover in the bag, while the box contained letters, papers and three books. These objects were shown to the garda witness, who agreed they were the same items found at the scene.
Gda Ruddy said he attempted to access the iPad, but it was password-protected. Under cross-examination, Gda Ruddy confirmed these items had not been sent for forensic analysis.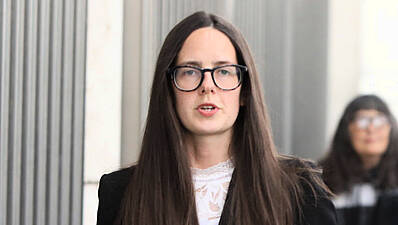 Ireland
Judge refuses to recuse herself from Ammi Burke ca...
An ambulance driver gave evidence that he attended the property at Falsk on December 16th, 2018, and took Ian Gordon, owner of GS Agencies, to hospital. He said Mr Gordon complained of rib pain at the scene and had cuts to his head and arm and had suspected smoke inhalation.
Jurors also heard evidence from an engineer about the locations of telecommunication base stations and their potential areas of coverage. Maps were provided to the jurors.
Under cross-examination, the engineer said he used a tool employed by network operators to generate the maps and had not carried out any measurements in the field. He agreed with Seamus Clarke SC, for Mr Lawlor, that it was possible for a handset to change between telecommunication base stations while remaining static, but that it was more likely that "a change between cell sites would indicate movement."
The trial continues before Judge Martina Baxter and a jury.