President Michael D Higgins' comments on foreign affairs were "close to the line" but did not go too far, a Fine Gael TD has said.
In an article published by the Business Post on Sunday, Mr Higgins said Ireland was "playing with fire" in a drift towards countries like Latvia and Lithuania, two Nato member states.
The Government's consultative forum on international security will start next week and is set to discuss – among other issues relating to security – Ireland's military neutrality.
Article 29 of the Irish constitution designates foreign affairs to the authority of the government, and by convention the President does not directly criticise the government.
Minister of State Neale Richmond told RTÉ the President's comments were "well held".
"Foreign affairs policy will of course be driven by the government and indeed by the Oireachtas. I recognise President Higgins' comments, they are well held, decades-held opinions and comments," he said.
He added: "He certainly goes close to the line to be honest, but we do recognise and the one thing when I read the report initially this morning I was a little bit disappointed, but I've now come full circle.
"We want people to engage in this consultative forum starting this week. We've already seen 900 registering, we've already seen 300 submissions."
"So let's have that debate, let's have that discussion. It's not a binary decision. We want all voices to be heard, and more importantly, to be felt like they've been heard as well."
Mr Richmond confirmed that he did not think Mr Higgins' comments had crossed the line.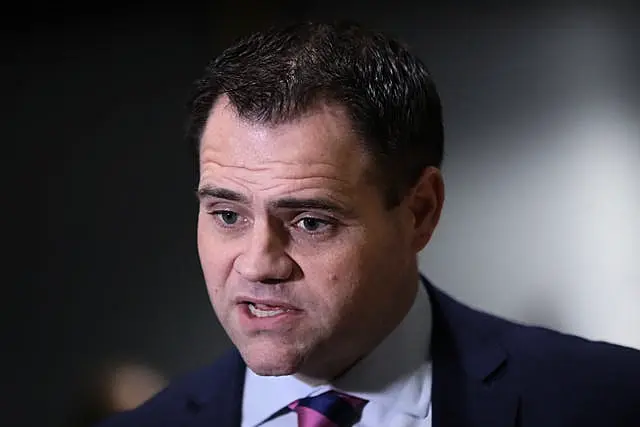 Social Democrat TD Gary Gannon said the President had a moral right to contribute to the discussion around the consultative forum on international security.
"He didn't cross the line at all, he has a moral right to be able to give his views on such an important issue. We are talking about issues of foreign policy but there are also already citizens who will be expected to take part should their neutrality be challenged," he said.
Mr Higgins also criticised the choice of speakers billed for the forum, including chairwoman Louise Richardson, saying she was a person "with a very large DBE – Dame of the British Empire".
Mr Richmond said neutral countries would be contributing to the consultation.
"Firstly, there is a wide spectrum of experts, experts in peacekeeping, peace-making, and peace policy," he said.
"We also see all neutral countries have been invited from the EU – Austria, Cyprus, Malta, Switzerland is a neutral country who'll be on a panel because we want to hear from their expertise.
"We are going to remain a militarily neutral country, however, things have changed drastically."
When asked if the government was interfering with positive neutrality, Sinn Féin TD Martin Kenny said it was "certainly something that an awful lot of people are very concerned about".
"I hear that not just from political circles, but the general public people out there are scratching their heads and wondering, where is this going? What direction is it going in?" he said.
"People have a huge affinity with the fact that Ireland is neutral, that Ireland can have a foreign policy which can have the respect of so many countries around the world."
Mr Gannon said there was a genuine fear of what Mr Higgins' described as the drift towards Nato membership.
"There's a genuine fear that we are drifting towards Nato. I think the make-up of some of the speakers who are taking part in these forums seem to have a very pro-Nato voice," he said.
He added: "When we talk about pro neutrality, positive neutrality, we can't step away from the fact that Ireland has a very proud tradition that we are neutral but never indifferent."