The Taoiseach is seeking a meeting with the chief executive of AstraZeneca, according to director general of the HSE Paul Reid.
"If needed, I will be there," Mr Reid said told RTÉ radio's Today with Claire Byrne show.
It comes as Astrazeneca is expected to meet only a third of its original forecast vaccine supply to the EU in the first quarter of the year.
Mr Reid said discussions were ongoing with AstraZeneca and the HSE was also going to sit down with Johnson & Johnson, to discuss delivery schedules for the 600,000 doses of its single-dose vaccine pre-ordered for the second quarter of the year.
Generally deliveries from Pfizer and Moderna had been "consistent and good", but if there was short notice about a delivery being cancelled "that impacts us," Mr Reid admitted.
New rollout supports
Mr Reid said that a range of new supports had been put in place by the HSE to improve the distribution of vaccines to general practices in Ireland.
A call centre, relationship managers and specific plans for practices too small to participate in the buddy system had all been introduced.
If deliveries were ramped up the HSE could cope, he said.
The AstraZeneca delivery issue was not just for Ireland, it was a problem for Europe, he added. "We built our plans on the reliability of deliveries, we paid up front."
Bad omens
Speaking on the same show, Minister of State at the Department of Finance, Sean Fleming, called on AstraZeneca to "get their act in order".
He warned that the "omens" were bad for the manufacturer now that the Johnson & Johnson vaccine had received approval.
"Some companies will be dropped off the list as the year goes by," he said.
"They're (AstraZeneca) letting everybody down at this stage including themselves and things like that in my view will damage their reputation.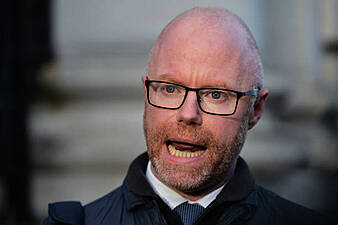 Ireland
Government airs grievances over AstraZeneca delive...
"Ultimately, I think as the months go by when we have Pfizer and Moderna and Johnson & Johnson, I think people will just move to those companies that they can rely on."
Asked if the Government planned to end its relationship with AstraZeneca, Mr Fleming said: "It's not a plan, that hasn't happened yet, what I'm saying is the omens are very bad for AstraZeneca, we now have Johnson & Johnson, the EMA may approve others in the coming weeks.
"If other companies come on stream, we have enough orders to vaccinate the population a couple of times over and some of those companies will be dropped off the list as the year goes by."
His comments come after the Government aired grievances regarding the sluggish delivery of AstraZeneca vaccines in the Dáil on Thursday.