Income at Trinity College Dublin (TCD) last year increased by €47 million to €458.2 million as the college recovered from Covid-19 shutdowns.
According to TCD's annual 2022 financial statements, the college recorded a modest €205,000 loss in the 12 months to the end of September last year after recording a surplus of €20.67 million in the prior year.
TCD recorded the loss as its cost base made up of staff costs and other operating expenses increased by €46 million or 12 per cent to €437.2 million, with staff costs of €313.8 million increasing by €22.2 million.
The report states that the increase in staff costs was driven by an increase in staff numbers – 5.8 per cent year-on-year – and by the impact of pay restoration approved by the State under the Lansdowne Road agreement, national wage agreements and annual increments and promotions.
Numbers employed totalled 4,734, including 490 earning over €100,000 compared to 440 in 2021.
Six of the 490 earned over €300,000, 28 received between €200,000 and €300,000 while 456 earned between €100,000 to €200,000. The top earners are teaching medical consultants.
The rise in costs was driven also by "other operating expenses"of €123.4 million, increasing by €24 million or 24.1 per cent, reflecting increased activity across the university due to the full re-opening of the campus in 2022.
The report says energy costs alone increased by €3.4 million.
The report discloses that academic fee income of €185.8 million increased by €20.9 million on 2021. The increase was attributable to growth in both undergraduate and postgraduate student registrations in the year.
Research income of €115.2 million increased by €9.9 million on the prior year, while "other income" of €66.4 million increased by €21.8 million on 2021 due to the recovery of commercial revenue sources following the lifting of Covid-19 related restrictions.
The college's earnings before interest, tax, depreciation and amortisation amounted to €13.5 million in 2021/22, which represented a 6.3 per cent increase.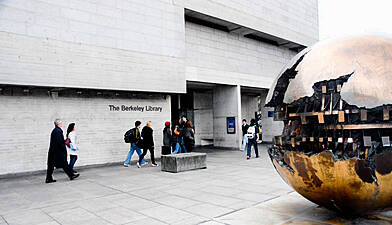 Ireland
Trinity College Dublin to remove slave owner's nam...
The financial statement also discloses that TCD's legal spend for the 12 months to the end of September last year included legal costs of €501,000, which comprised €291,000 in settlements and €210,000 in legal fees.
On the capital spending side, the report says that in 2021/22 the university invested €48.7 million in capital expenditure, compared to €27.9 million in the prior year. The investment was in key infrastructure projects, including Printing House Square student accommodation, E3 Learning Foundry and Trinity East at Grand Canal Quay.
According to TCD's chief financial officer Peter Reynolds, the university continues to maintain strong liquidity with cash balances and short-term deposits amounting to €233.3 million at September 30th last year, up from €174.6 million.
Mr Reynolds said: "While demand for Trinity education and research remains stronger than ever, and signs of post pandemic recovery and growth are clear, there are still major challenges in achieving the funding required for a globally competitive University.