An engineer has denied that he gave "ludicrous" evidence or that he was "going to war" on behalf of the party that hired him in the trial of Michael Scott.
Dr Mark Jordan told prosecution counsel Dean Kelly SC on Monday that his duty is to his oath and to the court, and that he considers the term "hired gun" to be a derogatory one used against witnesses such as himself. "Under no circumstances am I ever a hired gun," he said.
He said he provides advice on technical issues and uses the scientific method which is "ruthless against ego and status". He said he applies the scientific method without fear or favour and if it goes against the party instructing him, he tells them so.
Mr Kelly put it to Dr Jordan that it was inappropriate for him to write in one part of his report that "a jury might be difficult to persuade" that the driver of the teleporter would not know that they had driven over a "large woman".
Dr Jordan said it was an appropriate thing to say, adding: "It would be difficult to persuade anyone of that."
Mr Kelly said: "The reason it would be difficult to persuade a jury is because in all likelihood you would know [that you had driven over a woman]."
Dr Jordan replied: "What I'm saying is in hindsight we can see it but in the spur of the moment it would be difficult for him to know it was a person as opposed to something else."
He said that it is "quite possible" that Mr Scott could have bumped into something but not have known what it was. He added: "It's in hindsight but if you are on the spot, if any one of us was in the same position I doubt we would know."
He denied that the line was evidence that he was a "partisan, tactical advisor" and denied that he had left that line in his report in error. He said he was happy with the line and that it was an appropriate thing for an independent expert to write.
'Ludicrous'
Mr Scott (58), of Gortanumera, Portumna, Co Galway, has pleaded not guilty to murdering Chrissie Treacy outside her home in Derryhiney, Portumna, Co Galway on April 27th, 2018.
The prosecution's case is that Mr Scott deliberately reversed over Ms Treacy in an agricultural teleporter following a long-running dispute over land. Mr Scott's lawyers have told the Central Criminal Court that her death was a tragic accident.
Mr Kelly described as "ludicrous" Dr Jordan's suggestion that Mr Scott, who has impaired vision in his right eye, would be better at reversing while looking over his right shoulder.
Prosecution experts have previously said that the natural way to reverse the teleporter would be to look over the left shoulder because visibility was hampered to the rear right of the teleporter by the engine, an air filter and the boom.
Prosecution experts also said Ms Treacy would have been visible to a driver reversing while looking over their left shoulder.
Mr Kelly said the suggestion by Dr Jordan that Mr Scott would be better looking over his right shoulder was evidence of him "going to war for your client and acting as a tactical advisor for your client".
Dr Jordan said it was "not ludicrous" for Mr Scott to look over his right shoulder, adding it would be the practical thing for Mr Scott to do. He said there were obstacles to Mr Scott's right that he would have to keep an eye on as he reversed.
It is, he said, "perfectly plain to an ordinary person that if you need to navigate an obstacle on your right side, you will have to look to your right regardless of whether you are blind in the right eye".
"There is absolutely no way to do that looking over your left shoulder," he added.
Injuries
In his direct examination, Dr Jordan detailed to defence counsel, Paul Greene SC, his explanation of the impact that caused Ms Treacy's death. He said her injuries suggest she was upright when first struck by the rear left wheel of the teleporter on her right thigh.
He said an area of bruising on her right thigh had been identified by the pathologist Dr Linda Mulligan, but there was no associated "degloving" or removal of the skin in that area.
He said that once she was struck, Ms Treacy fell forward with her arms outstretched to protect herself, but by the time her left hand reached the concrete, the left rear wheel ran over her arm causing degloving injuries to that arm.
Mr Scott, having noticed he had "bumped" something stopped but in the time it took for him to react and for the machine to come to a stop, the front wheel of the teleporter had already gone over Ms Treacy causing the crush injuries to her spine and internal organs that were also identified by Dr Mulligan.
Mr Scott then moved the machine forward to get it on level ground, the witness said, and it is possible that he again rolled over Ms Treacy's hand, but he could not say for certain.
He disagreed with a prosecution expert who had suggested the degloving injury suggested an "aggressive" change in direction of the teleporter and may have been caused by the wheel spinning on the arm.
Dr Jordan said the injury could have been caused by the wheel reversing over Ms Treacy in a single motion without spinning on the arm or changing direction, claiming it is very difficult to get a teleporter wheel to spin on concrete.
Following Dr Jordan's evidence, Mr Greene told the court that the defence case is now closed.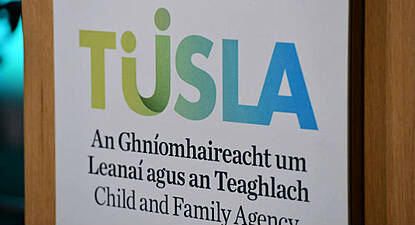 Ireland
Sex offender allowed move back into family home
Mr Greene also made formal admissions in front of the jury that Mr Scott's arrest and detention had been lawful and that all forensic procedures and transmission of exhibits were properly carried out. He further accepted that the collision with the teleporter driven by Mr Scott had caused the death of Ms Treacy.
Ms Justice Caroline Biggs told the seven men and eight women of the jury that they will hear closing speeches on Tuesday before the judge begins her charge.
Before the jury goes out to begin their deliberations, three of the jury members will be selected to leave so that only 12 will remain.
Fifteen jurors were sworn in at the beginning of the trial because it was expected to last some months and there was a concern that some jurors might have to pull out as the trial continued.