A man who set fire to a homeless hostel last year, leaving a 22-year-old woman with catastrophic injuries, has been jailed for nine and a half years.
The fire at the Depaul Hostel in Dublin 7 that was started by Keith Riggs (38) in March last year left Shauna O'Brien with catastrophic and life-limiting injuries after she fell unconscious trying to escape the blaze.
In a victim impact statement prepared on behalf of Ms O'Brien by her parents and read to the court by Judge Dara Hayes, Ms O'Brien said Riggs had "taken her life and her children away from her".
The statement outlined the serious injuries Ms O'Brien sustained in the fire last March, and how her life has been completely changed.
Riggs (38) of Deanstown Avenue, Finglas, Dublin 11, pleaded guilty to two counts of arson and one count of endangerment at the hostel on Little Green Street on March 26th, 2022.
The court heard that Ms O'Brien remains in intensive care under specialist medical teams from the Mater Hospital and from Boston.
Imposing sentence at Dublin Circuit Criminal Court on Monday, Judge Hayes said this was "very serious offending with substantial aggravating factors".
'Appalling fire'
He noted that four people were hospitalised following the fire, with Ms O'Brien critically injured.
Judge Hayes said Ms O'Brien was a "22-year-old woman with her life in front of her" last March, but her life had been irrevocably changed by the "appalling fire".
He also noted that the impact on Ms O'Brien's two young children, her parents and her family.
Judge Hayes said it had cost Dublin City Council over €2 million to repair the hostel and house residents elsewhere during this period.
This was a "very large cost" to be borne by the local authority at a time when homeless figures are at record numbers, the judge said.
"Even if no one had been in the building when he [Riggs] started the fire, it still would have had a significant impact on homelessness services," Judge Hayes said.
Judge Hayes said that Riggs' warning to Ms O'Brien and his 999 call demonstrated an understanding of the potential consequences of his actions.
He said while Riggs had suicidal thoughts at the time, this did not excuse his actions or him putting others in danger.
Judge Hayes said the mitigating factors include Riggs' guilty plea and expressions of remorse. He said Riggs had a long history of mental health issues and developed psychosis in his 20s. Judge Hayes noted that Riggs is taking medication and has engaged with services while in custody.
Judge Hayes handed Riggs a total prison sentence of 11 years, with the final 18 months suspended on strict conditions. These include that Riggs place himself under the supervision of the Probation Service and engage with community mental health services upon his release from custody. Judge Hayes backdated the sentence to March 27, 2022.
Judge Hayes extended his heartfelt sympathy to members of Ms O'Brien's family present in court and thanked them for their dignity.
He said there was nothing the court could do to give Ms O'Brien back the life she had before the fire, or to ease her pain.
'Living hell'
"This is a living hell for our little girl. She is in horrendous pain and even more pain from the surgeries. She can't breathe without assistance and is in emotional hell; devastated at being blind and not being able to hold or see her children for almost nine months," Ms O'Brien's parents said in a victim impact statement read out in court at a previous sentence hearing.
Garda Conor Whelan told Shane Costelloe SC, prosecuting, that it has cost Dublin City Council over €2.8 million to repair the Depaul Hostel and to house the residents elsewhere while the building work was done.
The court heard that the Depaul Hostel provides accommodation for some 80 to 100 people, and on the evening in question at least 10 residents were in the building.
CCTV evidence from inside the hostel was played for the court, showing Riggs going into a ground floor toilet at 4.51pm and emerging some 50 minutes later, followed by an orange flash and a plume of dark, dense smoke.
The court heard Riggs had an exceptionally difficult background, and that his father abandoned him and his mother because of her schizophrenia, causing him to be taken into care.
He left school at 14 due to behavioural difficulties and was addicted to heroin at 14 also, becoming methadone-dependent by 16.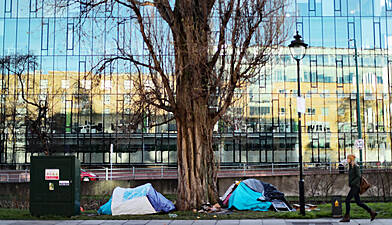 Ireland
Homelessness in Ireland is beyond crisis point, sa...
In a victim impact report written by Ms O'Brien's parents and read out by counsel in court, they said it has been heart-breaking to watch her in an induced coma, not knowing if she will live or die.
They said they have been called to the hospital countless times in the last eight months to say goodbye and that although she has had various surgeries to repair her airways, the scar tissue keeps growing back and effectively choking her.
A second victim impact statement was read out on behalf of another hostel resident, who went back into the smoke to assist her disabled husband out of the building.
The woman was hospitalised for five days said she still relives moments of fear and dread and suffers from panic attacks, night waking and depression that had never affected her before.