A man who claims a row over parking was the reason he threw industrial paint over a house costing the homeowners over €18,000 to remove has been given a three-year suspended sentence.
Leroy Farrelly (46) was identified as the culprit after CCTV footage was shown on RTÉ's CrimeCall.
Dublin Circuit Criminal Court heard that in the aftermath of the incident, the homeowners had no idea why their home had been targeted or who would have done it.
Farrelly, of Mayeston Drive, St Margarets Road, Finglas, pleaded guilty to criminal damage to a property at Clonliffe Road, on March 9th, 2020. He has four previous convictions.
After hearing the evidence, Judge Martin Nolan had adjourned the case to consider the matter. He said the victims had suffered significantly as a result of "this bad-tempered act", but noted Farrelly was a man of responsibilities and this was his one fall from grace in 25 years.
Passing sentence on Wednesday, Judge Nolan said Farrelly had committed the crime "out of malice or some type of vengeance".
"It is inexplicable that a grown man would behave in such an immature way, but he did," Judge Nolan said.
He said the homeowner was very proud of her house, "with good reason" and the house doesn't look as well because of the damage. He said it also greatly impacted "her peace of mind".
Judge Nolan said the mitigation in the case was clear in terms of Farrelly's plea of guilty, remorse and lack of relevant criminal convictions, before he imposed a three-year suspended sentence.
He ordered that €2,200 Farrelly had in court be offered to the victim and gave him 12 months to raise a further €7,800, should she wish to accept it.
The prosecuting garda told Joe Barnes BL, prosecuting, that industrial paint was thrown over the front of the dwelling including windows and cost €18,300 to remove. The homeowners were not insured for this damage.
High quality CCTV footage was captured of the incident and Farrelly was identified after it was played on RTÉ's CrimeCall.
The homeowner told the court in her victim impact statement that the incident had struck genuine fear into their family as they did not know who or why their home had been targeted with such malice. She outlined the stress and worry the offence had caused.
She said she could not understand why they had been targeted when they had no connection to Farrelly. She said he had invaded and destroyed their family home and they would never recover.
The garda agreed with Patrick McCarthy BL, defending, that Farrelly's early guilty plea had been useful as the homeowners got some clarity as to who had done what.
Mr McCarthy said his client had written a letter of apology and had brought the sum of €1,900 to offer as compensation.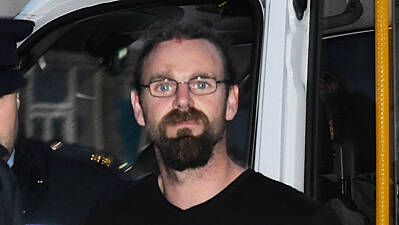 Ireland
Stephen Silver found guilty of capital murder of G...
He said Farrelly instructs that on the day, his client was taking medication for a slipped disc and had lost his dog. He had an argument with a man over parking and took it poorly, taking out his frustration and angst out on this person.
Counsel said he did not realise the paint he returned to the scene with was industrial paint and did not realise the damage it would cause. He said Farrelly accepted responsibility and put his hands up at an early stage.
He said Farrelly, a married father-of-three, was hardworking outside of this incident and was the main breadwinner in his family. He said he is having a difficult time financially and asked the court to give him more time to come up with further funds.
Mr McCarthy asked the court to take into account his client is now seeing a counsellor and doing his best to address the underlying issues that caused him to behave in such a manner.