A total of 26 motorists were fined €379,000 after missing court and ignoring hundreds of unpaid M50 tolls, including a driver who used the motorway almost 500 times.
Another motorist, citing the Magna Carta Hiberniae of 1216 and an ancient charter, failed to bypass his road charges.
The M50 toll proceedings at Dublin District Court involved civil actions and separate prosecutions for motorists with more significant records of failing to pay their tolls and who face hefty fines and convictions.
Stephen Delaney, of Fatima Place, Kilkenny City, came to court and contested the civil case against him on Monday concerning seven unpaid journeys on the motorway.
He argued that Transport Infrastructure Ireland (TII), the State agency dealing with road and public transport infrastructure, did not have the authority to enforce tolls.
Mr Delaney, representing himself, referred to Earl John's Charter to Dublin from 1192, exempting everyone under his dominion from tolls.
He submitted that the Magna Carta Hiberniae of 1216 carried that over to all the king's heirs, and those rights were continued in the Irish Free State constitution and later Bunreacht na hEireann.
Thomas Rice BL, for TII, counter-argued that Bunreacht na hEireann prevented pre-independence legislation from scrutinising current laws. He also asked the court to note that tolls had been part of Ireland's history prior to independence.
Judge Anthony Halpin rejected Mr Delaney's submissions and said his "esoteric" arguments did not trump the State's constitution. He ordered him to pay the charges, which ratcheted up to €1,077, plus TII's legal costs.
Hundreds of unpaid tolls
The separate prosecutions list involved 24 private car owners and two commercial van owners among the motorists fined between €5,000 and €19,000 on Monday after they failed to come to court.
The worst record in the cases on Monday involved a driver with a history of 497 unpaid tolls who was fined €19,000 in his absence.
They faced five sample charges for dodging the motorway charges from October to December last year. TII prosecuted them after sending each driver hundreds of warning letters, most of which went unanswered.
Judge Halpin noted the types of vehicles, their overall records of outstanding charges, efforts made to pay and their non-attendance.
In each case, the court heard evidence of the overall number of unpaid tolls and details of the level of engagement with the motorway operators and records of vehicle ownership.
The 26 motorists were also ordered to pay €350 toward prosecution costs.
Mr Rice (instructed by Pierse Fitzgibbon Solicitors) said the cases could proceed against them in their absence. A TII witness confirmed each vehicle's ownership records, the number of passages, and payment history.
Some had recently stopped being owners of the cars subject to the prosecutions. However, TII established that they were the owners at the time of the journeys. It also had images of all the vehicles passing the toll location.
The court can impose fines of up to €5,000 per charge and a six-month sentence.
However, it remains the practice of the motorway authority to select habitual non-payers to face criminal proceedings. Judge Halpin said those who had a genuine excuse for not coming but were fined in their absence still had the option to apply to the court to set aside the fine or appeal to the Circuit Court.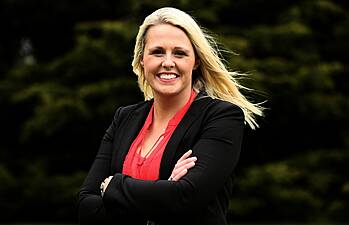 Ireland
Jacqui Hurley settles injury claim from M50 collis...
The standard toll for a private car is €3.20, which must be paid before 8pm the following day, or there is a €3 penalty for missing the deadline.
Motorists get 14 days to pay for the journey and the initial penalty or face a more significant fee.
The charge ramps up after 56 days; warning letters and court proceedings follow if it remains unpaid.
Commercial and goods vehicle owners pay higher tolls. In all cases, the registered vehicle owner is liable even if they were not driving.