The North's local elections are a chance for the public to "re-endorse" the outcome of last May's Assembly election, Sinn Féin's vice president has said.
Michelle O'Neill was speaking at the party's manifesto launch for the 2023 local elections at the Canal Court hotel in Newry.
The elections for 11 councils across Northern Ireland will take place on Thursday, May 18th.
Ms O'Neill is entitled to the position of First Minister as the Stormont leader of Sinn Féin, who were the largest party at the last Assembly election.
Sinn Féin's Local Council Election Manifesto was launched today in Newry.

Show your support for a party that is committed to working for all.

On Thursday 18th May, Vótáil Sinn Féin.

Read it here: https://t.co/Z9O6035Zmw pic.twitter.com/EkjGFK6Q2Z

— Sinn Féin (@sinnfeinireland) May 9, 2023
She has not taken up office as First Minister as the Assembly is currently not operational due to the DUP's ongoing protest against post-Brexit trading arrangements.
Ms O'Neill said the council vote is a chance for the public to endorse positive leadership.
"I think that for us, this election is an opportunity for people to re-endorse the position which they voted for last May, for the executive to work, for politics to work, for us all to be around the executive table together," she said.
"So I think people will, and certainly my experience on the ground, engaging with people going door-to-door in the community, speaking to the local business community, they know this is where we all should be.
"So for me, this election is a huge opportunity again, for the public to re-endorse positive leadership, someone who's determined to try for a better future, someone who's going to fight back against Tory austerity, someone who's going to work and make politics work."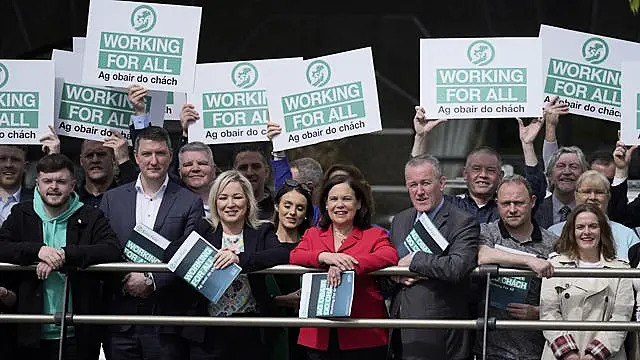 Sinn Féin president Mary Lou McDonald stated that the DUP's failure to form an executive was a failure to reflect the outcome of last May's assembly election.
"Obviously the election stands in and of itself as an important moment in electing councillors for local government," she said.
"But yes, I think it is true to say that out on the ground, the big conversation still is: when will the democratic outcome of the last election be finally respected?
"And people naturally say to us all of the time, that the failure by the DUP to establish an executive with everybody else, to work with everybody else, represents a failure on their part, to respect the views of the democratic outcome of that election.
"So I think what you will see and certainly what we're hearing, and I think we can all confirm this, is a demand and a huge appetite amongst the public for the DUP to do the right thing, and people are very clear about what the right thing is – the right thing is the executive working, the right thing is government for all, and the right thing is for Michelle O'Neill, to now meet that executive as First Minister, and to work in partnership with everybody."
This election is an opportunity to endorse positive leadership.

To show your support for Sinn Féin's commitment to a politics that delivers for all, and to elect hard working Sinn Féin councillors who will prioritise the issues that matter to you.

On May 18th, vote Sinn Féin. pic.twitter.com/rwXzJvMPIT

— Michelle O'Neill (@moneillsf) April 18, 2023
Ms McDonald added that she was "optimistic" that the executive would be restored, and the DUP would have to respond to the wishes of the electorate.
"The democratic process, the function of it, is to allow the people to be in charge and at the driving wheel, and I think those that wish to find an excuse not to work together, not to share power, will I think always find that excuse," she said.
"But I am, and we are much more optimistic and hopeful that reason will prevail, and that good judgment, quite frankly, will prevail, and the needs and wishes of people in communities across the board will prevail.
"And so anybody who is concerned about that, irrespective of your political stripe, will understand that we cannot stagger on indefinitely, with no government and with no executive.
"That's not a viable or realistic proposition. So there's the challenge for the DUP to respond to the clear wishes of society to have orderly, progressive leadership that delivers for everyone."