Lawyers for one of the men accused of taking part in assaults at a repossessed farmhouse in Roscommon has challenged the evidence that two mobile phones were taken from the accused's home.
At around 5am on December 16th 2018, a group of approximately 30 armed men, some wearing balaclavas, arrived at the rural property just outside Strokestown and attacked four of the security guards present, the trial has heard.
The house and farmlands had been repossessed five days previously.
Patrick Sweeney (44) of High Cairn, Ramelton, Co Donegal, Martin O'Toole (58) of Stripe, Irishtown, Claremorris, Co Mayo, Paul Beirne (56) of Croghan, Boyle, Co Roscommon and David Lawlor (43) of Bailis Downs, Navan, Co. Meath, have pleaded not guilty to 17 charges each at Dublin Circuit Criminal Court.
Each man is separately charged with false imprisonment of and assault causing harm to four security personnel at Falsk on December 16th 2018.
Each man is also charged with aggravated burglary, as well as four charges of arson in relation to a car and three vans which were allegedly set alight.
The four men are also each charged with criminal damage to a door of a house, violent disorder, robbery of a wristwatch from security guard John Graham and, finally, causing unnecessary suffering to an animal by causing or permitting an animal to be struck on the head.
Search warrant
On day 16 of the trial Detective Sergeant Shane Killeen told Anne Rowland SC, prosecuting, that on January 10th 2019 he and a number of gardaí went to Mr O'Toole's home in Stripe, Claremorris for the execution of a warrant to search the property.
He said he was aware that the previous day Garda Sergeant Enda Daly had gone to the District Court and sworn an information for the application of a search warrant.
Dt Sgt Killeen said he conducted a search of a living room in the presence of Mr O'Toole and he seized a Samsung mobile phone and a Huawei phone. He said he asked Mr O'Toole were they his phones and he said Mr O'Toole said they were.
He said he bagged the phones as exhibits and brought them to Roscommon garda station and handed them to another garda for analysis.
Gda Sgt Enda Daly testified that he affected the arrest of Mr O'Toole, pursuant to the Offences against the State Act, for an offence of unlawful possession of a firearm at the incident at Falsk.
Sgt Daly agreed with Seán Rafter BL, defending Mr O'Toole, that no firearm was found at the property. He said he was satisfied that there was a firearm at the scene of the incident, and it was his belief that Mr O'Toole was present at the scene.
Mr Rafter, defending Mr O'Toole, put it to the Dt Sgt Killeen that the information sworn to the District Court judge in applying for the search warrant did not mention mobile phones. Counsel asked Dt Sgt Killeen "were you hoping to recover phones?".
The witness replied that "we were looking for any evidence we could gather". Counsel asked if he thought the absence of any mention to mobile phones on the sworn information grounding the warrant was unfortunate.
Dt Sgt Killeen said no and that the warrant allowed gardaí to search for information relating to the incident at Falsk.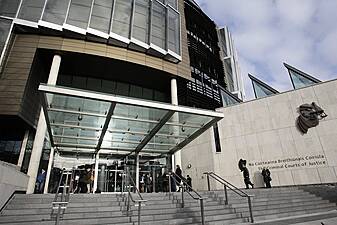 Ireland
Man who sent explicit images of himself to German...
Mr Rafter put it to the witness that the custody record book, detailed the personal items of property taken from Mr O'Toole at Castlerea garda station, included a Samsung mobile phone and a Huawei phone.
Dt Sgt Killeen said that he had told the member in charge, the garda charged with documenting the custody record, that he was seizing the two phones and to include them in the property of Mr O'Toole.
Mr Rafter put it to the witness that it was quite clear that the mobile phones were on his client's person and that "you didn't take them from the house".
Dt Sgt Killeen said "that is not correct". He said he disputed entirely the submission by Mr Rafter that "the contemporaneous records don't support your version of events".