The jury in the trial of four men accusing of taking part in an attack on a repossessed farm in Co Roscommon has viewed footage of the eviction five days before the alleged assaults.
Ian Gordon, who testified earlier this week that he was forced at gunpoint to eat dog faeces during an attack in December 2018, was in the witness box for the third day of the trial at Dublin Circuit Criminal Court.
It is the State's case that at around 5am on December 16th, 2018, a group of approximately 30 people, some wearing balaclavas, arrived at the rural property at Falsk outside Strokestown, Co Roscommon, armed with chains, pickaxe handles, a meat cleaver, baseball bats and a hurley.
The door of the house was smashed with a sledgehammer and four security men were seriously assaulted, forced to the ground, had their shoes removed and their hands tied with cable ties.
The windows of the house were smashed, the men's vans and cars were set on fire and a guard dog was beaten unconscious and later had to be put down.
Patrick Sweeney (44), of High Cairn, Ramelton, Co Donegal, Martin O'Toole (58), of Stripe, Irishtown, Claremorris, Co Mayo, Paul Beirne (56), of Croghan, Boyle, Co Roscommon, and David Lawlor (43), of Bailis Downs, Navan, Co Meath, have pleaded not guilty to a total of 53 charges.
Each man is separately charged with the same 17 charges; criminal damage to the door of the house, aggravated burglary, false imprisonment of and assault causing harm to the four security guards, arson of four vehicles and violent disorder.
The four defendants are also charged with robbery of a wristwatch from John Graham and, finally, with animal cruelty.
On Thursday, under cross-examination from Paul Sexton SC, defending Mr Beirne, Mr Gordon identified himself in bodycam footage recorded during an eviction at the house five days before the alleged attack.
On December 11th, Mr Gordon was one of a number of men hired to provide security for the execution of a court repossession order at the house, which had belonged to members of the McGann family.
The court previously heard the owner of the property, Anthony McGann, lived at the property with two siblings.
Mr Gordon told the court he was informed that there were two adult siblings living at the house and that one was diagnosed with autism. He said he was not informed that this second brother liked to sit in a particular seat all day and that he also had a particular attachment to a flat cap he wore to cover up his baldness.
Footage
The footage shown to the jury records around two or three security guards lifting Mr McGann out of the seat and escorting him out of the living room. Mr McGann's adult sister was sitting in the room and could be heard saying: "That is outrageous, outrageous."
Mr Gordon said that he and his colleagues had asked Mr McGann to leave the room but he refused and said: "No repossession. Black and tans, black and tans."
"We lifted him up off the ground, we had our two hands under his arms. He dropped his legs down, he wouldn't walk. We had to escort him out by lifting him out," Mr Gordon told the jury.
Asked if there was any reason Mr McGann or his sister would have injuries or show marks after the eviction, Mr Gordon replied: "No. Ms McGann was not touched by any of my staff. She was talked to by a female garda and she was happy enough to leave after that."
He told Mr Sexton that alongside the man with the bodycam, there were another four security guards present at the eviction. He said they were all dressed in black and wearing gloves.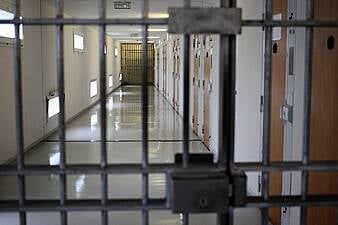 Ireland
Thug who attacked woman with acid and boiling wate...
Asked if the gloves had reinforced knuckles, Mr Gordon said he had never come across such gloves. Mr Sexton put it to him that it was fanciful for him to claim that after 20 years in the security industry he had never come across such gloves.
Mr Gordon replied: "They would be illegal." Mr Sexton said that was the answer to a different question and asked him again if he had ever come across them. Mr Gordon again replied no.
Mr Gordon said he did not know how Mr McGann's hat came off his head during the eviction and he denied a suggestion that he tugged him or pulled him by the ear to get him to move.
The trial continues on Monday before Judge Martina Baxter and a jury.