A jury has failed to reach a verdict in the trial of a former financial services manager accused of conspiring to defraud investors in Custom House Capital (CHC) over a decade ago.
Ciara Kelleher (51), of Blackhorse Avenue, Dublin 7, had pleaded not guilty to one count of conspiring with others to defraud investors, clients, and customers of Custom House Capital Ltd by intentionally misleading them as to where or how their assets had been placed in the investment firm.
The offences are alleged to have occurred within the State on dates between October 2008 and July 2011.
After over 15 hours of deliberation, the jury at Dublin Circuit Criminal Court told Judge Orla Crowe that they could not agree on a verdict on the charges.
In a note to the judge on Tuesday afternoon, the jury had indicated that jurors said they were individually comfortable with their decisions but did not have a unanimous verdict.
Judge Crowe had earlier instructed the jury that she would accept a majority verdict, meaning one on which at least 10 jurors agreed.
The judge thanked jurors for the "very evident care and attention" they had brought to the case, excusing them from jury service for the next 10 years as a mark of recognition of their effort and concentration during the trial.
Judge Crowe adjourned the case to March 8th for mention and remanded Ms Kelleher on continuing bail.
Valuations
It was the State's case that Ms Kelleher was a part of a conspiracy to hide the true location of some CHC client money, by issuing valuations which were incorrect. Ms Kelleher denied any wrongdoing.
Opening the prosecution case on January 24th, 2023, Lorcan Staines SC told the jury that CHC provided investment management and pension advisory services to approximately 2,000 clients.
Mr Staines said it is the State's case that the brokerage firm's chief executive Harry Cassidy entered agreements to buy investment properties in mainland Europe, then started to use money from client accounts to make property payments.
It would have been a problem if investors became aware that their money was not where they expected it to be, especially during the "worst financial property crash" in living memory, Mr Staines said.
A pop-up message was added to the affected accounts, stating that Mr Cassidy or Paul Lavery, CHC's head of finance, should be contacted before a valuation was issued to clients.
Around 80 accounts were affected by this scheme, which aimed to hide the true location of some CHC client money by issuing incorrect valuations, the trial was told.
The jury heard that High Court inspectors concluded in 2011 that €56 million in investor assets, including cash and liquid equity holdings, was improperly transferred to syndicated property interests, or was used to finance other aspects of CHC's business. CHC was liquidated in the same year.
Angela Mahon, then CHC head of operations, gave evidence that she attended a meeting where Mr Cassidy said that while €31 million had been raised from clients towards a €100 million property investment, there was a shortfall of €11.7 million. He said this money had been used as deposits towards other property funds.
Ms Mahon said she spoke with Mr Lavery, John Whyte, CHC's head of private clients, and John Mulholland, non-executive director of CHC, and discovered they were aware of the situation.
When it was confirmed that unauthorised transfers from client accounts had been used towards a property payment, Ms Mahon left her role at CHC. She later spoke to the financial regulator about her concerns.
Backing out procedure
Other witnesses gave evidence about CHC's systems and processes, including the backing out procedure. They said Mr Lavery would advise of any entries to be reversed on an account with the relevant pop-up before the valuation was prepared.
These entries were then re-entered into the system once the valuation was complete.
Ms Kelleher told gardaí she did not know the backing out process was used to disguise fraudulent activity on some accounts.
The jury also heard the regulator had concerns about CHC's corporate structures and issued directions to the company in relation to these in 2009.
Brian Cahalin, head of compliance at Appian Asset Management, gave evidence of his involvement in the company's proposed takeover of part of CHC's business in mid-2011.
Mr Cahalin said he examined an equity portfolio file at CHC's offices on July 5th, 2011, and noticed a large sum was invested in a bond, which was unusual.
He said Mr Whyte later admitted that Mr Cassidy told him to sell down the portfolio, and he did this, despite knowing it was wrong.
Mr Cahalin said he asked Ms Kelleher about this, and she assisted him. He said a pattern was identified where the cash balances on statements did not correspond to the daily cash reconciliation on several accounts.
Mr Cahalin agreed with Michael Bowman SC, defending, that Ms Kelleher spoke to him about the backdating of client valuations.
The witness said Ms Kelleher changed her mind about going with him to meet the Central Bank, but agreed such a meeting could have taken place.
The jury later heard that the Central Bank has a note of a meeting with a CHC staff member, and it could have been Ms Kelleher.
The defendant told gardaí that she had concerns about operational issues and delays, but did not know anything criminal was taking place within CHC.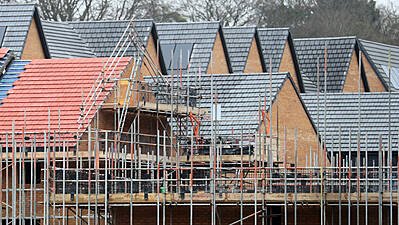 Ireland
Multinationals considered buying housing estates f...
Ms Kelleher said internal emails show attempts to get information from the finance department for some client valuations. She said did not knowingly or intentionally issue false valuations to clients and was not brought into a "secret circle".
Sean O'Dwyer, an independent non-executive director of CHC, agreed with Mr Staines that he was shocked that the issues at CHC were not uncovered by auditors or the regulator. Mr O'Dwyer told Mr Bowman that some of the money lost by CHC was through misappropriation and some through market losses.
In his closing speech, Mr Staines said Ms Kelleher knew clients were getting incorrect information. He said the State's case is that the defendant was an "integral part" of the scheme, which had "real consequences for the people involved".
Mr Bowman said his client was "never brought into the tent" by Mr Cassidy, Mr Whyte, Mr Mulholland or Mr Lavery. He suggested to the jury that emails, which the prosecution say show Ms Kelleher's involvement in the conspiracy, could also show his client's concerns about outstanding issues and requests for help.