Homelessness remains the Government's number one challenge, Minister for Housing, Darragh O'Brien said.
Mr O'Brien spoke after the latest homeless figures published on Friday by his Department showed there were 12,259 people in emergency accommodation last month.
Focus Ireland said the increase in the number of homeless children to 3,594 is particularly concerning as it called on the Government to intensify efforts to end the number of people without accommodation.
Speaking in Dublin on Monday, Mr O'Brien defended his Government's approach to tackling the record high numbers of homeless people and maintained the stance that supply is the key to bringing numbers down.
"Actually, if you look at quarter one of this year, we managed to exit and prevent about 1,500 people from going into homelessness," he said.
"We're still creating new tenancies. We're building more social homes now than ever.
"I work with the housing NGOs (non-governmental organisations) on a daily basis. I chair the National Homeless Action Committee.
"My number one priority is to ensure that those who don't have a home to live in will have a permanent home to live in. And we are making progress in that space. It is difficult, yes, and there are many reasons why people enter into homelessness."
Mr O'Brien said the biggest reason for homelessness is family breakup and said the Government needs to get to the source of where homelessness is created.
"Fundamentally, the way we deal with (homelessness) is through supply," he said, saying the Government hit its housing targets last year and delivered a "significant" number of social houses.
"Homelessness remains the number one challenge for this Government and how we deal with that, fundamentally, is by increasing supply of good public, social and affordable homes for our people."
He also said homeownership and social housing are priorities for him.
"What we saw last year was one in two new homes that were built were bought by first-time buyers. People who didn't think they would have a chance of buying their own home are now able to buy their own home.
"And that's what I want as Minister for Housing and that's what this Government wants. But that's not at the expense of delivering social housing at scale. It isn't.
"We need to ensure that… across social housing, across private, affordable housing as well and yes, we need a functioning rental sector too."
The minister was speaking at The Drinan Enterprise Centre in north Dublin to mark the opening of a creative media studio and remote working hubs.
The venue includes a podcast studio and video recording equipment, which can be booked for free up until September.
Speaking at the event, Mr O'Brien said some suggested when the centre opened in 2008 that it was "a white elephant".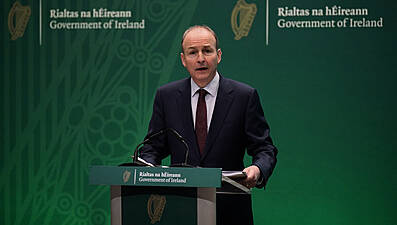 Ireland
New measures will prevent 'tsunami' of homelessnes...
But he said it offers an easy way for small businesses to start up and keep initial costs low.
He also said it offered an option to people who, during the Covid pandemic, learned they did not like commuting but also realised they needed space.
"It's not sustainable sitting at your kitchen table day in, day out," he said.