Celebrity fitness model and nurse Judy Fitzgerald was "one of a kind" and a "beautiful" person inside and out, her funeral mass heard on Thursday.
Ms Fitzgerald (32), who had a successful modelling and nursing career, died suddenly in Adare, Co Limerick, last Saturday.
One of Ireland's frontline nursing heroes during the Covid-19 pandemic, Ms Fitzgerald provided maternity healthcare and support to expectant mothers whose family were restricted from visiting them in hospital during the worst of the pandemic.
In a loving tribute to his sister, William Fitzgerald told mourners who attended the funeral mass at St Nessan's Church, Raheen, Limerick: "We are all gathered here to celebrate Judy's life, for she was one of a kind."
"Judy touched the lives of so many people in her short lifetime, she was successful in everything she did, be that in her nursing, midwifery and modelling careers."
"She travelled the globe working with top designers and photographers, yet Judy remained a very down to earth person who would do anything for anyone."
"During the Covid restrictions she brought presents to new mothers who weren't allowed visitors. She nursed our late grandmother when she was very ill, and she always checked in on her friends."
Mr Fitzgerald said his family "are shocked by the untimely death of my sister Judy, and we will miss her very much as she always lit up a room".
Paying tribute, he said Ms Fitzgerald had "just completed a Green Cert" which qualifies a person as a trained farmer, and she was "planning to build a house on the family farm".
"She loved animals and the outdoors and she often visited my uncle PJ to help him with his sheep when she was growing up."
"She had talked about so many plans for the future," he said.
Mr Fitzgerald thanked all those who had provided the family with "such beautiful support by our lovely neighbours and our family" after they received the "devastating news" last Saturday.
"We thank everyone for their kind words of sympathy and the condolences we have received," he added.
Items symbolising Ms Fitzgerald's life were placed on a table next to a coffin and photograph of the model and nurse.
Ms Fitzgerald's nursing degree "to remember Judy's care and dedication to mothers and babies"; a self-penned healthy living book "to symbolise her passion for health and fitness"; and a framed photograph of her walking the catwalk at New York Fashion Week in 2015 "to represent her modelling career" were brought to the altar by friends.
Miss Bikini Ireland
Ms Fitzgerald rose to fame in 2014 when she was crowned Miss Bikini Ireland. A well known ambassador and advocate for positive mental health, she had developed a successful modelling career, appearing on the covers and pages of magazines and newspapers and online platforms, culminating in an appearance on the catwalk at New York Fashion Week in 2015.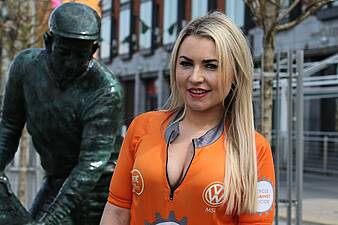 Ireland
Tributes pour in following death of model and fron...
She had also qualified as a fitness instructor and had competed in fitness modelling events around the world. In 2019 she was crowed overall European Fitness Model Champion 2019.
Fr John O'Shea said the heart of the community had been "filled with sadness at the untimely passing of this kind-hearted beautiful lady".
"Conscious that we are very vulnerable and very fragile and in need of kindness," Fr O'Shea said the emphasis of the mass was "a celebration of Judy's life, and the joy she brought during her life".
Ms Fitzgerald, who is survived by her parents Liam and Imelda, siblings Lucy and William and brother-in-Law Pedro, was laid to rest in Castlemungret Cemetery in Co Limerick.