The VAT rate for the hospitality sector is expected to increase from 9 to 13.5 per cent after the Government's next cost-of-living support package.
The reduction in excise on fuel is also due to expire, which could see prices at the pump rise once again.
Taoiseach Leo Varadkar this week revealed the measures will be signed off after a Cabinet meeting on Tuesday.
It is expected that it will include a host of targeted and universal interventions to help people with rising bills.
An extra €200 energy credit is one of the measures being considered, but the Green Party has argued that any more universal supports should be delayed until later in the year.
Tánaiste Micheál Martin said the Government would continue to strive to support families who are under pressure in the cost-of-living crisis.
He told the Dáil that interventions announced last year in the budget had struck a balance between helping those in need but not adding to the inflationary pressures.
Wage increase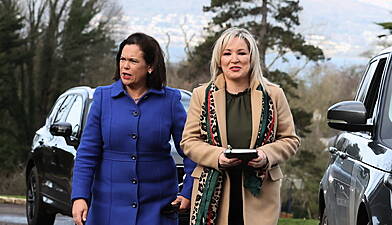 Ireland
Rishi Sunak meets Stormont leaders over Northern I...
People Before Profit TD Brid Smith has called for a wage increase for workers, while also condemning the Government as energy companies continue to make record profits during the cost-of-living crisis.
"We need to see price controls, particularly on energy and food, where the highest level of inflation is.
"The Government are always telling us that they can't restrain the profits of these industries when they are making vast. vast profits, we all know they are, both in the food industry and the energy industry.
"But they would like to see a restraint on wages, it's very ironic that they put things in this way."