Consultant Professor Declan Lyons has repeated a warning about the "inhumane" and dangerous conditions in the emergency department in University Hospital Limerick (UHL) because of serious overcrowding.
The hospital has now been characterised as "the national basket case" he said and the environment in the ED has become extremely difficult to work in with patients on trolleys "crammed together" with barely room between one trolley and the next for staff to treat patients.
Prof Lyons, who has been at UHL for 25 years, told RTÉ radio's Morning Ireland that the problem dates back to 2009 when a "medical reconfiguration" was made which was "a very significant mistake". Under the reconfiguration direct emergency access at Ennis, Nenagh and St John's hospital were withdrawn and patients were instead directed to UHL.
Only five per cent of patients accessing EDs require critical care beds, explained Prof Lyons, the vast majority of patients could be treated "very appropriately" in their local hospital.
The consultant geriatrician gave the example of an elderly man in Co Clare who had collapsed at home and was brought by ambulance to UHL, passing Ennis hospital en route. The patients spent three days on a trolley in UHL before being sent back to Ennis hospital.
It would have been more logical for the patient to go directly to a hospital that could deal with his care needs and then get him home as soon as possible, Prof Lyons said.
Prof Lyons said that the severe overcrowding being experienced in UHL at present was an extension of what had been seen over the last few years – which was "chronic and persistent overcrowding in the emergency department".
His concern was that the overcrowding would make it difficult for clinical staff to identify the patients who were most in need of treatment.
The situation was very serious and was compromising patient safety, he said. When asked if conditions had led to the deaths of any patients, Prof Lyons explained that if there were 100 patients in the emergency department, there was a guarantee that five would be critically unwell, the challenge was to swiftly identify those five patients.
The pressure in such conditions could lead to mistakes, he warned. Such conditions lend themselves to mistakes and "adverse clinical results".
HSE message
Meanwhile, people have been urged to consider alternatives before going to A&E as hospitals come under increased pressure.
Attendances have been fuelled by a rapid increase in flu, Covid-19 and RSV cases, with 1,500 people currently in hospital with those illnesses.
Although RSV cases fell for several weeks, they are now also surging.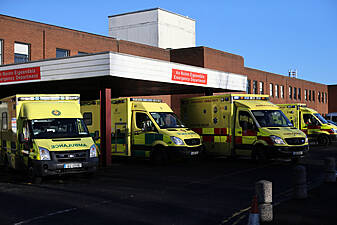 Ireland
Patients urged to consider 'all care options' amid...
The HSE expects the rise to continue for "a number of weeks", which will "seriously impact" hospitals.
In a statement on Tuesday, the HSE asked those who need medical care or assessment "to consider all options" before going to a A&E during what "is going to be the busiest ever period experienced by the health service".
It said: "While this surge of winter virus infections was predicted and planned for, the trends being seen are following the more pessimistic of predicted models and also appear to be increasing earlier than had been hoped.
"While some patients will regrettably experience long wait times in our emergency departments, urgent patients will always be prioritised for treatment and care." - Additional reporting from Press Association