Campaigner Stephen Teap said he nervous was over the past few days as the final wording of the Patients' Rights Bill was agreed with Department of Health officials.
The final approval for the wording of the Bill was not given by the advocacy group 221 Plus until 10am on Wednesday he told RTÉ radio's Today with Claire Byrne show.
"We had to make sure that every word was correct."
Mr Teap described his "massive relief" at the passing of the Bill and commended all the participants in the Dáil debate on the Bill for the tone of their contributions.
He had never before seen the level of unity and respect which was a testament to Vicky Phelan who had set the tone for the debate, he said.
"I have to give credit where credit is due. I am thankful to all for the respectful manner. This Bill was very emotional for everyone."
It had been a very emotional day for him, to finally see the Bill pass through the Dáil. "It was brilliant to be able to achieve this for Vicky and Irene."
Mr Teap recalled Ms Phelan's words 'I don't want your accolades or your broken promises, I want action, we want change'. Yesterday we achieved that change, reflecting a change in people's rights and they were written into law to get access to information."
"To be able to achieve this meant everything to him so that what had happened to his late wife Irene could not happen again to another person. This was not an ending, it was a beginning, he said. In the future people would have the right to have their case reviewed and to full disclosure."
Mr Teap went on to explain that the Bill had two important aspects - the patient review process and the other thing was the audit process both of which were "constantly being mixed around incorrectly".
There was now a very clear patient review process. "When someone participates in the screening program and gets a diagnosis, they will now be presented with the opportunity to have their screening reviewed."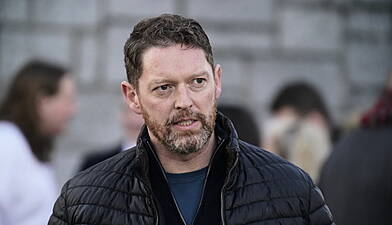 Ireland
Taoiseach apologises to Stephen Teap in wake of Ce...
"The voice of the patient would now be heard throughout the process, he said. When the system worked it was the best thing in the world "because all of us, patient, representative, medical professionals want the same thing, a better health care system for all."
He said the culture within the medical profession would now have to change as patients now had the right under the law to be given their information.
"There's going to be a lot of learning to be done within the healthcare community around policies and procedures when it comes to disclosure in order to follow this Bill correctly. But it's certainly a step in the right direction in changing the culture overnight.
"There's still much to be done with regards to the culture, but it is certainly a good stake to have on the ground to be leaning on moving forward."