A deal that would allow a return of power-sharing in Northern Ireland is still possible in the coming days, the leader of the DUP has said, but it will require further concessions from Brussels.
Sir Jeffrey Donaldson said that he had been encouraged by the progress that had been made in talks with the British government on the Northern Ireland Protocol, saying "lines have been crossed" by the EU side which it had previously refused to countenance.
However, he said Brussels needed to accept that goods traded within Northern Ireland were subject to UK laws and standards, and not those of the EU, if there was to be an agreement that would allow his party to return to power-sharing at Stormont.
"It is possible given the level of progress that has been made and the principles that have already, I'm told, been agreed the outstanding issues could be resolved within the next few days," he told reporters at Westminster.
"In judging the progress I believe has been made so far, I think lines have been crossed. Therefore, that suggests to me there is the potential to resolve this issue."
He added: "We can't have a situation where businesses in Northern Ireland are able to bring goods in from Great Britain and sell them as UK standard products, and make the same product themselves in Northern Ireland but they are required to make them to EU standards.
"That is not acceptable."
Mr Donaldson was speaking after briefing members of the Tory Eurosceptic European Research Group (ERG) on his talks last week in Belfast with British prime minister Rishi Sunak on the latest negotiations with the EU on the protocol.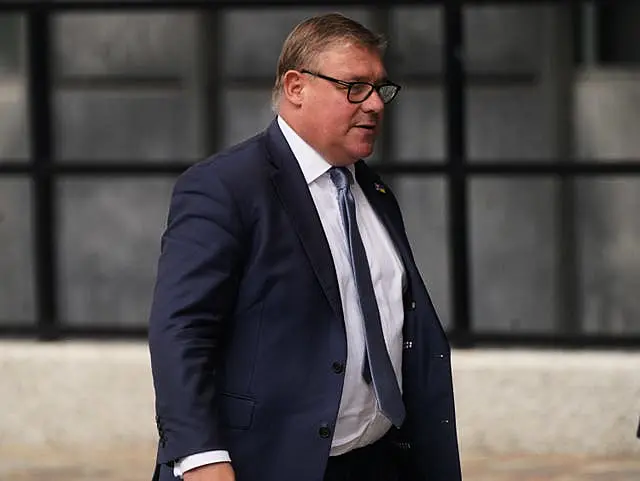 He said that his party, which walked out of the Stormont executive in protest at the protocol – which governs post-Brexit trading arrangements in Northern Ireland, would need to see a legal text before they could agree to support any new agreement.
He added: "We recognise that progress has been made. There is still some way to go. There are still some very key issues that need to be resolved.
"We will work with the government to make sure that we get the right outcome – an outcome that respects Northern Ireland's place within the United Kingdom and its internal market."
His comments were echoed by ERG chairman Mark Francois, who insisted that they wanted to see a resolution to the long-running dispute over the application of the protocol.
He said: "Any MP worth their salt if they are asked to vote on a deal wants to be able to read it first. That's not unreasonable. That ultimately means a legal text."
A number of members of the ERG have warned that they would not be prepared to support an agreement in a vote in the UK's House of Commons unless it is acceptable to the DUP.
If it was not, it could mean that Mr Sunak would have to rely on Labour votes to get it through – something that he would almost certainly want to avoid given the damaging impact on his premiership.