An activist's prosecution for driving into immigration protesters during a live-streamed incident in Dublin was "a little bit more complicated" due to the number of alleged injuries, a court heard.
Audio visual technician and stage rigger Stephen Bedford (36), with an address at a hostel on Usher's Quay, Dublin 8, remains on bail with strict terms.
He was charged earlier with dangerous driving after a protester was hospitalised on February 15th, and he appeared again at Dublin District Court on Thursday. He has already told the court he wishes to have a Circuit Court trial before a judge and jury and has criticised the delay to his trial.
However, Judge Bryan Smyth noted that gardaí had sent the case file to the Director of Public Prosecution (DPP) for directions concerning possible further charges. Queries from the DPP had to be answered, and more time was sought.
The defendant complained that it was "impacting on my ability to work" and wished to travel for an employment opportunity.
He said gardaí had seized his Jeep car, which he needed for work, but he will not get it back until after the trial.
The court sergeant said it is "a bit more complicated" because of injured parties and injuries alleged, and it had taken some time for the investigating garda to complete the case file.
Mr Bedford said, "I don't know what type of work I might get offered; I could be asked to travel for a year; I can't be waiting for the DPP." At his previous appearance, Mr Bedford said he wished to apply to vary his bail terms.
On Thursday, Judge Smyth told him that he had to see what attitude the prosecution had towards him travelling, and the court would come to a determination.
He remanded him on continuing bail to appear again in two weeks for the DPP's directions.
Earlier, counsel said Garda Eoin Canon, the investigating officer, was amenable to changing the bail terms subject to being provided with proof of employment.
Mr Bedford then told the court, "I would like to request a trial by jury," and asked for his trial date to be set.
However, Judge Smyth said further charges were possible.
At his first hearing in February, Mr Bedford claimed people "threw" themselves in front of his car. Garda Cannon had told the court that Bedford had "strong political and moral beliefs".
A protest in Dublin's north inner city led to a "tense stand-off" with Mr Bedford's counter-demonstration.
Gardaí advised Mr Bedford to leave for his safety, and he left at about 7.30 pm in his Jeep. The court has heard that two people from the other protest were on his bonnet at one stage.
One was hospitalised, but the level of injury was not stated.
Mr Bedford allegedly "live-streamed it onto Facebook via his phone".
The defence had said a group of 60 to 100 were there to demonstrate against "anti-immigration protesters" Mr Bedford used a PA system, and there was a lot of animosity between the groups.
The court heard Mr Bedford maintained that he was threatened and left but came across a second branch of the protesters and tried to drive slowly.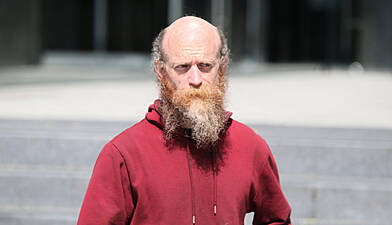 Ireland
Man accused of driving into anti-immigration prote...
He had claimed they had threatened to kill him previously, however, Garda Cannon said he could have used four other routes, and there was no official record of the threats.
The court had heard he usually streamed his demonstrations on Facebook.
He had given evidence at the bail hearing, and alleged people in the anti-immigration protest shouted, "That's him, that's him," and "threw themselves in front of my car" as he "tried to get away".
His bail terms state he must sign on three days a week at a garda station, not attend demonstrations involving anti-immigration protests, and not drive any motor vehicles.