A coordinated approach with a very clear message is required about all three Covid-19 vaccines now available in Ireland, according to a Co Clare GP.
To ensure that confusion did not surround the vaccines from Pfizer, Moderna and AstraZeneca, the National Immunisation Advisory Committee (NIAC), the Health Service Executive (HSE) and the National Public Health Emergency Team (Nphet) needed to come together, Dr Yvonne Williams said.
"The last thing anybody wants to see is a patient refusing a vaccine or waiting for a different type of vaccine — so we have to be very clear with our messaging — that the three vaccines that are approved in Ireland are all really safe," Dr Williams told RTÉ radio's Today with Claire Byrne show.
"They are all safer than waiting and taking a chance and getting a Covid infection," she added.
"It can be a little confusing for patients because we're getting new studies, new data almost every day now. Older patients would like to be reassured on that."
Plan B
There would not be any supplies of the AstraZeneca vaccine "sitting in a fridge" while the over-85 cohort was vaccinated with the Pfizer and Moderna drugs, Dr Denis McCauley, chair of the GP sub-committee of the Irish Medical Organisation (IMO), said on the same programme.
It comes as the State's plan outlining the rollout of Covid-19 vaccines is being significantly reworked, after the AstraZeneca jab was ruled out for those aged over 70.
Those aged between 70 and 80 years old may face delays of several weeks for their vaccination under the changes, while three lower priority groups are also likely to be brought forward.
According to Dr McCauley, the plans would now be "flipped" and the AstraZeneca vaccine would be given to healthcare workers, while the other vaccines would be given to those aged over 70.
Plans had been devised in advance as this move regarding the AstraZeneca vaccine had been anticipated, he added. Last week had been a bad week for AstraZeneca, but "this week they've gone from the dog house to the penthouse very quickly".
"This was always the Plan B any way," he said. Administering the jabs from Pfizer and Moderna has been seen as a challenge in traditional GP settings, due to the vaccines — which are based on mRNA technology — requiring ultra-cold storage.
"It would have been easier with AstraZeneca, but we do this with medicines all the time — we give chemotherapy medicines in general practice. This is something that we can do," Dr McCauley said.
Go further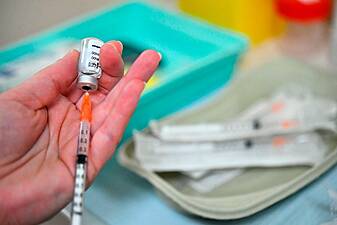 Ireland
Vaccine rollout could be sped up by having pharmac...
The number of vaccinations each day would not be many he said, but planning and expertise was required.
Speaking on the same programme, Prof Paul Moynagh said that all three vaccines were effective and that he would have gone ahead and used the AstraZeneca jab for those aged over 70. It was a judgement call, but he understood why the decision was made.
Real world data would be available very soon, he added. "We need to look at other possibilities in terms of making use of the available vaccines that we have, to make them go further."
Dr Williams added that a plan was needed for the vaccination of older people who are housebound and GPs still could not register patients on the HSE's IT system. "It would be great to have that up and running."