March was another record month at both Cork and Dublin airports with 181,000 passengers and 2.48 million travelling through each airport respectively, according to the airports' operator daa.
Last weekend, Cork Airport surpassed 500,000 passengers in the year to date. As Munster's busiest airport, Cork Airport is set to welcome a total of 2.5 million passengers over the course of the full year.
March passenger figures at Cork Airport reflect a 10.4 per cent increase on the same period last year and a 4.6% increase on March 2019.
Meanwhile, a total of 2.48 million passengers went through Dublin Airport in March. That was 30,000 passengers higher than the number which went through in the previous busiest March in 2019 and 33 per cent higher than in March 2022.
During the month there were a total of 1.23 million arriving passengers at Dublin Airport and 1.25 million departing passengers.
The March figures mean that 6.65 million passengers went through Dublin Airport in the first three months of 2023, which is 102 per cent of 2019 levels.
The most popular day for travel at Cork Airport was March 31st, while Dublin Airport saw its busiest day on March 19th during St Patrick's weekend.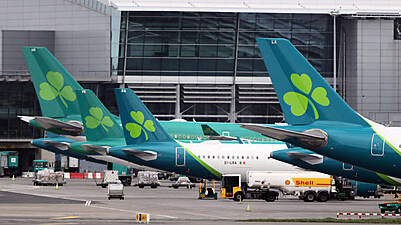 Ireland
Aer Lingus technical issues resolved ahead of busy...
Heathrow Airport in London was the most popular destination in March for both airports.
Deputy Managing Director at Cork Airport, Roy O'Driscoll said: "March was once again a tremendously busy month at Cork Airport. Last month's passenger numbers contributed to a great Q1, with over half a million people flying to and from Cork Airport since January. This represents a 5% increase in passengers versus Q1, 2019."
"With the recent start of our summer schedule, Cork Airport is gearing up for a very busy summer season ahead. We expect to welcome 2.5 million passengers across the full year, and we are well on track to meet that target." Mr O'Driscoll said.
"Leisure demand was extremely strong, with many passengers taking the opportunity to fly to the UK and Continental Europe for city breaks, ski and sun holidays in Q1, 2023."