Patrick Kielty has arguably been having a year of firsts.
The comedian (52) has taken over as the host of RTÉ's The Late Late Show from Ryan Tubridy, who stepped down after hosting the talk show for 14 years.
Kielty's debut on the show this month, as only the fourth permanent presenter of the show since it started in 1962, was a hit.
Now a new venture is about to propel him onto the big screen, in a first for the Co Down man.
This week sees the release of the film Ballywalter, which takes its title from the Co Down town.
Kielty makes his feature film debut as the character Shane, and said: "Walking on set on the first day was the most terrifying professional thing I have ever done in my life. It was similar to a first day at school when you are joining the class three-quarters of the way through the year."
The role sees the comedian, who began his stand-up career as host of Northern Ireland's first comedy club, The Empire Laughs Back, in pre-ceasefire Belfast, take on a serious screen role in the blackly humorous drama from director Prasanna Puwanarajah.
In 2018, Kielty presented the BBC programme, My Dad, The Peace Deal And Me, about his father's death at the hands of paramilitary gunmen.
The comedian was only 16 when his father Jack Kielty was shot dead by the Ulster Freedom Fighters (UFF).
The programme coincided with the 20th anniversary of the Good Friday Agreement and saw Kielty return to his home town of Dundrum and travel around to see if the historic peace deal had delivered on its pledge to create a new Northern Ireland.
It was nominated for a Bafta for best single documentary and he was named UK documentary host of the year at the 2018 Grierson Awards.
Ballywalter is Puwanarajah's directorial debut, with his acting credits including playing Martin Bashir in the fifth instalment of Netflix's royal series, The Crown.
Starring alongside Kielty is Can't Cope, Won't Cope star Seana Kerslake (30), whose other credits include Apple TV's Bad Sisters, and the film also features Lloyd Hutchinson, Conor MacNeill, Chris Corrigan, Joanne Crawford, Paul Mallon and Ryan McParland.
Following the implosion of his marriage, Shane (Kielty) is living in self-imposed exile in Ballywalter, estranged from his wife Donna (Crawford) and their daughter Martha.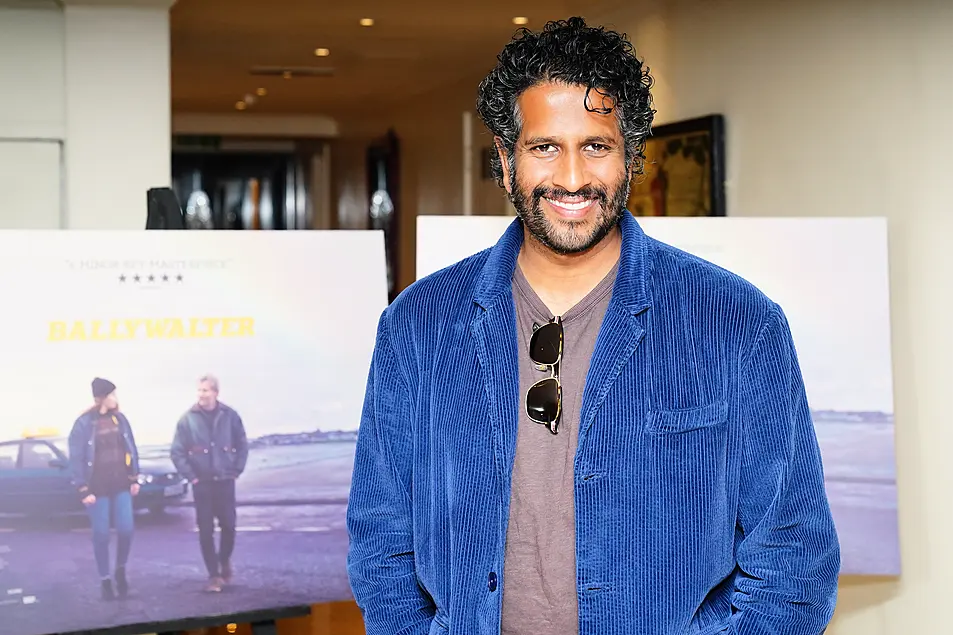 He signs up for a 12-week stand-up comedy course at a Belfast community centre.
But, due to serving a six-month suspended sentence for driving under the influence, has to call for a taxi to ferry him back and forth between Ballywalter and Belfast.
Unlicensed 20-something driver Eileen (Seana Kerslake) responds.
Dublin star Kerslake said of her character: "When we meet Eileen she is in quite a dark place. She has lost her sense of self and a sense of purpose. I knew it was going to be a challenge to try to climb into her skin and play her in a way that felt honest."
To master the Belfast accent, she said: "It's hard to chop and change, that's what I found while we were shooting, I just stayed in the accent the whole time."
Getting into character was another story for Kielty, who alongside his TV work has continued stand-up tours which have often sold out venues across Ireland and the UK.
Father-of-two Kielty, who is married to fellow TV presenter Cat Deeley, recalls how in addition to rehearsing, he had to gain a bit of weight and not shave to get into character.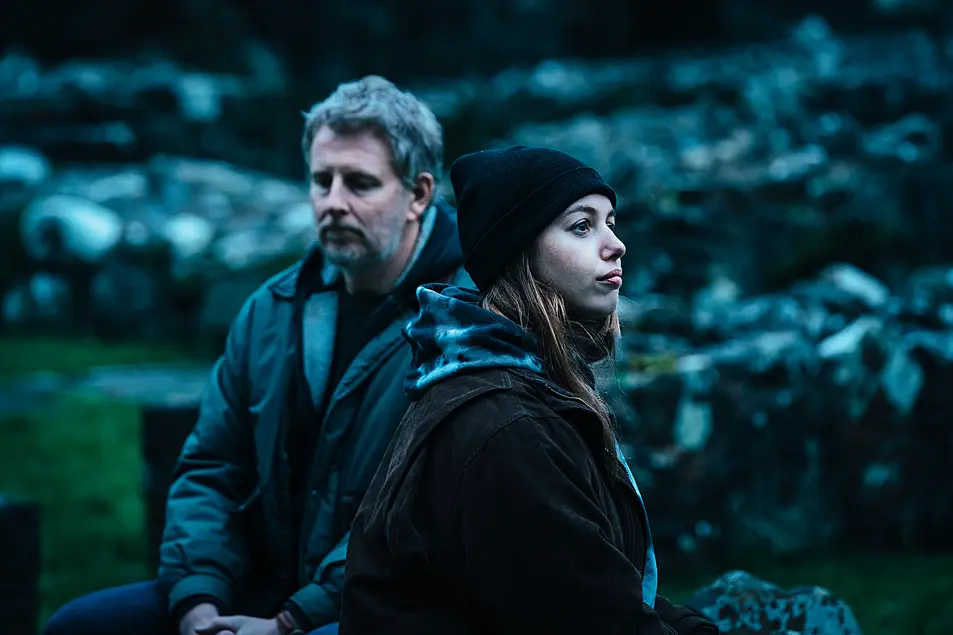 "Prasanna just said it was gin and crisps and takeaway for four months," he said jokingly.
"I hadn't done any acting before so when I went on the school run, one or two of the parents would recognise me and as my physical decline progressed, you could see them looking at each other, probably thinking, 'Lockdown hasn't been kind'."
The production began filming in December 2020 and over the five-week run, due to the coronavirus pandemic, stringent safety measures were still in place.
Kielty recalls a scene he and Kerslake filmed in Belfast's Sunflower pub.
"We couldn't do the take because we were almost frozen to the spot remembering what it was like having fun in a bar," he said.
"We were almost getting drunk on the fake beer because we mentally wanted to be back in that setting, being sociable and doing those things."
Penned by East Belfast writer Stacey Gregg, the film was a personal one, the writer and director said.
"For a long time as a screenwriter, it was incredibly hard to make material about Northern Ireland if it wasn't explicitly about the Troubles," Gregg explains.
"I think now we are finally entering a really exciting period where people are ready to hear more of a diversity of voices."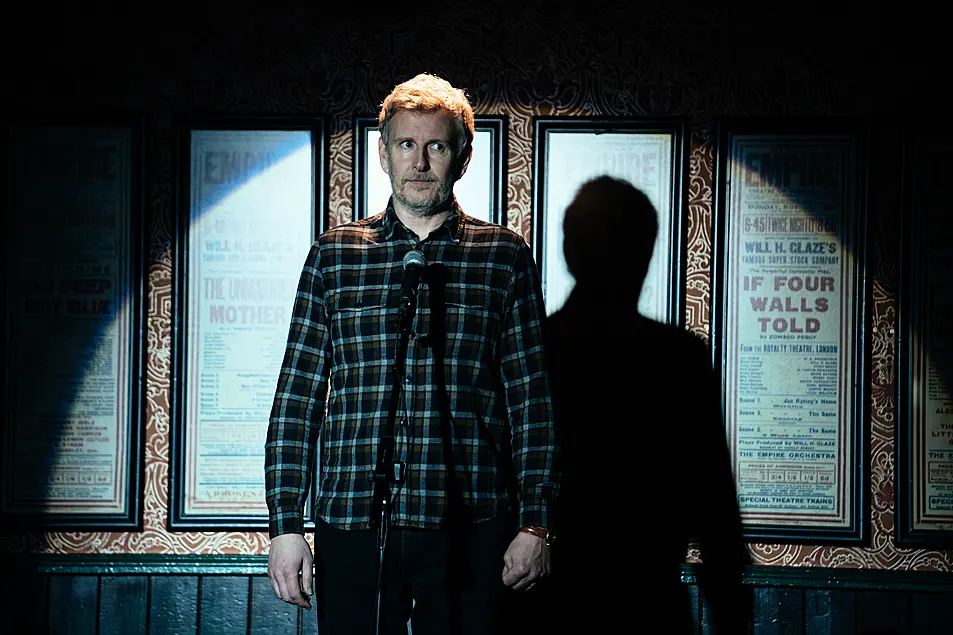 She reflected on making a film during a pandemic.
"What's happened over the last year has really made people stop and slow down and bear witness to each other in a way that maybe, generationally, we haven't for a long time.
"I think questions around care, self-care, mental health and appreciating the small things. All of that might speak in an even more pertinent way than we could have imagined when we set out to make this film."
Another major plus for Kielty was being able to film near where he grew up.
"As a County Down lad, born and bred, to be telling a County Down story and working with people from Northern Ireland, that is just Christmas, birthdays, everything all in one," he said.
Kerslake concurred, having had a front-row seat to the scenery from her character's taxi, adding: "As I was driving somewhere and the camera was following us, the views were amazing. I kept thinking, 'Ireland on a good day, she's looking well. When the light hits her right – she's perfect'."