Pamela Anderson has said her upcoming memoir "had to be in exactly my voice" following the "unforgivable" portrayal of her life story in a mini-series released last year.
The 55-year-old Canadian model and actress, who rose to fame as the star of hit 90s drama series Baywatch, is releasing an autobiography title Love, Pamela, at the end of the month.
In an interview with The Sunday Times Magazine, Anderson revealed she took full control over the memoir and refused to let her publishers enlist the help of a ghost writer.
"It had to be in exactly my voice," she said.
"If they tried to put even one word in there, change one punctuation mark, I was explosive, my head started spinning."
She added: "Oh my God, it was so dramatic. Because I was opening… It wasn't just a can of worms, it was, like, this rage I had in me from a little kid.
"I was cracking open all this stuff I've pushed down. And it was great for me to do it because it showed even me, 'Oh, that's why I am who I am'."
Anderson's book, and upcoming Netflix documentary, Pamela, A Love Story, follow her vocal disapproval of the Hulu mini-series Pam & Tommy, which was released on Disney+ last February.
The series, which stars Lily James as Anderson and Sebastian Stan as her former husband Motley Crue drummer Tommy Lee, chronicles the pair's whirlwind romance and their infamous sex tape which was leaked on the internet in 1997 after being stolen from their home.
Speaking about the Hulu series, Anderson said: "I haven't heard anything good about it."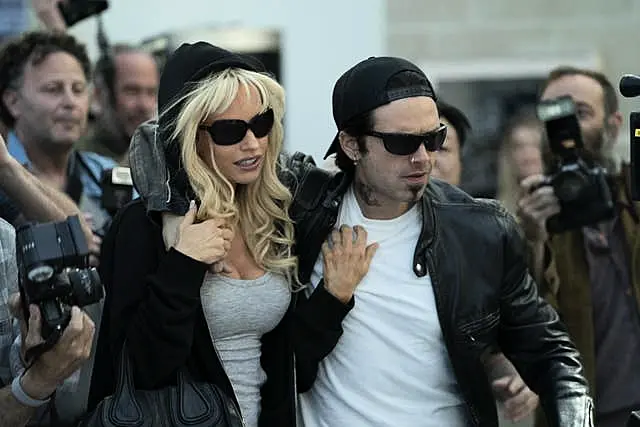 According to The Sunday Times, Anderson writes in her memoir: "It's unforgivable that people, still to this day, think they can profit from such a terrible experience, let alone a crime."
Despite her criticism, Anderson has previously said that she does not blame James (33) for her involvement in Pam & Tommy, and it was nominated for Emmy and Golden Globe Awards, including best actor and actress nods for the lead roles.
Reflecting on the content of her autobiography, Anderson also admitted that her mother, Carol Anderson, is not happy with some of the information she has chosen to include.
"She said some horrible things. So it's going to be very difficult for her to have that out there," Anderson said of her mother.
"I'm not going into this to hurt anyone's feelings. She usually only cares about her hair and I said, 'Come on, Mom, I talked about your hair in great detail!', but none of this is going to be easy for her.
"So this is our big year, our battle year, and I'm kind of curious to see how it's all going to unfold. I hope we can be closer."
The full interview with Pamela Anderson can be read in The Sunday Times Magazine.