A Love Island couple who met in Casa Amor have decided to end their relationship in the latest episode.
Tanya Manhenga has dropped bombshell Martin Akinola as she re-kindled her romance with Shaq Muhammad on Monday's instalment of the dating reality TV show.
When 23-year-old biomedical sciences student Tanya was in Casa Amor, she opted to couple up with Martin and not Shaq, who she had been with since she entered the villa in South Africa.
This speech could be straight out of a rom-com 🤧 #LoveIsland pic.twitter.com/DA0Fx3Iln3

— Love Island (@LoveIsland) February 20, 2023
She told 24-year-old airport security officer Shaq that she visited his bed late at night to kiss him because her "heart hurts".
Following the Islanders partying to DJ Jax Jones and singer-songwriter Calum Scott performing their new single Whistle live in the villa, Tanya told Shaq in front of all the villa residents she "loved him" after breaking up with Martin.
Tanya said: "This message is for Shaq. I know when I left for Casa, I came back with Martin and I thought I was pursuing a connection and it didn't work out.
"I'm saying this in front of everyone because I came in with Martin in front of everyone and I can't imagine the embarrassment you felt and the hurt that you felt and how disappointed you were in me, so sorry."
She added that "not speaking" to Shaq over the last few days and not sharing a bed with him when she was in a relationship with Martin was "really hard".
Tanya added: "I don't care about winning. I don't care about anyone speaking to me. I only want you and today I spoke to Martin and we did end things on mutual ground and I couldn't even sleep yesterday, I snuck downstairs and I kissed him."
Not Tanya making Shaq's dreams come true #LoveIsland pic.twitter.com/iJo0xs2FUV

— Love Island (@LoveIsland) February 20, 2023
She also said: "I'm never ever ever (going to) do anything like that again to make you feel like that. I just want to let you know from the bottom of my heart I love you so much."
Shaq then hugged Tanya.
Earlier, Martin said he and Tanya "are not working" after leaving rival villa Casa Amor, where relationships are tested on Love Island, as she said they did not have that "physical closeness" any more.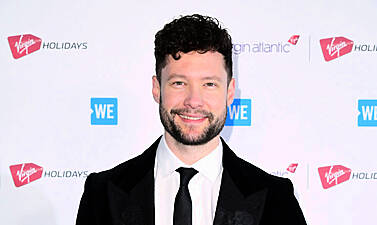 Entertainment
Calum Scott and Jax Jones surprise Love Islanders...
Tanya added: "I felt like I have really decided to not even put Shaq in the picture, not even split myself in two, which I cannot physically do, and I put myself to you and really tried to see it through and carry on what I thought was there from Casa and it's not."
Martin said: "I was going to tell you as well, I'm pretty much done with you."
Love Island airs on ITV2 and ITVX.