Director Greta Gerwig said she aimed to create something "anarchic and wild and completely bananas" while writing the script of the highly anticipated Barbie movie.
The blockbuster, which will be released later this month, stars Margot Robbie as the pink-loving title character alongside a cast including Ryan Gosling, Issa Rae, America Ferrera, Emma Mackey, Ncuti Gatwa and Dua Lipa.
Robbie brings the popular Mattel doll to life, leaving the utopian Barbieland after questioning her mortality and travelling to the "real world" with her boyfriend Ken, played by Gosling.
Reflecting on the script written during the pandemic, Gerwig told The Guardian: "There was this sense of wanting to make something anarchic and wild and completely bananas because it felt like, 'well, if we ever do get to go back to cinemas again, let's do something totally unhinged'."
She said she feels the anarchy of her Barbie comes from "the deep isolation of the pandemic" when society experienced "that feeling of being in our own little boxes, alone."
The main trailer for the film sees Barbie living a perfect life until things start to go wrong, including losing the ability to glide down from her roof and finding her signature arched feet have fallen flat.
With Gosling's Ken the couple enters the "real world" where they get arrested and are hunted down by Will Ferrell, who plays the fictional chief executive of doll manufacturer Mattel.
Asked to describe the film, in which there are several incarnations of various Barbie and Ken models played by other actors, Gerwig said: "There were so many ways to go into it.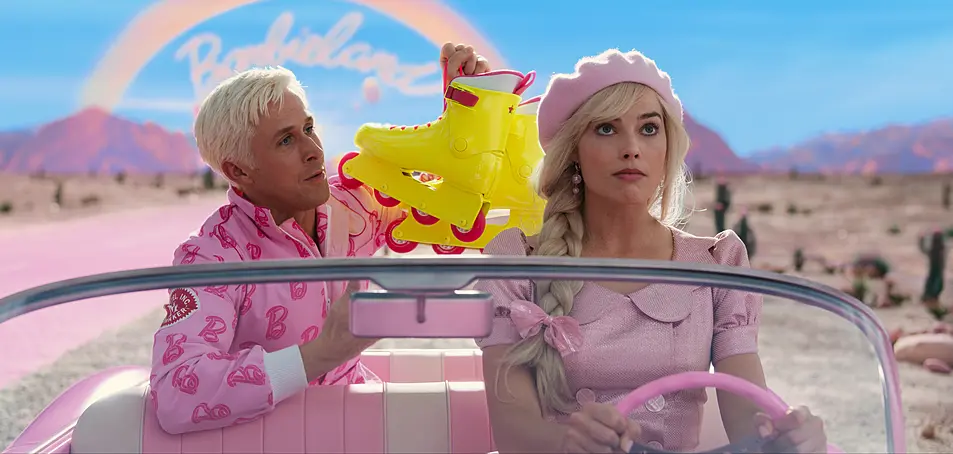 "The idea of Barbieland. The idea of Barbie herself being constrained in multitudes.
"The idea that self is dispersed among many people, that all of these women are Barbie and Barbie is all of these women. That's pretty trippy to begin with.
"And the sense that she is continuous with her environment. That there really is no internal life, at all because there is just no need to have an internal life."
The director admitted she was initially nervous about taking on the project, saying: "It's not like a superhero who already has a story. It felt very much like it was going to be an adaptation.
"Except what we were adapting is a doll – an icon of the 20th century."
However, Gerwig said that after she wrote the script with her partner, filmmaker Noah Baumbach, she could not part with the idea, saying: "I kind of had two thoughts: I love this and I can't bear it if anyone else makes it.
"And: they'll never let us make this movie."
Barbie is produced by Robbie's company LuckyChap and will be released in cinemas on July 21.