Ariana Grande has asked fans to be "gentler and less comfortable" about commenting on how other people's bodies look as she said she wanted to share her own "vulnerability".
The singer-songwriter (29) said in a social media video that she "wanted to address" concerns about her body that the public have been talking about for a "decade or longer".
She told her followers on TikTok: "I just wanted to … talk a little bit about what it means to be a person with a body and to be seen and to be paid such close attention to.
The two-time Grammy award-winning artist added: "I think we could be, I think we should be gentler and less comfortable commenting on people's bodies, no matter what.
"If you think you're saying something good or well-intentioned, whatever it is, healthy, unhealthy, big, small, this, that, sexy, non-sexy … we just should really work towards not doing that as much.
"There are ways to compliment someone or to ignore something that you see that you don't like, that I think we should help each other work towards… We should aim toward being safer, and keeping each other safer."
Grande – known for the UK number ones 7 Rings, Break Up With Your Girlfriend, I'm Bored and Thank U, Next – has been open about her mental health in the past following the Manchester Arena attack at her concert in May 2017 when a suicide bomber killed 22 people.
She told Vogue in June 2018 that she "always had anxiety" and the following year shared an image on Instagram showing the effects of post-traumatic stress disorder (PTSD) on her brain.
On Tuesday, Grande added in the video: "There are many different kinds of beautiful … personally, for me, the body that you've been comparing my current body to was the unhealthiest version of my body.
"I was on a lot of antidepressants and drinking on them and eating poorly and at the lowest point of my life when I looked the way you consider my healthy but that in fact wasn't my healthy.
"I know I shouldn't have to explain that but I do feel like maybe having an openness and some sort of vulnerability here will (mean) something good might come from it. I don't know but that's the first thing, healthy can look different.
"The second thing is, you never know what someone is going through even if you are coming from a loving place and a caring place, that person probably is working on it or has a support system that they are working on it with.
"You never know. So be gentle with each other and with yourselves.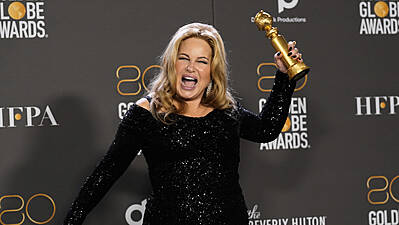 Entertainment
Jennifer Coolidge 'blames' Ariana Grande for bring...
"And thirdly, I just wanted to send some love your way. I think you're beautiful, no matter what you're going through, no matter what weight, no matter how you like to do your makeup these days, no matter what cosmetic procedures you've had or not or anything."
Grande, who is also an actress, is set to star as Glinda Upland in the upcoming Wicked film based on the hit musical of the same name that is inspired by L Frank Baum's novel The Wonderful Wizard of Oz.
Her last album was Positions, her sixth record, released in October 2020, which was a British number one.