A determined sweet shop owner who had to close after having just 97 cent in his business account after paying all his increased bills has started again on a smaller scale in order to avoid taking Government supports.
Ednan Hameed and his family attracted huge support when he decided to close his shop for the sake of their mental health which was under pressure from constant financial demands.
However, the 42-year-old has refused to go on jobseekers' support and instead started again, egged on by the outpouring of love from the community in Navan, Co Meath.
The father of three also wants to show an example to his children to "never give up".
Mr Hameed closed the popular Yummy Creames in February, which he had opened with family savings in the hope of passing the business down to his children.
But surging prices of traditional sweets as well as energy costs, rates and other costs left him admitting defeat.
However Mr Hameed is now awaiting a new sweet packing unit where he will store stock and prepacked party bags for occasions. He has also travelled to car boot sales and markets in recent weeks.
"I can't give up. It's not in me. I fell many times before but I got up and kept going. At the age of 42, it's harder to get work than when I was younger.
"The first month since I closed was very tough. We struggled a lot and we had no income. I refused to go on jobseekers. People said I was silly but what, I would've sat on my ass and moped. I need to get out there.
"I had enough money to pay a few month's rent upfront and the landlord has been amazing. We are broke and about one month's rent in arrears but hopefully in the next month or so, that will all be squared
"The community in Navan has been amazing. They have been texting and offering my family huge support. It was this love that spurred me back to Yummy Creames so I took a smaller unit out the back of the previous shop to hold my stock.
"So I'm now selling on social media. I'm selling party packages and will have a candy cart, crisp and doughnut walls for events.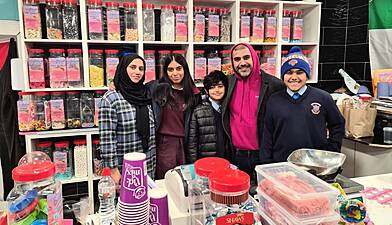 Business
Sweet shop to close as owner has under €1 in bank...
"I know people can probably get my sweets a lot cheaper in the multiples or make the party bags themselves but they are placing orders to help me out. That kindness and support you can't buy. It makes my heart burst.
"I have also been to car boot sales where you'll find such amazing people. I'm there at every opportunity to try and make money.
"I also have three kids to support and to show a good example to. I've made my share of mistakes but if my kids grow up and can say that their mam and dad tried their best, then that is all that matters to us. I won't stop trying.
"I said before to anyone struggling that there is no shame in walking away. But to anyone out there who is down at the moment after having to walk away, open up and share your thoughts because no doubt, there is a good community around you that will help you get back on your feet."